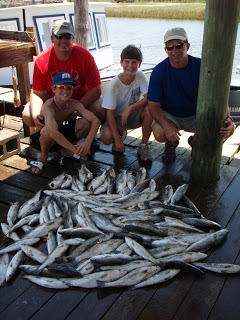 After cancelled trips Monday through Thursday, everybody at Shore Thing Charters was back on the water and then some. We all have fished the last three days. I can not give numbers or reports for every boat, but I do know everyone caught fish. Lets just say we have spent a lot of time at the cleaning table.
Capt. Sonny all ready touched on the Friday CCA trip, but I will speak for my boat. Josh, Kable(?), Mike, and Brendan were all very good trout fisherman. Josh and Mike had a little practice, being they had fished on my boat the week before, on one of the best trips of the season. We fished two spots all day and boxed 78 speckled trout and a few white trout.
Saturday I had Dan and his crew from Alabama. These guys said they were novices, and after the first ten minutes I knew I had my work cut out for me. I told them I would at least bring them back amateurs. We caught tons of fish, speckled trout, white trout, catfish, and 3 blacktip shark pups. It took two spots before we hit the fish. Once these guys learned the bite the fish kept coming over the side. Good trout, no monsters, but very few throw backs. We hit the dock with 67 speckled trout, a few white trout, and went 0 for 1 on reds. By the end of the day nobody had been hooked, only one tangle, and everybody could cast. I would say they were at least amateurs!!!
Today I had the Jason Blaylock crew. They were down for a little league baseball tournament and figured why not get in some fishing. These two father son combos could fish with the best of them. With in minutes at our first spot we had about twenty trout and just as many white trout. These guys had good eyes, spotting popping shrimp and trout busting before I had a chance. That does not happen to often!!! We spotted trout coming out of the water after mullet like a school of tuna surfacing. Our bite stopped and being I do not like competing for spots or watching other boats catch fish, we headed down south. I hit the spot I have been fishing for the last three days. In three days I have seen 3 boats and just over 230 speckled trout in this hole.We left the spot at 9:30 we had 88 speckled trout, 20 white. All fish were caught on plastics, Marsh Works Bayou Thumpers, on bottom or under the cork. Went looking for reds and only found 3, but had fun trying. Good company and good fishing I am sure I will see these guys again.
Guys start looking to fish in July. We still have a few open spots. With multiple boats running we can accommodate you on most dates, but weekend days fill up first and fast, so give me a call at 228-493-9743, our secretary Capt. Sonny at 228-342-2206, or check out our website all our contact info is there along with info, latest reports and pictures.
Will post pictures tomorrow, camera was once again left on the boat, I think the sun has fried my brain!