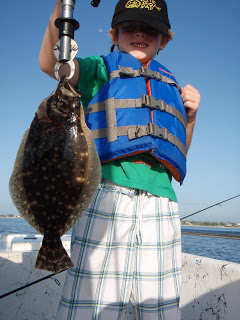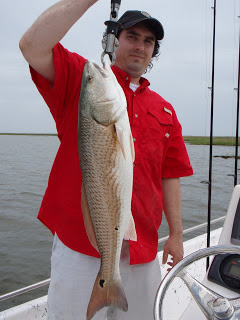 It was a very good week at Shore Thing Charters! My first three trips of the week were run in MS waters and the last three in LA.
The first trip of the week was with Jay, his three boys, and cousin Elliot from New Orleans. The objective was to show these boys from Colorado a good time, and if we caught fish great. We did both, as a matter of fact, I think I have more pictures from this trip than any other this week. We set out with reefs on the mind. We caught a fair share of speckled trout, white trout, and ground mullet before moving to the bridge for the monster drum. Yes the drum were there, no monsters but a couple good quality keepers. We also found more keeper speckled trout, whites, and one lost black tip shark. The kids had a great time!
The next trip was with Jimmy Ray and his grandsons. Jimmy had called a week prior to the trip asking about shark fishing. If there is one thing we don't get to do much of its shark fishing. We left out with two big rods rigged with wire leader, a bucket of chum, and a few live shrimp(just to waste some time while we waited on the sharks). We baited the big rods and began to soak some live shrimp. We spent the next two and half hours catching non-stop. 7 bonnetheads, 1 bull shark, countless lady fish, and a stingray with about a 4 foot wing span. This was not my average trip, but these boys had a great time. By time we made it to the dock they had decided to fish the next morning for white and speckled trout. All we needed was 45 minutes on a reef and we had plenty and even managed three reds before we reached the dock. Great trip! Jimmy is a regular and will be back for more fishing in the Bay.
Thursday I had Paul, Tim, and Billy. These guys have been with me multiple times. We set out a little late, but that did not matter. Hitting the first spot with a bang. In the first few casts we had two monster white trout and two good speckled trout. Billy said, "we can stay here all day, spots or no spots, we don't care!" We stayed right there until we had 41 speckled trout and 60 white trout. Billy wanted a few reds, and come to think of it, he was the only one who did not catch one. Tim did the damage on the reds, catching all but one. Billy and Paul did redeem themselves catching the only two triple tail of the day. 41 speckled trout, 60 whites, 5 reds, and 2 triple tail. Could not have been a better trip, great fishing and great crew!
Friday was the Doug Minor crew from Memphis. We left the dock with hopes to repeat the day before. With the looming storms we were a little restricted on where we could go. Most of our damage was done at the first spot, while the rest of the day was spent dodging rain and lightening. Our friend Curt, out in the Marsh, was nice enough to let us hide from some rain for a little while. The rain lifted end we tried to get on another bite with no luck, so we headed north. We manged 24 speckled trout, 30 white trout, and two reds.
Saturday Capt. Kenny and I had the first day of the Kevin Ledford trip. With more storms around, we did not go to deep into the marsh. Believe it or not, pulled right up on the fish. Kevin and Spencer fished while I watched the storms. These guys caught speckled trout two at a time and never touched a single fish. As soon as we hit 50 trout we head to the dock. I checked the time about two miles outside the Bayou and it was 6:53, unbelievable! Between the two boats we had over 100 trout and white trout.
Capt. Sonny and Capt. Kenny did even better today catching 100 speckled trout, countless whites, 5 reds, 7 triple tail, and 1 flounder. Capt.Sonny will give you more details.
Give us a call we are on a good bite and have openings the next two weeks, then we are off to Jackson,MS for the Wildlife Xtravaganza. If you are in Jackson come check us out the whole crew will be there, Sonny, Kenny, Kyle, and myself.
You can contact me at 228-493-9743 or our secretary Capt. Sonny at 228-342-2206