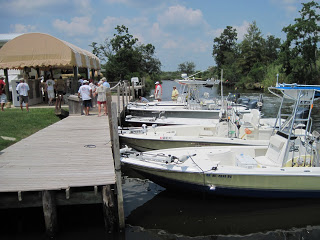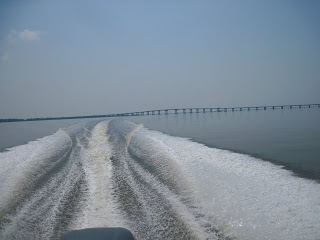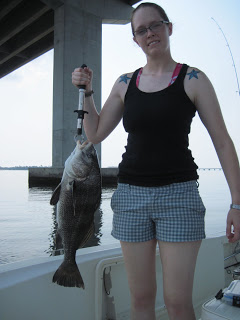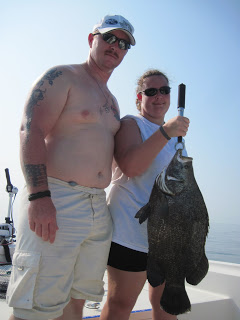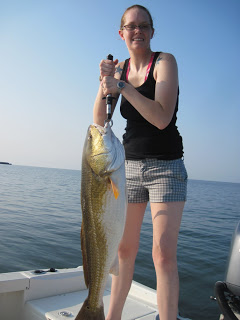 Shore Thing Fishing Charters was extremely honored to be a part of the Soldiers Angels Fishing Rodeo Monday(results below). These Men and Women of our armed services are either just returning from Iraq/Afghanistan or about to go back. This is the second one this year Soldiers Angels has done and it was much, much bigger.

32 Soldiers, 10 boats/captains, and several volunteers all met at the world famous Bay Marina in Bay St. Louis early Monday morning. We were all welcomed with picture perfect conditions. The last rodeo we tried to do in the early spring was some of the roughest weather we fished all year. Flat calm seas, clear skies, clean water and a good tide put spirits high. Mr. Charlie on the Crabby C and his son Kevin donated 50 crabs for bait to our boats. Several of the captains made a few throws with their cast nets in the canal for perfect sized pogies and mullet. The boats pulled out early, with fresh dough nuts from Grammy's Do-nut Shop, and went in every direction. The VHF chatter, all day, was nothing but fish coming over sides from start to finish. MS DMR came by and checked most of the boats, and thanked all of of the soldiers for their service. The soldiers caught massive loads of speckled trout, white trout, red fish, flounder, croakers, black drum, triple tail and sharks. When the boats returned to Bay Marina, The Southern Anglers of Mississippi, CCA and many locals had prepared a feast. Fried fish, jambalaya, potato salad, many more fixins and mouth wattering desserts were devoured by all. Had several locals show up to congratulate the winners and the thank the soldiers. State Representative David Baria, Supervisor Steve Seymour, and Tax Assessor Jimmy Ladner were all in attendance. Awards were given, fish were cleaned and the soldiers were all thanked by everyone for their service for this country. Just another day in paradise because of the men and women of our armed service, Thanks Guys!!
Biggest Fish

1st Place

Black Tip Shark

Team Boudin
2nd Place

40" Bull Red(released)

Team Schindler
3rd Place

26lb Black Drum(released)

Team Tusa
Most Fish

77 fish

Team Jarreau
Biggest Flounder

Team Zimmerman
Biggest Triple Tail(11 pounds)

Team Tusa
Smallest Fish

3" cat fish

Team Clanahan
Special Thanks to those who made this all possible:
Captains:

Council Man Joey Boudin of Boudins Waste

Ray Clanahan of Fishnbuddies Guide Service

John Zimmerman of CCA

John Miller of CCA

Toni Mallini of Gulf Coast Charters

Travis Thomas and Willy Strong of No Limit Charters

Kyle Jarreau of Shore Thing Charters

Matt Tusa of Shore Thing Charters

Capt Kenny Shiyou of Shore Thing Charters

Capt Sonny Schindler of Shore Thing Charters

Capt David Wells of CCA
Food and Beverages:

Mr George and Mrs Judy of Grammy's Dough Nuts and More in Bay St. Louis
Sid Leblanc, Wally Thurman, Steve Trelles, Dr Mac Murphee, Mr Ronald of The Boat House in Lake Shore
Ray Cox of Walmart in Waveland
Roscoe's Bait in Pass Christian
Bay Marina in Bay St. Louis
Cooks and other Help by:

Franks Ladner

John Fagan

Wally Thurman

Ernie Zimmerman

Jimmy Ladner

Forrest Stevenson

Corky Schindler

Glen Grennan

Bob, Diane, Robert Castoro and the Bay Marina gang.
None of this could have possible without Soldiers Angels, especially local "Granny" Greaser, and Erica Cowart. They were the driving force behind this event. If I forgot to mention someone I apologize, but we certainly want to again Thank the Men and Women of our Armed Service, see you next year!!!