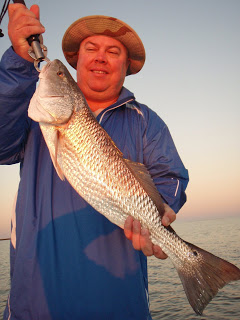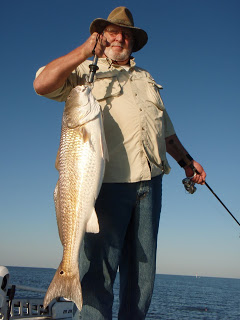 Whats up cyber anglers! One of these is a forgotten post from the Josh Finnegan trip on Aug. 31. Conditions were perfect, only the fish were hard to find. We had hit four spots before we finally put the first fish in the cooler. We slowly working on a few trout with some live shrimp under a cork just before the wind picked up. As the wind pick up and the tide stopped, the bite came to a screeching halt. We fished and we fished to find no fish any where else in the marsh from the outside all the way to 3 mile. I had one more trick up my sleeve or we would be heading back to the dock with what I thought was about 15 maybe twenty trout. The last spot was picture perfect, good clean water, and a lot of bait. We trolled down the shore line for a good hundred yards before BAM! A red fish and than another, and another, it went like that for about thirty minutes. We put 16 reds in the boat fast, kept what we could and released the rest. Talk about a Hail Mary! We checked the box and we had 29 speckled trout, 15 reds, and 1 fat white trout. Not a bad day!
The next trip was Bill and Charles who live in the Hattisburg area. You would have thought it was 45 degrees the way we were all bundled in our jackets, but it was only 65 degrees. It felt good, the cool ride out gave me the feeling of our great fall fishing. We got to the marsh to find a lot of dirty water left over from the storm, which I knew would not make things easy. It turned out to be a slow day, but these guys stuck with me and made cast until their arms were about to fall off. We managed to catch a hand full of trout and plenty of reds, but we only were able to keep 7 reds.
Yesterday I had the Phil Tally and Tim duo. I knew where I had not caught fish the day before, so what do I do, I go straight back to one of those spots. My thinking was...I know where the fish should start showing up when those first cool fronts blow through, so keep pounding those areas. It paid off my crew and I had caught five reds, two monster flounder, and two fat trout in the first thirty minutes of the day. We caught fish at all but one of our four stops. We ended the day with 33 quality trout, 9 reds(kept 5) and 2 flounder.