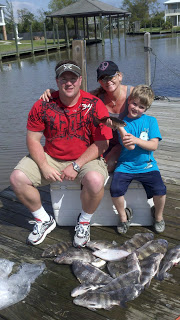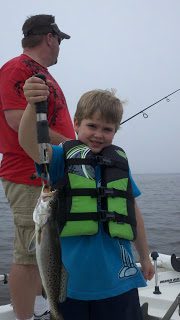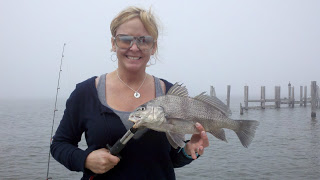 Already this week the Shore Thing fleet had to fish in near gale force winds, pouring rain, and fog. I assume by the end of this week it will be locusts and toads falling from the sky. Against all odds, had three boats out for some more great Spring Break Family Fishing Fun! The guys said the fog lifted in the morning for safe travel, but then socked back in. The only thing they could do was wait it out. Just so happens that they all got to wait it out over the fishing grounds. The boats all stayed in close for the near shore action. Looks like the catches are getting better, with more variety. Captains Kyle, Kenny and Matts boat checked in with speckled trout, white trout, flounder, sheepshead, flounder, black drum and redfish. The groups were fishing reefs, bridges, and few of their "secret spots" with live bait, dead bait, soft plastics and top water.
Capt Kenny had Wes, Casey, and young Cannon on board. He said they had good action all day and did hook one sea monster. Young Cannon was holding the rod that the big fish hit on. He was well on his way to being pulled off the bow of the boat. He said they grabbed his life jacket just as the big fish wrapped around a piling. Kenny never sounded so happy to loose a fish...
Capt Matt had the Bob Knolt group back again for some fun. Limited by the fog he was able to set up on reef before getting socked in again. Matt said their first two fish were big bull reds. They also did a number did number on the white trout with a few specks mixed in. They rounded out the box with ground mullet, sheepshead, and drum.
Capt Kyle had the Armstrong day two experience. Because of the fog, they were forced to stay in close but made an excellent show of it. Kyle said they caught everything with steady action at every stop they made. They did catch two semi sea monster black drum pushing 15lbs. All things considered, with the fog, everyone seemed very pleased to be able to wet a line. Guess we will see what mother nature throws our way tomorrow...
****SHORE THING Fishing Charters**** Check us out on You Tube: http://www.youtube.com/watch?v=hr0twtm3Bng With four boats available, small and large groups are welcome. Anglers under the age of 13 fish for free! We supply rods reels, tackle, snacks, drinks, ice, fuel, bait and fun. No charge for fish cleaning and bagging. Be sure and ask about our all inclusive overnight fishing packages to the Cat Island House!!! For your next fishing trip, give us a call or check us out on line. www.shorethingcharters.com or 228-342-2206