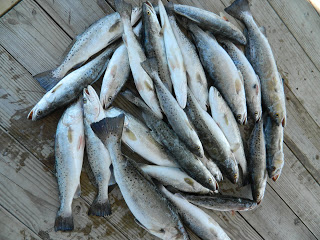 Abort Mission! Blowing 14-16kts! That was the text message I received at 5am...and those were my two fishing partners bailing. Because I was itching to fish and have charters the next two days, I figured I better check this out for myself. The bay was slick as glass, which I know can be deceiving, but was just as promising. Went down the beach front to find the same slick water, the tall grass on the beach as still as could be, and fog in the ditches. The buoy I checked read 12kts and the near shore read 6kts. Well, I went, but lets face it, I knew I was going fishing when I left the house.
I rode the 1ft chop all the way to the marsh. The water was not as dirty as expected and the water was exploding with bait. Don't get me wrong, I went through dirty water, but green water seemed to be around every corner, and got even better toward the end of the high tide. It was at the end of the high tide my damage was done. I pounded plastics on the bottom or under corks, live minnows, but the bait of choice today was a Bomber "Long A"(I think that's the name). Its a green back white belly floating twitch bait that dives when reeled and twitched. To be "honest", I've had that bait for four years and never tied a knot to it once. I never found the trout stacked up, but found a few at every stop where the water was green. Any where the water was green, the bait was thick, and the fish were not far from them. I ended the day with my 25 speckled trout and 1 released bull red.
Sure am glad my two fishing partners opted out of the trip, they would have been miserable and probably not have caught anything!