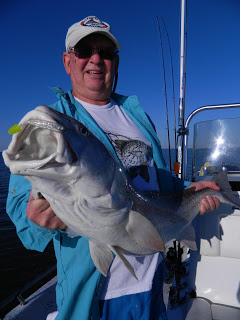 Don and Joe are always a fun crew. After years of making multiple trips to the marsh, these guys know me and I know what they expect. What they expect is nothing more than getting away and having a good time. I fished these guys Sunday and Monday with different results.
After having such a good day Saturday by myself, we had high hopes. The day started out much the same with a few bites here and there, but nothing really made it into the box. My optimistic crew never gave up on getting on a few fish. Eventually we found a few right before the high tide. That is the only thing consistent of the last three days of fishing, something clicks and there are the fish. But the bite was funny, the fish would grab the live minnow and fight all the way to the boat, and then let go. Minnow alive and kicking, and then a few 4 letter words would fill the air. I could not figure it out or a solution. If you let the fish have to long they would let the bait go. I threw everything at them, plastics, twitch baits, popping corks, and the live minnow was all they would hit. We could have doubled our catch had we figured out how to capitalize on the bite.
Non the less we had a great two days of fishing. Our two day total was 42 speckled trout, 9 reds(2 bulls released, 6 undersized, 1 kept).
...and yes that is a galftop in the picture!!! Don't Judge Me! Don and Joe like to eat them.
Give me a call 228-493-9743 or our business at 228-342-2206. www.shorethingcharters.com