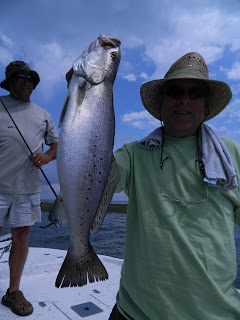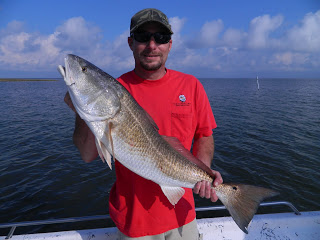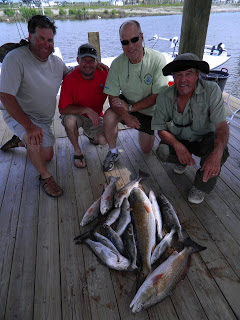 The amount of rain I saw on the radar this morning had me questioning my decision of going fishing. My crew, the "Outlaw McGraw's", showed up a little late because of a wrong turn that almost landed them at the Rigolets Marina. Its a good thing since the rain had broken up by then, and gave us a smooth cross to the LA Marsh. Needless to say, I kept my weather radar on all day, just in case.
Most of the day was spent hunting that one bite that would put a few in the cooler. The first stop was good just a lot of small trout, who could barely take the bait down. It was odd that spots which have been holding a lot of bait had none. But, one thing I have learned over the years is that this time of year they are often not found twice in the same place. So we kept looking and looking until BAM! We hit 7 trout and 4 reds in about five minutes time. It was on, until just then a lightening bolt struck less then 300 yards away. You know, I have never seen four men put their rods in the holders and clean up the boat as fast as they did. We zipped out feeling the moral had been taken down a notch, knowing what we had been looking for was taken by mother natures fury. This happened not once but twice before we called it quits, and ran scared from the giant thunder head engulfing the LA Marsh.
None the less Bill, Jay, Frank, and Martin, all brothers, enjoyed the day and left with a few fat speckled trout and a few reds, we caught plenty more just not making the size. If it was not for mother nature, the outcome would have been totally different.