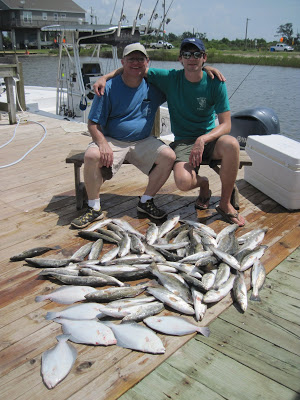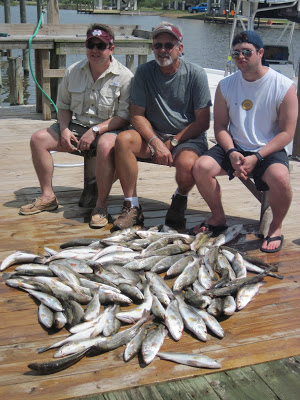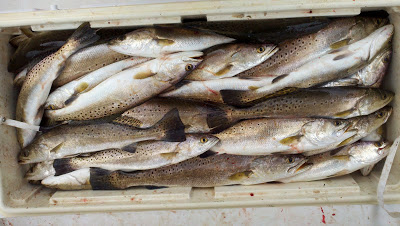 Despite mother natures wrath, we have had boats out everyday, since our last report. Fishing has actually been good to great, with healthy limits of trout hitting the dock almost every single day. What makes the catches even more exceptional is the fact that we have gotten home dry every day(barely). On with the fishing report.
Wednesday Capt Matt was the lone boat, fishing with regulars the Clemmons Crew. He called while I was I on my second cup of coffee to tell me they had limited out on big trout. The boys found some good moving water that had the bait pinned against a shallow drop off bank. He said they could see the schools of trout coming threw the rain minnows and pogies. If their cast landed in the rucus, they caught fish. That crew loves to fish, but does not like the heat, so it worked perfect. They were back a the dock a little after 9 with a limit of trout(75), safe and sound.
Thursday, Capt Kenny booked a last minute trip with the Cal Lucas crew. Kenny took the boys to a shell bottom with moving water in the Marsh. They got on the fish and stayed on them. He said they threw everything in the boat at them(shrimp, mullet, topwater, plastic). When the school would move, he would drift another cast length. He was done early as well, with 72 nice trout(clicker malfunction). The weather was nice so he went on a triple tail quest. Being mad at the fish, Capt Kenny took them boys on a journey. He covered over 20 miles and only saw1 fish. They got it, he said it went around 10 pounds. I know those fish are still around, they have just been a bit shy the last couple of weeks. Kenny did a surprise back at the dock when his crew insisted they take the fish home whole. Fish cleaning is included on all Shore Thing trips, but not madatory. Cal and the boys know how to use a knife, think they just wanted to show the boys back home what they did.
Friday we had two boats out, the weather was nice, if only for a little while. Capt Kenny had local Cindy Lou and nephew Reese in from Texas. I was fishing Shore Thing veteran, Dr Jim Huertin and his buddies Ronnie and Kenny from New Orleans. Kenny went back to his shell bottom and started pecking away. We made a couple of stops, found only a few on some points holding bait with moving water. Kenny was nice enough to offer us his spot as number 50 hit his fish box(1 nice red too). They had those fish worked up into a frenzy, they hit anything and everything we threw. He pulled out on the trolling motor and we pulled in with ours. No doubt what they had in their box, Cindy Lou was doing a Mark Mcguire fist pump as she passed. Had non stop action as the storms began building north of Bay St Louis. Kenny got to the dock and called, telling us to get in now! Very tough to do, but left em bitting with 33 trout, 1 red an 1 flounder. About a mile from the dock the wind went from 5 to 25 plus, in a matter of seconds. Got some fish, got in safe, I am calling it a victory.
Saturday was one of the nicer days of weather and fishing we have had in a very long time. Glass calm seas all morning long, but we knew the bad weather would be there around lunch time. No shocker where Kenny was going, Matt went back to his go to spot as well. I pecked around a few points in between those two, thinking the fish would have to be close by, WRONG! My ponts were not holding bait, and the bait was gone from Matts as well. My crew and Matts crew(Team Lewis) joined Capt Kenny and the Carroll crew off one little point. All three boats either used our handy dandy trolling motors or the wind to move with the fish. At no point did the bite leave any of us. The fish were hungry, we stayed quiet and kept em rolling over the sides. Everyone was throwing everything(shrimp, mullet, soft plastic or topwater) with popping corks doing the majority of the damage. Team Lewis, with Capt Matt was happy with their catch and went home first. They beat the, the weather and ended with 58 specks and some flounder. Capt Kenny and my crew were out for blood. We stayed a little more, and both boats finished their limits. When my crew got their 50 and Team Carroll got 75 we split up. My guys wanted flounder, so we went looking for rain minnows and moving water. First stop and three cast later we had flounder #1 in the box. Would have got plenty more but some pesky speckled trout kept eating our finger mullet. Litterally could not get through the keeper sized trout to get our flounder(go figure). If we could land near the points with rain minnows and not catch a trout, we would get a flounder. Caught 6 and could see the clouds building to the north. Packed it in, and rode behind Capt Kenny's crew for flat calm ride home. Wind and rain did come, but we had just finished cleaning fish when the worst hit.
****SHORE THING Fishing Charters****
The finest inshore fishing on the entire MS Gulf Coast. Specializing in speckled trout, red fish, flounder, triple tail, black drum and more! We fish the Louisiana Marsh, the Mississippi Barrier Islands and many other areas. Our full time fishing guides are extremely knowledgeable, courteous, and professional. With four boats available, small and large groups are welcome. Anglers under the age of 13 fish for free! All of our boats and guides are licensed to fish in Mississippi and Louisiana. We supply rods reels, tackle, snacks, drinks, ice, fuel, bait and fun. No charge for fish cleaning and bagging. Be sure and ask about our all inclusive overnight fishing packages to the
Cat Island
House!!! For your next fishing trip, give us a call or check us out on line.
http://www.shorethingcharters.com/
or 228-342-2206
Check us out on You Tube: www.youtube.com/watch?v=VdJjkK7ldsk&context=C497653dADvjVQa1PpcFOwoDwX2vSzY4P5FRg4Nz-_nX2fhO9IImg=