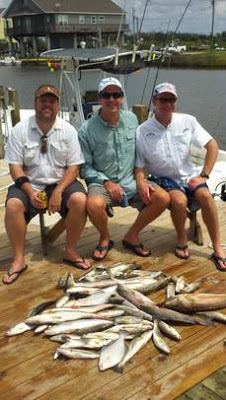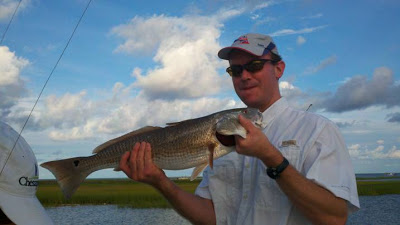 Hope everyone is doing well,
staying safe. All of the guides and their families of Shore Thing Charters are
all fine and safe. Figured some of you all might like a dusty fishing report
from Saturday, to pass the time. Had Three boats out on Saturday, an all
three went to the LA Marsh. Capt Matt with the Luke Smith Group was working on
the
trout
when we got there. Capt Kenny had the Daniel Meade Experience, a very lively
group, not far down the bank, doing well also. There was only a few places to
hide from the wind, that were holding bait, but we all made it work(sort of).
Poor Kenny was on a good bite when another boat idled around him, shutting his
bite down on a very tough day. Often times people ask us, "how close is too
close to go by another boat?", well... If an angler on Kennys boat was able to
put a popping cork on the deck of the boat idling(twin outboards rolling) past
his(anchored and fishing), lets call it at too close. Capt Matt did not get it
much better down the bank from the popping cork incident. Pretty sure he had to
change his shirt from the splash of the rather impressive anchor throw 30 feet
from his crew in 2 1/2 foot of water. After a few head shakes we had to all pull
out of that area. I had the Bell group and their pal Jamie. It was make
the most of it, kind of day. We were able to get a bull red, and some trout
before they wanted to try their hand at the sharks. Everyone on board was able
to get a black tip, before we went looking for other stuff. Kennys crew had all
they wanted, and the boys went in with 50 trout, 4
reds
and 2
flounder
.
We just pecked around the marsh fishing grass and points picking up a few more
reds here and there. Got a little dicey for the ride in but all the boats made
it back with trout, reds and flounder. All the boats had to switch up tactics
with the high rough water. Sometimes it was a popping cork rig, sometimes a live
bait rig, other times a carolina rig. Looking forward to getting back on
the water after Isaac goes through. Assuming every ones family and property is
safe, the fishing after these storms can be incredible. We will let mother
nature do what she does, and be back on the water as soon as the wind lays. Hope
everyone makes out ok, please stay safe.****SHORE THING Fishing
Charters**** The finest inshore fishing on the entire MS Gulf Coast.
Specializing in
speckled
trout
,
red
fish
, flounder, triple tail,
black
drum
and more! We fish the Louisiana Marsh, the Mississippi Barrier Islands
and many other areas. Our full time fishing guides are extremely knowledgeable,
courteous, and professional. With four boats available, small and large groups
are welcome. Anglers under the age of 13 fish for free! All of our boats and
guides are licensed to fish in Mississippi and Louisiana. We supply rods reels,
tackle, snacks, drinks, ice, fuel, bait and fun. No charge for fish cleaning and
bagging. Be sure and ask about our all inclusive overnight fishing packages to
the
Cat
Island
House!!! For your next fishing trip, give us a call or check us out
on line. www.shorethingcharters.com or 228-342-2206