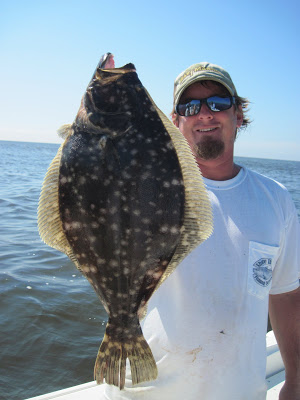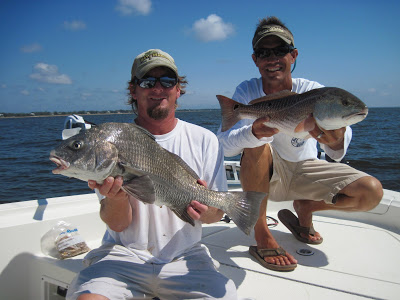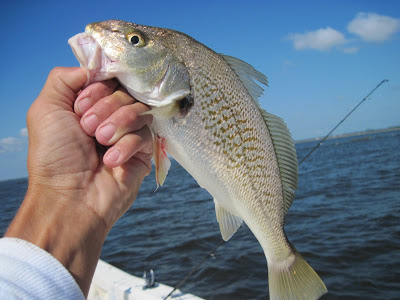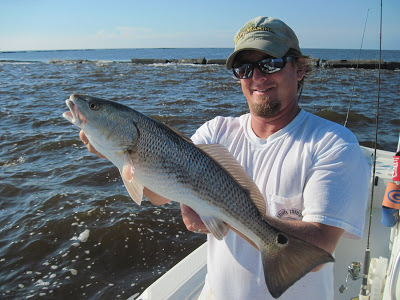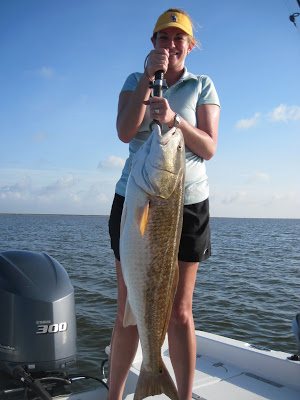 Little bit of business and little bit of pleasure the last two trips. Fished
Monday with the Magee family(Barry, Barbara, and Paul Thomas). They are back for
the second trip with Shore Thing. Little wind, but we borrowed Capt Kenny's 24
Sea Hunt(Thanks Kenny) since mine was getting worked on(will get to that). It
would be a grind all day for all of us. No one quit fishing all day and we
covered plenty of ground. The LA Marsh looks to be in great shape, I think we
saw all of it...Did get Barbara on a big bull red early in the morning.
Young Paul Thomas helped with all the slot fish. What few
trout
we caught, Barry got. Low water, windy and rough made for tough fishing, but we
gave it all we had. Did finally stop at Half Moon Island on the way in. Water
looked fine and we caught a few small trout there. I can tell you this, if you
plan on fishing it, fish up wind. Looks as though a few of the Nutria Balloons
from the Hurricane Isaac Party landed on the island and may have popped(little
smelly).Tuesday Captains Kenny, Kyle, Matt and myself changed breakers
on the Shiyou Caddy dock so we don't have to steal power from the neighbors for
the electric knives. Happy to report that the Port-O-Let was rescued from the
canal over. It has been cleaned and is fully operational.Thursday, Capt
Matt and myself got to take out Brian Broom from the Clarion Ledger(Jackson
Newspaper). Would have brought Kyle, but he is getting his land ready for deer
season. Kenny would have come, but he was jumping on a plane to go fishing in
Cabo. Been fishing with Brian for years now, great guy an one heck of a
fisherman. Weatherman said we were gonna get 15-20 mph winds so we stayed in
close to fish the reefs and bridges. He was wrong, and it was nice all day with
a light chop an a breeze. Finally worked in our favor, as all the reefs held
fish. Only had dead shrimp but that is all it took. Loaded the fish box with
perfect sized puppy
drum
and slot
reds
.
Released plenty big
black
drum
and
red
fish
to fight another day. Capt Matt an I could not recall a time when had
caught that many red fish off of the reefs. Best guess is that the storm flooded
the marshes and they went looking for structure/food. Been a while since I
fished with the Mighty Matt and we had a good trash talking session all day
long. I still believe my anchoring methods are better than his, but he does know
how to pull fish off of those reefs. We caught
flounder
,
drum, reds, grunt, bull
croakers
,
and even trophy oyster fish. Was able to send Brian back to Jackson with an ice
chest full of fillets, and hopefully a great story...Got to thank Sid,
Ronnie and Steve of The Boathouse yet again for keeping my boat alive. Seems an
O-ring fell off of my gas fill cap. The heavy rains of Isaac put a healthy dose
of fresh water in my tank. The boys were able to suction the water out and get
me back on the water in no time. Between the fair prices, quality workmanship,
and timely repair, there is no place better for all four of the Shore Thing
Boats. Thanks guys for keeping me working, ya'll are the best.****SHORE
THING Fishing Charters**** The finest inshore fishing on the entire MS
Gulf Coast. Specializing in
speckled
trout
, red fish, flounder, triple tail, black drum and more! We fish the
Louisiana Marsh, the Mississippi Barrier Islands and many other areas. Our full
time fishing guides are extremely knowledgeable, courteous, and professional.
With four boats available, small and large groups are welcome. Anglers under the
age of 13 fish for free! All of our boats and guides are licensed to fish in
Mississippi and Louisiana. We supply rods reels, tackle, snacks, drinks, ice,
fuel, bait and fun. No charge for fish cleaning and bagging. Be sure and ask
about our all inclusive overnight fishing packages to the Cat Island House!!!
For your next fishing trip, give us a call or check us out on line.
www.shorethingcharters.com or 228-342-2206