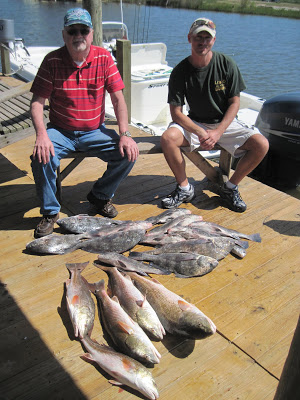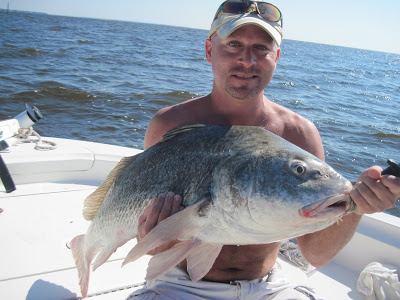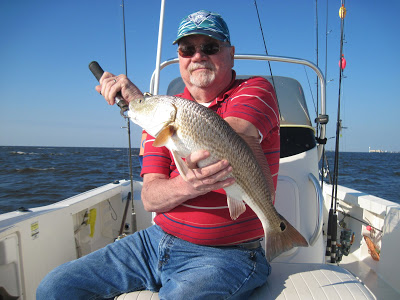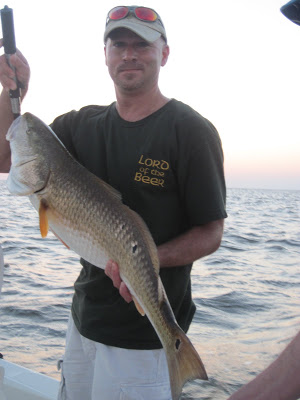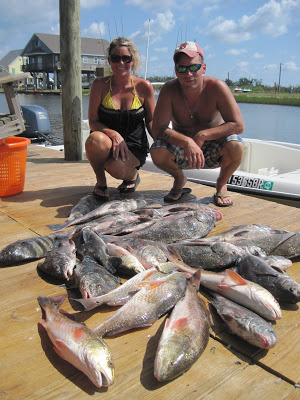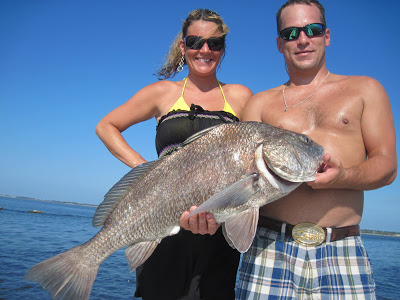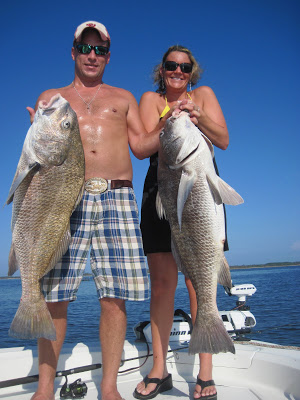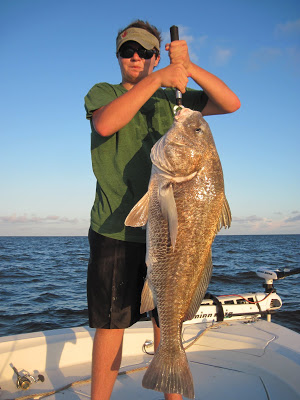 Been having some incredible
fishing on the reefs. Happy to report that Bordages is back with live shrimp,
ice, and dead bait. They open at 5AM, Bob at Bay Marina said he should have live
bait soon.Friday got a text from young Christopher asking if he could
fish after school. Got the boat ready and met him at the dock for 4pm. Chris is
usually my
shark
fishing dude, but we were limited on time so we hit the reefs. Pretty much an
every cast bite on
black
drum
and
redfish
all afternoon/evening at the reefs. I actually broke a rod fighting one of the
smaller
drum
.
The big sea monsters showed up and gave us a all the fight we could stand. Kept
only the small fish, and released all the big black drum. Made it back to the
dock at dark and sent my shark fishing pal home with an ice chest full of puppy
drum and
red
fish
fillets. His folks were very thankful...While we were out
fishing, Travis and Ashely from Brandon, MS called on their way down to the
Coast. I had a SNAFU with my Saturday trip so I was open. We were fighting fish
when they called, Travis said he wanted to do what we were doing. His wife was a
bit nervous about going far from the dock, so it worked perfect. Saturday
morning, we went back to the reefs and she could see land all morning long.
Warm, calm and the fish were hungry. We got an every cast bite, even grabbed a
limit of perfect slot sized MS red fish. The black drum were thick, and they
ranged in size from from 2 lbs to 30 pounds. When the smoke cleared for the
happy couple, 20 puppy drum and 6 red fish were somehow in the fish
box.Sunday I had the pleasure of fishing William Jr and Sr by way of
Memphis and Atlanta. They were game for an in close fish catching spree so guess
where we went...Weather was nice and cool so we set up early and stayed
on the fish . The first fish in the boat was a bull red Jr landed. Broke off
many fish, but still got a box full of puppy drum an
reds
.
Will Jr was finally able to get a sea monster in the boat for a couple of
pictures before we released it. This father and son team travels all over North
America to fish, and they really enjoyed the coast. We ended our near shore
adventure with 13 puppy drum, 5 reds.Looking forward to getting back to
the marsh, but having fun fishing in close. Just using bottom rigs with dead
shrimp, if the fish ain't biting, we move. These trips usaully run 4 to 6 hours
and are much cheaper than our marsh trips, if anyone wants to try one out.
Perfect for young anglers, first timers, or people looking to pick a fight with
some mean tasty fish close to home.Got a few emails from Capt Kenny, he
is still down in Cabo. Seems Lakeshores favorite son is doing a number on the
tuna
and
mahi
mahi
. Been waiting to see my man get himself a
marlin
,
sure hope he gets one.****SHORE THING Fishing Charters**** The
finest inshore fishing on the entire MS Gulf Coast. Specializing in
speckled
trout
, red fish,
flounder
,
triple tail, black drum and more! We fish the Louisiana Marsh, the Mississippi
Barrier Islands and many other areas. Our full time fishing guides are extremely
knowledgeable, courteous, and professional. With four boats available, small and
large groups are welcome. Anglers under the age of 13 fish for free! All of our
boats and guides are licensed to fish in Mississippi and Louisiana. We supply
rods reels, tackle, snacks, drinks, ice, fuel, bait and fun. No charge for fish
cleaning and bagging. Be sure and ask about our all inclusive overnight fishing
packages to the
Cat
Island
House!!! For your next fishing trip, give us a call or check us out
on line. www.shorethingcharters.com or 228-342-2206