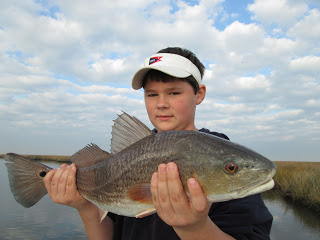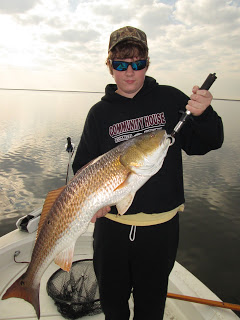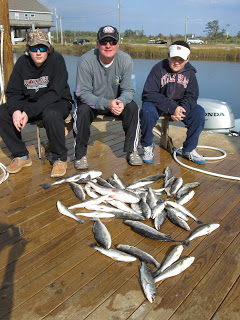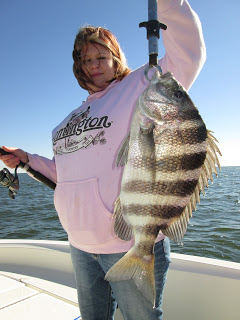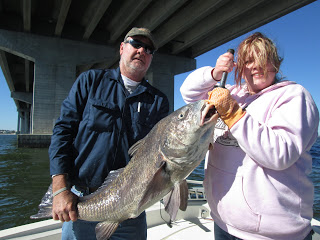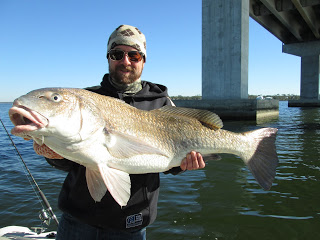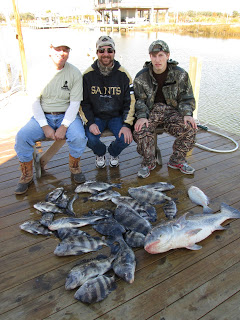 Had boats out Friday, Saturday and Sunday. Having to dress with a few extra layers, but the fishing has been great. Friday we had three boats out. I was out with the Norris boys for a trip to the marsh. Capt Matt was out in the marsh as well, with the Daniels group. Capt Kyle came out of the woods to run a near shore trip with Shore Thing veterans, The Watts Family. Had a nice calm ride to the marsh and minutes after we got inside, found birds diving. Gave it a few casts, and doubled up on big bull reds. Broke one off but did land one monster. Still fishing the mouths of of drains and still catching fish. Almost all trout were caught on the popping corks with soft plastics underneath. Marsh still had plenty of bait and pretty clean water. Used the popping corks to stay on a steady bite of school trout. Did get close to one bank and grabbed a slot red off of it with a spinner bait along the grass. The two young guns on the boat wanted to try their hand at sight casting later in the morning. Found plenty of reds, but blew a ton of shots. Went over into the three mile area to drift a few mud lumps when the water got moving. Finished strong with a good trout bite before heading home. The boys did great, and we closed with 40 specks, 1 puppy drum released 5 bulls and kept 1 slot red.
The mighty Capt Matt was fishing a deep canal a little ways from us, and doing well with the Daniels crew. They put up right at 50 trout and had to get in early. He had some reds and drum too.
Giving the deer hunting a break, Capt Kyle took the Watts family out for a near shore trip. Jim took his daughters out for a few hours, close to home. Kyle said it was easy day and the fish were happy he was back on the water. He said they caught trout, sheepshead, drum, flounder, redfish and grunts. They only fished the reefs with shrimp and did great. Good to have Kyle back, if only for a little while. He is on his way to Illinois, in search of a trophy buck, good luck Capt Kyle!
Saturday was a fun one with Shanna and Randy from Hot Springs, Arkansas. The father and daughter team wanted to "feel a pull", so went looking for fight. Shanna wanted to see what a sheepshead looked like, she had never seen one. Only took a few live shrimp on the reefs to get several in the boat. Had to hug to shore lines to get to the bridge, but was actually pretty nice despite the wind. Got set up on the bridges and locked into two big sea monster black drums. The puppy drum and sheepshead kept us very busy, and made for a lot of action for the out of state crew. Before I launched that morning, I noticed a nail in my tire at the boat launch. I called the Mighty Capt Matt to see if he could pick me up a spare at the store. Boy wander was nice enough to come to the launch on his day off and change my flat tire with one of his trailer tires. I guess he is no longer mad at me for breaking his collar bone on the playground in the third grade?
Sunday had the Dolese boys Ned, Robert an Andrew) for another day on the reefs and bridges. The cooler temperatures have sent the drum and sheepshead into overdrive. As winter approaches, the close to home, bridge and reef and fishing only gets better and better. Ned wanted his son and brother to get a bunch of action, but be back in time to catch the Saints game. Fishing was fast and furious. If and when it ever slowed, we would just move. Kept the boys bowed up with big sheepshead all morning, the live shrimp was deadly. Robert got the big fish of the day with a 35lb sea monster. Got back a little after lunch, cleaned the catch, and they made kick off.
With Thanksgiving behind us, we have plenty of stuff open. The LA marsh, near shore reefs and bridges are all holding incredible numbers of fish. Call or email if you want to get in on the action.
****SHORE THING Fishing Charters****

The finest inshore fishing on the entire MS Gulf Coast. Specializing in
speckled trout
,
red fish
, flounder, triple tail, black drum and more! We fish the Louisiana Marsh, the Mississippi Barrier Islands and many other areas. Our full time fishing guides are extremely knowledgeable, courteous, and professional. With four boats available, small and large groups are welcome. Anglers under the age of 13 fish for free! All of our boats and guides are licensed to fish in Mississippi and Louisiana. We supply rods reels, tackle, snacks, drinks, ice, fuel, bait and fun. No charge for fish cleaning and bagging. Be sure and ask about our all inclusive overnight fishing packages to the
Cat Island
House. www.shorethingcharters.com or 228-342-2206

Be sure and check us out on You Tube:

http://www.youtube.com/watch?v=VdJjkK7ldsk

http://www.youtube.com/watch?v=hr0twtm3Bng

http://www.youtube.com/watch?v=tiMDCa5OD6U