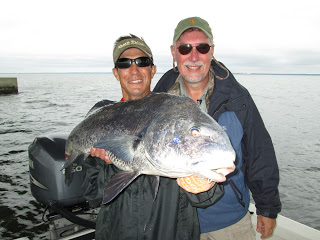 Another good weekend on the water, had boats out Saturday and Sunday. I left from Pass Christian on Saturday with the Pfister Group(Mike, Perry, and John). Believe it or not, Mike wanted to learn a few winter sheepshead spots for his grand kids. The fog limited our speed and distance, but since we left from the Pass, we were close to the bridge. Water was glass calm, but we had very little tide. Got safely set up on the bridges and went to work on the sheepshead and drum. Fog would lift and set back in so we worked our way down the coast in the breaks of the fog. Stopped at one of the man made reefs an our sheepshead trip went to heck. As we got close to the reef, through the fog, you could hear the birds cutting up. Once we were with in sight of the reefs, you could see the shrimp jumping. Everyone put away the dead shrimp and started casting bottom rigs for tight lined soft plastics. With very few throw backs, the boys dropped 36 keeper trout in the boat. Showed Mike and the boys a few more in close spots, and we headed to the barn. We ended the day with 4 sheepshead, 5 drum and 36 trout.
The Mighty Capt Matt was staying near Bayou Caddy with the Don Gilbert group. He was doing well on the trout when I talked to him early. As the morning went on, Don and the boys did well on the redfish. Matt said they were catching slot reds on spinner baits like a hot trout bite. The boys kept 12 MS slot reds, but Matt said they released another 15, they also kept 25 trout .
Sunday, got to shoot a Television show with Cephus McRae, host of Nuts and Bolts TV. Camera man Johnny was with us, for a fun day in the bay. They wanted shots of fish caught in MS Waters. Just did a repeat of the day before, but did much better on the bridges. The trout were still on the reefs, but the wind kicked up a small chop that seemed to slow the bite down. Got some really nice specks and plenty of whites on the tight lined soft plastics. Just bouncing them in an around the rocks. We hooked it to the bridges to get some footage of the sea monsters. We got one of the huge black drum on our second cast. Grabbed some smaller puppy drum, sheepshead and more sea monsters before we left. Very nice guy and can't wait to see the show.
Have gotten a few calls and emails about reel repair. We have been using Mr Ronnie Farrell(Ronnies Reel Repair 228-323-0157). Out of Bay St Louis, he is honest, quick, good price and does work. He got all my old offshore reels working good as new. He does inshore an offshore reels, good man.
****SHORE THING Fishing Charters****
The finest inshore fishing on the entire MS Gulf Coast. Specializing in speckled trout, red fish, flounder, triple tail, black drum and more! We fish the Louisiana Marsh, the Mississippi Barrier Islands and many other areas. Our full time fishing guides are extremely knowledgeable, courteous, and professional. With four boats available, small and large groups are welcome. Anglers under the age of 13 fish for free! All of our boats and guides are licensed to fish in Mississippi and Louisiana. We supply rods reels, tackle, snacks, drinks, ice, fuel, bait and fun. No charge for fish cleaning and bagging. Be sure and ask about our all inclusive overnight fishing packages to the Cat Island House. www.shorethingcharters.com or 228-342-2206
Be sure and check us out on You Tube:
http://www.youtube.com/watch?v=VdJjkK7ldsk
http://www.youtube.com/watch?v=hr0twtm3Bng