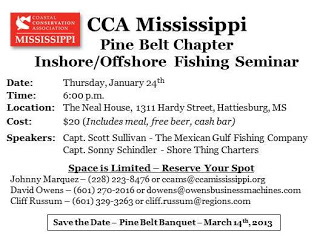 Anyone looking for something fun to do this Thursday evening, come check out the CCA Inshore/Offhsore Fishing Seminar in Hattiesburg, MS. Capt Scott Sullivan of the Mexican Gulf Fishing Company out of Venice, LA and Capt Sonny Schindler of Shore Thing Fishing Charters will be speaking. Gonna be talking about tuna, trout, wahoo, redfish, grouper, flounder, dorado, triple tail and more! Come check it out, there will be good food, adult beverages and some fishing stories...
CCA MISSISSIPPI
PINE BELT CHAPTER
INSHORE/OFFSHORE FISHING SEMINAR
Featuring
Captaiin Scott Sullivan - Mexican Gulf Fishing Company, Venice, LA
Captain Sonny Schindler - Shore Thing Fishing Charters, Bay St. Louis, MS
It's time to start thinking about shaking off the cold and looking ahead to Spring fishing. Come out for a fun night to hear some top notch captains share some of their inshore and offshore secrets. You may even win a prize!
SPACE IS LIMITED AND THERE ARE ONLY A FEW SPOTS LEFT
RESERVE YOUR SPOT SOON

DATE: January 24th, 2013 (Thursday)
TIME: 6:00 p.m.
PLACE: The Neal House
1113 Hardy Street
Hattiesburg, MS 39401
COST: $20 (includes dinner, free beer and cash bar)
RESERVATIONS: To reserve your spot, email or call one of the following contacts: