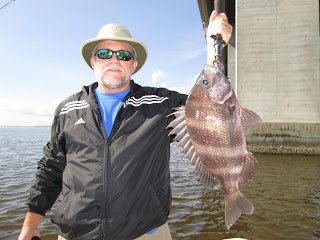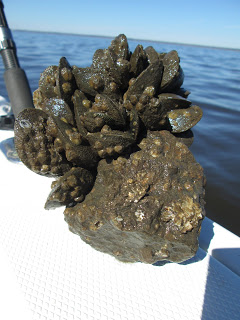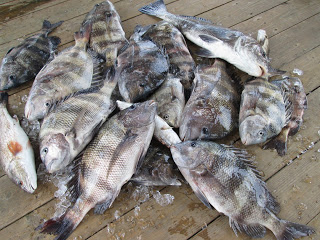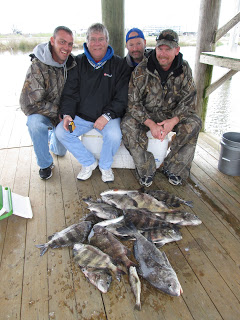 Had a few trips run this week, and finally made a trip to the LA Marsh. Gotta give a big THANK YOU to the gang at Bay Marina for having some live shrimp the last few days. Not that the dead shrimp does not work, but having those live suckers gives you a little extra advantage. Have had the 4 man Crosby crew in town from Kansas. They have been golfing and doing some fishing with us. Capt Matt took them out on Monday for a half day near shore trip. They stayed close to home and grabbed some good fish off of the reefs and bridges. They had some sheepshead and drum on a quick trip in the bay. Matt said the water was dirty and he had to move around to get it done.
The boys played golf all day Tuesday and were back on the water Wednesday with me. Forecast looked good enough to head to the LA Marsh. Nice ride across, I opted to fish the east side. Water was a semi-clean green even with the east wind. With a well full of live shrimp, we went right to work. Since we saw no signs of bait, we fished structure. First couple casts yielded big sheepshead and the first keeper speckled trout of 2013 for my boat. Fog started getting thick even with the building wind. Had a mess of sheepshead in just a few minutes of fishing, but they wanted to look for other stuff. Hooked it into a canal and fished banks with shells. Water was moving good and the fish was a snapping. We caught plenty of rat reds, ground mullet, but could not get away from the sheepsheads. Yanked one slot red off the shell banks and a good puppy drum before calling it a day. Took a following sea home with a good winter box of sheepshead, drum, red, ground mullet and one lonely trout.
Ran into Capt Kyle at the cleaning dock. He was looking mighty dapper in a stunning new pair of white shrimp boots. The deer are now safe to walk the woods, he is back to fishing full time! Kyle was working a near shore trip with Team Watts. Kyle said the two man crew bounced around the reefs and bridges and did well with the sheepshead and drum. He also said they caught some undersized trout with the live shrimp.
On a side note. A few trips back we snagged a piece of one of the submerged reefs. The chunk of limestone was overflowing with oyster shells growing off of it. Had to snap a picture of it, just to show how great these reefs are(on the Shore Thing website if not here).
MORE REEFS=MORE SHELLS=MORE FISH!!!!
****SHORE THING Fishing Charters****
The finest inshore fishing on the entire MS Gulf Coast. Specializing in speckled trout, red fish, flounder, triple tail, black drum and more! We fish the Louisiana Marsh, the Mississippi Barrier Islands and many other areas. Our full time fishing guides are extremely knowledgeable, courteous, and professional. With four boats available, small and large groups are welcome. Anglers under the age of 13 fish for free! All of our boats and guides are licensed to fish in Mississippi and Louisiana. We supply rods reels, tackle, snacks, drinks, ice, fuel, bait and fun. No charge for fish cleaning and bagging. Be sure and ask about our all inclusive overnight fishing packages to the Cat Island House. www.shorethingcharters.com or 228-342-2206
Be sure and check us out on You Tube:
http://www.youtube.com/watch?v=VdJjkK7ldsk
http://www.youtube.com/watch?v=hr0twtm3Bng
http://www.youtube.com/watch?v=tiMDCa5OD6U