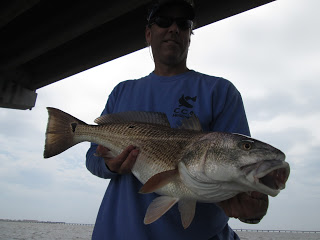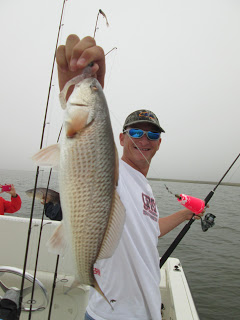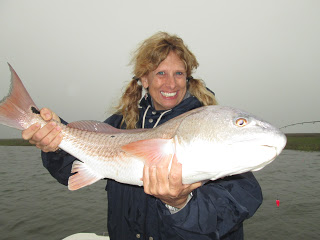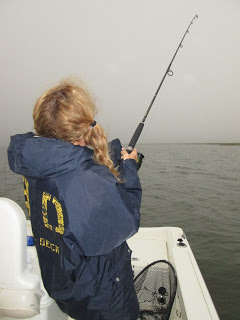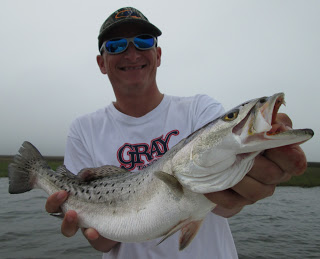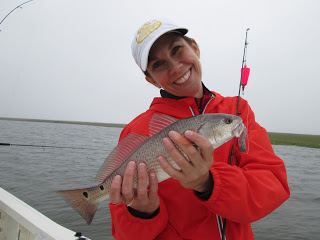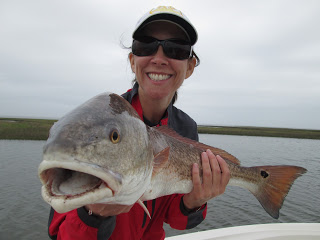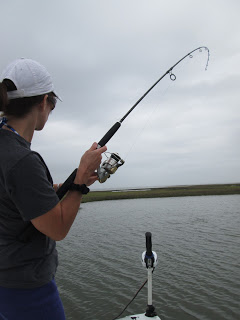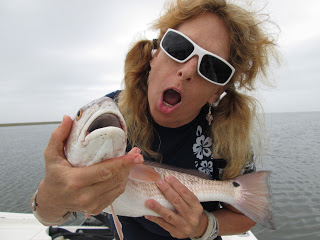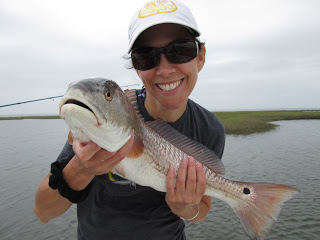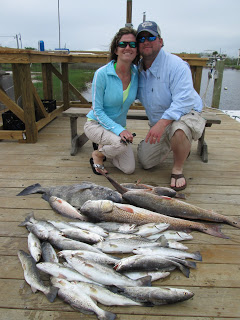 Have been out a couple times in the last few days, with mixed results. The weather turned many of our LA Marsh trips into near shore trips. Made the most of it but closed with a nice marsh trip! Gonna try to get it right, here we go...
Last week we had Shore Thing Platinum Elite member Gus Lorber in town. If Gus is in town, Gus is going fishing. We did our first day in the Bay with two boats. Capt Matt had Charlie and Larry on board his Blazer Bay. I had Gus, Buddy and stow a way CCA Executive Director John "Fish Head" Marquez with me. John and Gus have become buddies and wanted to catch up, while catching fish. Was able to work in the Bay as best we could fishing the bridges. Our boat grabbed a few puppy drum and some sheepshead on a slow and steady bite. Marquez got the fish du jour with a nice red fish. Capt Matt and the B team, were doing a good job on the red fish, and even a few trout. Boy wonder and his crew got on a nice bite of slot fish to the end their day.
Tried to make a go of it on day two, solo in the Rigolets, but I cut our trip short due to adverse weather conditions. We gave it a try, but knew we were pushing the safety issue. Did grab a few puppy drum and rat reds ,but mother nature asked us nicely to go home. Hooked it back to the dock way early and sent the boys to go look for mischief. Gus has been with me on good, bad an ugly trips. He always shows up with a smile and leaves with a smile.
Saturday the Pittman brothers were in town, always a lively bunch. Andrew managed to schedule a trip when all 4 of them could get on the water. I promised to take them to fish around Cat Island. Seems we were not the only ones with that idea. We weaved our way through the maze of boats and broke out the cast net when we were a safe distance from the masses. Grabbed a well full of mullet and went looking for sharks. Found sharks, but they were either too small, the wrong species or both. They still had a great time, since they had never caught them before. We had all the sharktastic fun we could stand before heading to protected water in the bay to grab a few fish for dinner. The crew wrangled some eater sized puppy drum before we headed to the barn.
And then there was Monday...
Had three boats out: Captain Kenny, Capt Matt, and myself. All three boats took advantage of the calm seas and went to the LA Marsh. Over cast with patchy fog, but the water was nice. Bait was almost at every stop and the fish gods smiled on all three boats. Capt Kenny left way early to chunk top waters at first light. He was the first one back in, but he said they got a few nice trout and some reds. I was working shallow bays with Capt Matt, looking for bay chovies and trout. Matt along with Mr and Mrs Oaks from Benton, MS got the gold star today. We tried to stay out of each others way and only fished next to his boat once all day long. They kept a good rythem going and had a pile of big keeper specks, slot reds, bull reds and black drum. When the bite stopped, he picked up and moved. John Oaks was so happy at the dock he gave me a hug, he was tickled pink!
I had some good friends back in town and on the water. Sharon McBreen and her friend Eddy were joined by our good buddy and fellow charter capt, Shane Cantrel from Galveston, TX. This crew is here for the Gulf Council meetings in Gulfport. They were able to get in a few hours of fishing in before the meetings began. Pretty sure I made Capt Shane late for a pre-meeting-meeting, sorry about that skipper. We used the Matrix Shad(shrimp creole) under the Boat Monkey corks all day long. The Okuma reels got a work out, especially on the red fish(all released). They had no way of keeping the trout, but I promised them I would find a good home for them(I love my job). Hit and miss trout bite all day, best bite came around noon for us in one small pocket in 3 to 4 foot of water. Only kept 22 specks, Capt Shane got one close to 3lbs. Being from Texas, he called our fish "cute". He was a good sport, and lethal with a spinning rod. Using dead shrimp to tip the popping cork rigs, we were launching baits deep into small shallow pockets that were full of red fish. Happy with the trout in the box, all the reds got the photo and release. Water looked good every where we fished in the marsh. Looks like spring has sprung...
On a side note, two things that may help some of you now that it is game time. Ran into Mr Ronnie, with Ronnies Reel Repair in Bay St Louis(228-323-0157). He said he is wide open if anyone wants to get their reels cleaned, fixed or serviced. We know him and trust him. He does great work, and is a hell of a nice guy too. Also got to meet the new trolling motor guy from Gulfport, Randy Deschamp with Shamps Outdoors(228) 234-6131 on HWY 53. He came by the Boat House to say hello, happy to hear him say he does do warranty work. Hope this helps
****SHORE THING Fishing Charters****

The finest inshore fishing on the entire MS Gulf Coast. Specializing in
speckled trout
, red fish,
flounder
, triple tail,
black drum
and more! We fish the Louisiana Marsh, the Mississippi Barrier Islands and many other areas. Our full time fishing guides are extremely knowledgeable, courteous, and professional. With four boats available, small and large groups are welcome. Anglers under the age of 13 fish for free! All of our boats and guides are licensed to fish in Mississippi and Louisiana. We supply rods reels, tackle, snacks, drinks, ice, fuel, bait and fun. No charge for fish cleaning and bagging. Be sure and ask about our all inclusive overnight fishing packages to the
Cat Island
House. www.shorethingcharters.com or 228-342-2206

Be sure and check us out on You Tube:

http://www.youtube.com/watch?v=VdJjkK7ldsk

http://www.youtube.com/watch?v=hr0twtm3Bng

http://www.youtube.com/watch?v=tiMDCa5OD6U