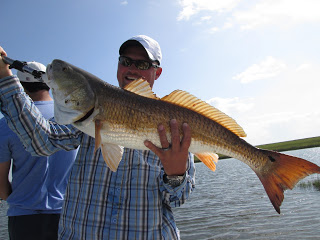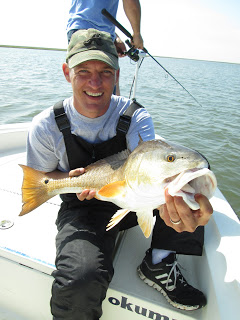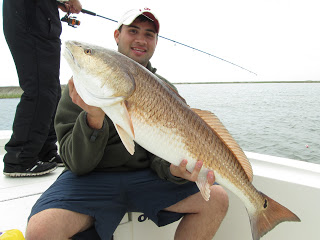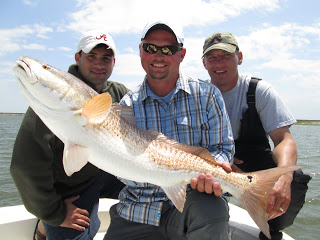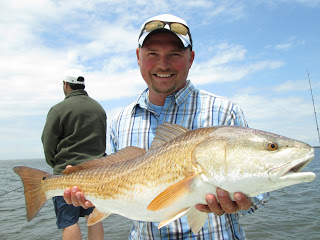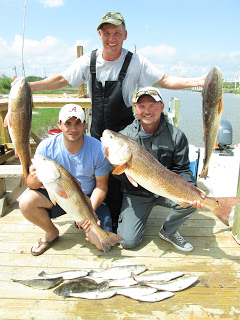 Capt Matt and myself, were able to jump across to the LA Marsh on Monday. The Mighty Matt had Shore Thing Gold Club Elite members, Don Smith and Mike Timmerman. How these knuckle heads get any fishing done is beyond me. Even from half a mile away, they are the loudest bunch of anglers you have ever heard. Between the dirty jokes, the constant trash talking, and the cheers when they get a fish, it sounds like a frat party . For reasons I can not explain, what ever they were doing was working. In 15 mph winds on a neap tide, they got 44 good keeper trout, not to mention some redfish. In all seriousness, that crew is a lot of fun, all the guides enjoy seeing them, and they have a ball with Capt Matt.
I was lucky enough to have a good friend Johnathan Rush, book a trip for his brother Justin and their pal Jimmy Vuong. These boys knew their way around a boat, and were a big help. We needed help when our first bull red of the day broke the line close to the boat. Johnathan an I chased the fish out of a pond, into open water to try and snag the Boat Monkey Cork swimming away(think Jaws). We finally grabbed the tag end of the braided line, and Johnathan hand lined a freaking 27 inch red into the boat! Just a fun day with these guys. Johnathan even brought his own "secret" soft plastics baits. In all fairness, he held his own with the Shrimp Creole Matrix Shads we were throwing.
Finally got a transmission from Matt and the wild boyz. We did have a few small trout, an another bull red. We high tailed it to his trout bite and grabbed a few. Seemed like we were on the tail end of the bite, but we did get some good fish. As we drifted away from them, we did land on a school of bull reds. The guys did great wrastlin the big fish in, think we went 5 for 6 on the big ones. Finished the day with 12 trout, 5 for 6 on bulls, and 1 flounder. Considering the wind, tide, and water clarity I think it was stellar victory for both boats.
Got one boat open this Saturday if anyone wants to fish. Most weekdays are available too.
****SHORE THING Fishing Charters****

The finest inshore fishing on the entire MS Gulf Coast. Specializing in
speckled trout
, red fish,
flounder
, triple tail,
black drum
and more! We fish the Louisiana Marsh, the Mississippi Barrier Islands and many other areas. Our full time fishing guides are extremely knowledgeable, courteous, and professional. With four boats available, small and large groups are welcome. Anglers under the age of 13 fish for free! All of our boats and guides are licensed to fish in Mississippi and Louisiana. We supply rods reels, tackle, snacks, drinks, ice, fuel, bait and fun. No charge for fish cleaning and bagging. Be sure and ask about our all inclusive overnight fishing packages to the
Cat Island
House. www.shorethingcharters.com or 228-342-2206

Be sure and check us out on You Tube:

http://www.youtube.com/watch?v=VdJjkK7ldsk

http://www.youtube.com/watch?v=hr0twtm3Bng

http://www.youtube.com/watch?v=tiMDCa5OD6U