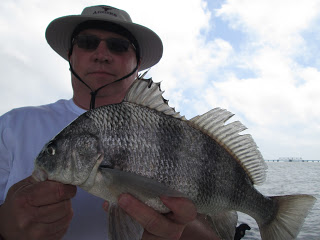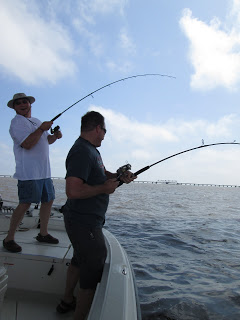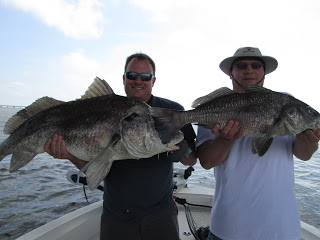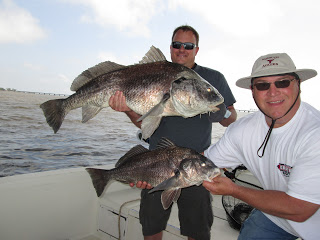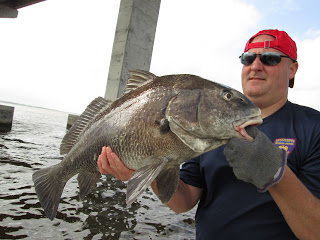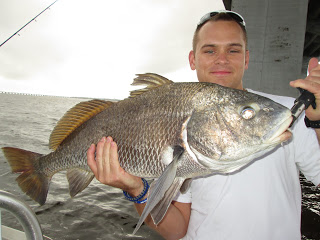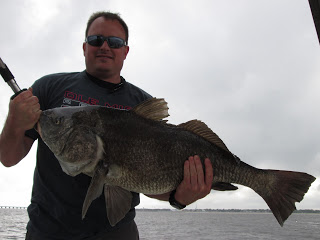 Still able to fish on Tuesday and Wednesday, but had to plan ahead to make it work. While I was gearing up to run an afternoon trip on Tuesday, got a phone call from Mike. He was in route to Bay St Louis and wanted to wet a line. Capt Matt was in the Marsh, I was already booked, and Capt Kyle was tied up. Capt Kenny was cutting grass down at at our dock in Shiyou Caddy. Needless to say, Capt Kenny did not finish his landscaping work and was launching his boat at the World Famous Bay Marina right behind me. We both left at the crack of 2pm but it was worth it. Due to limited time and stout winds, we both fished the protected waters of the Bay.
I had 4 state troopers from north MS. This trip was sent our way thanks to our friend Capt Alex McIngvale from Venice. Trooper Chad McKnight and his buddies were in town for a conference and came down a day early to have some fun. Two of the anglers had never been on a salt water fishing trip. We set up for black drum and were treated to an afternoon of great fishing. Capt Kenny was a couple hundred feet from us. Every time we looked at his boat, he and Mike were doing battle with some of the massive drum that are all over the Bay. Both boats were kept busy for hours on a great bite, in less than perfect conditions. I think my crew had more fun taking pictures of the big fish and sending the pics to the other troopers that did not come fishing. In four short hours, both boats released many black drum, ranging in size from 2 pounds to 40 lbs. The landing nets got plenty of use, we actually caught more of the sea monsters than the puppy drum.
We got a call from Matt after he got in from the Marsh. He had Don Smith and Mike Timmerman for day 2 of their rowdy fishing experience. The Wild Boyz were able to get to the LA Marsh and pick up were the left off the day before. Matt said even in the wind they were able to find great fishing. They were looking for more reds, but the trout bite was too good to leave. The two man crew got 40 keeper speckled trout, 4 reds and released several more. If the bite has been this good in weather this poor, the bite should be off the charts this Spring when the weather stabilizes.
Snuck out for about 3 hours on Wednesday before the rain. Had Big Bad Bragg Williams for a quick trip to the marsh. I thought we could make it to 11AM, but Bragg insisted we head in around 9(he was right). Found good trout in murky water, and got all we could out of it. Think we shook off 3 fish for everyone we put in the box. Not wanting to get stuck in the weather, Bragg an I left the Marsh with 17 trout. Got back to the dock, cleaned the fish and never got hit from drop of rain. Still using the Boat Monkey Popping corks over the Matrix Shad(Shrimp Creole). The Okuma spinning reels have made life easy casting in the seemingly never ending wind. Keeping them spooled with 20 and 30lb power pro. Weather is looking good for the weekend, if and when you go fishing, please be courteous to other boaters. There are plenty of fish out there for all of us.
****SHORE THING Fishing Charters****

The finest inshore fishing on the entire MS Gulf Coast. Specializing in
speckled trout
,
red fish
, flounder, triple tail,
black drum
and more! We fish the Louisiana Marsh, the Mississippi Barrier Islands and many other areas. Our full time fishing guides are extremely knowledgeable, courteous, and professional. With four boats available, small and large groups are welcome. Anglers under the age of 13 fish for free! All of our boats and guides are licensed to fish in Mississippi and Louisiana. We supply rods reels, tackle, snacks, drinks, ice, fuel, bait and fun. No charge for fish cleaning and bagging. Be sure and ask about our all inclusive overnight fishing packages to the
Cat Island
House. www.shorethingcharters.com or 228-342-2206

Be sure and check us out on You Tube:

http://www.youtube.com/watch?v=VdJjkK7ldsk

http://www.youtube.com/watch?v=hr0twtm3Bng

http://www.youtube.com/watch?v=tiMDCa5OD6U