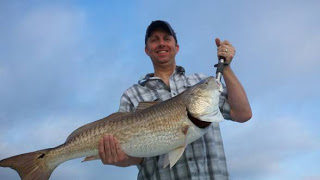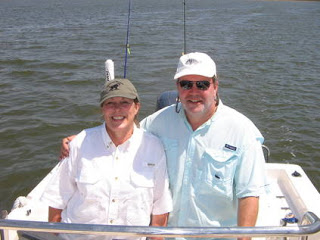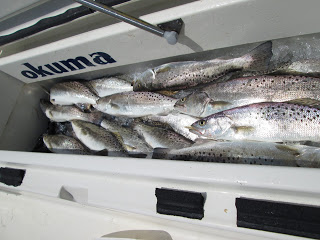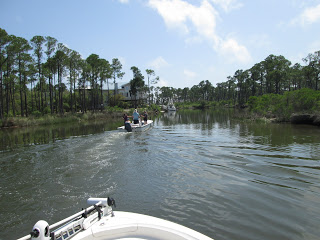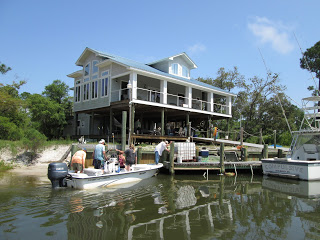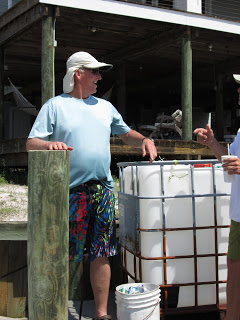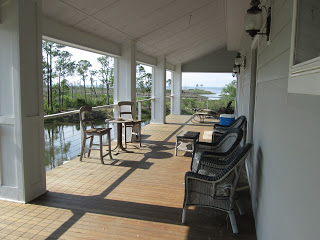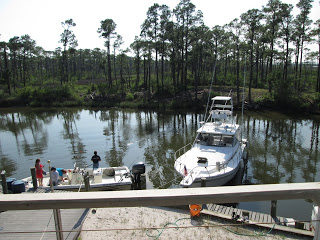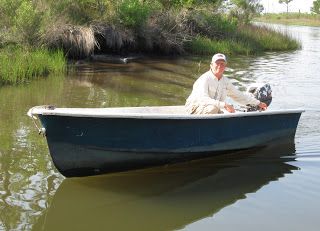 Had plenty of boats out the last two days. We have fished from Lake Borgne to Long Beach and every where in between. Friday was a tricky one due to relentless breeze. Thought the weatherman was gonna give us a nice afternoon, but the wind never let up. Capt Matt and I were out in the marsh trying to make the best of it. He was out there with Team Beeson, back for their second trip, I was out with Team Meyers. I went into the flooded ponds looking for red fish. Did not put the first keeper fish in the boat until lunch time. Finally found what we were looking for in the 9 mile area of the LA Marsh. Using the Boat Monkey corks and soft plastics tipped with dead shrimp, we hit a good pack of slot reds. For a while it was an every cast bite, as fast as you could get the bait out. The water was soo high, the fish were literally in the grass. Grabbed six reds, but missed another 4. Had a slow ride home, but played it safe and took it slow. Back at Shiyou Caddy, Capt Matt and team Meyer fared a little better than us. They were able to drift a few bays in protected water. They had about 20 trout and several reds. He said they worked for every fish they had, no thanks to mother nature.
Had 4 Shore Thing boats out on Saturday, 3 to the marsh via Bayou Caddy and I went via Long Beach, then Cat Island. Got to run a trip with Dr Don Gaddy, the owner of the Cat Island house we use for our all inclusive overnight island get a ways(http://shorethingcharters.com/lodging.php). The trip was for his office party, and the weather was very nice. On my drive over to Long Beach Harbor, every boat launch I passed was packed with empty boat trailers. Hope everyone had a fun, productive, safe day on the water. Got lucky at the Long Beach Harbor and ran into my old pal Jusitn Roland, owner of the Tackle Box(bait shop). He was cleaning his bait boat, and scrapped the holding tank out of the bait boat for me. He was able to scrounge up a couple dozen shrimp for me. Glad to see my old pals business doing so well, he is a great, hard working guy.
With a full crew we headed to the Cat Island house and joined the party. They had a pile of boats and people out there. I took a boat load and had Dr Don and his boat follow us over to the LA Marsh, just before 11AM. When we got in radio range, it sounded like we missed one heck of a morning bite. Captains Matt, Kenny and Jimmy Ray did very well on the trout, slot reds and bull reds. They were in great action but were having to pick through undersized trout. The water was clean, due to the light winds, and the bait was at almost every stop. We drifted a few shallow bays and grabbed enough trout for a very large dinner at the Cat Island house. I was unable to stay for the feast, but is always a treat to be out there. Even got to spend some time with the Mayor of Cat Island, Mr Walter Gaudin(only resident of the island). Brought a crew of folks that could not stay the night and made it home before dark. The other boats called with their stats, and few pics. The early start made all the difference for them.
Capt Matt and Team Rozier
50 speckeled trout
1 red
Capt Kenny with Doug and Mark Simpson along with Trey Garrad
40 speckeled trout
1 red
Capt Jimmy Ray with Jim and Ann Geary
21 speckeled trout(3 throw backs to 1 keeper)
4 break offs on bull reds
****SHORE THING Fishing Charters****

The finest inshore fishing on the entire MS Gulf Coast. Specializing in
speckled trout
,
red fish
, flounder, triple tail,
black drum
and more! We fish the Louisiana Marsh, the Mississippi Barrier Islands and many other areas. Our full time fishing guides are extremely knowledgeable, courteous, and professional. With four boats available, small and large groups are welcome. Anglers under the age of 13 fish for free! All of our boats and guides are licensed to fish in Mississippi and Louisiana. We supply rods reels, tackle, snacks, drinks, ice, fuel, bait and fun. No charge for fish cleaning and bagging. Be sure and ask about our all inclusive overnight fishing packages to the
Cat Island
House. www.shorethingcharters.com or 228-342-2206

Be sure and check us out on You Tube:

http://www.youtube.com/watch?v=VdJjkK7ldsk

http://www.youtube.com/watch?v=hr0twtm3Bng

http://www.youtube.com/watch?v=tiMDCa5OD6U