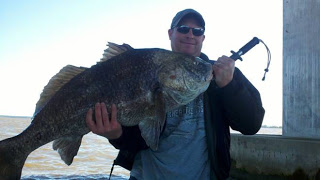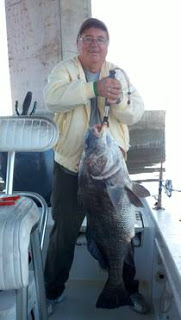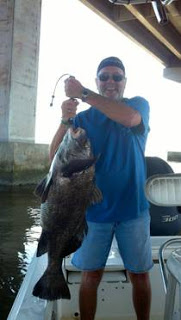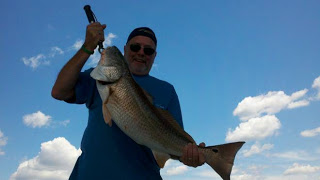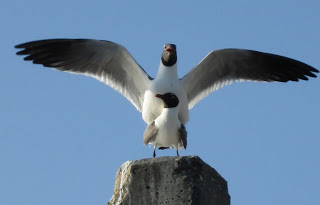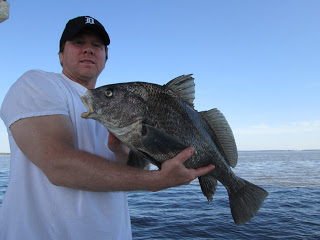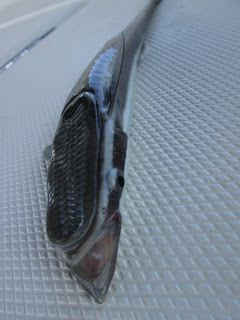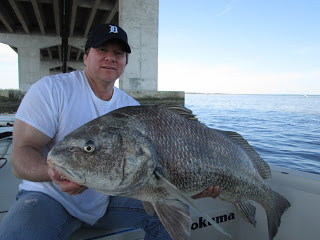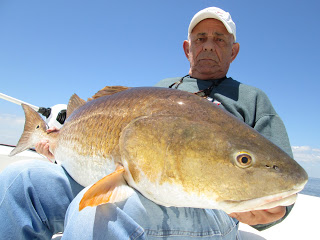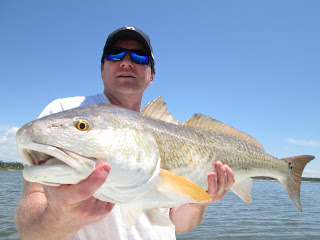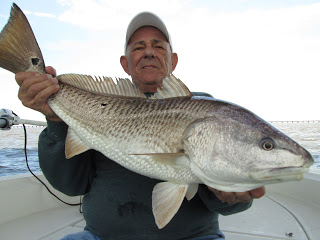 3 boats out on Tuesday, and all of em did very well. The Mighty Capt Matt made the run to the LA Marsh with Sean Jordan and the crew. Water was nice and calm, he got there in no time. He said he found several places with pretty green water and bait. He must have done something right, because they boxed 50 nice trout and were back before Kenny an I got in.
Both Capt Kenny and myself had two person crews that were not keeping fish. Capt Kenny had the Lance 2 person gang and got a head start on us. They set up in the Bay for a rumble with drum. When I got there with the Feoli crew(Mike and Jim), they were taking a break! Apparently they set up over a nest of big sea monsters. Pretty much stayed that way all day for his boat. One of his guys had been a golden glove boxer for 24 years, he told Capt Kenny, "I ain't never had my a$5 kicked this bad"!
Me and the Feoli crew held our own with them. They are in town from Las Vegas for 3 days of fishing. We landed on the big drum as well. One of the sea monsters we got even had a freaking remora(sucker fish) on it. After several big drum each, Mike and Jim asked if we could find some smaller fish? Water was calm, so we hooked it to Cat Island for a mid day bite. I failed them miserably looking for smaller fish. In pretty clean water, full of mullet, pogies, and rain minnows, all we found was bull reds. They had never seen one before, it was a real treat for them. Water looked great out there, think we just got there too late for the trout.
Wednesday we had 4 boats out and all four went to the LA Marsh. Saw Capt Matt when I left the dock, and did not see him again till we returned. He was pulling his boat out of the launch, honked his horn and gave me a thumbs up. When I got to the cleaning tables I saw why. He had 60 good trout, 2 sheephead and 2 bonus pompano in the gut pile. Little booger put on a show for JC and his crew. I was out with another 2 person crew, Bill and Marcel Marquette. The boys wanted trout, and we tried all day long to find them. Between the bull reds and undersized trout, few keeper specks went into our box. Plenty of action, just not as many keepers as we would have liked. We were hooking bull reds in places inside the marsh in very shallow water that I have never caught bulls. The boys asked if we could look for some slot red fish. The wind dropped out and the sun came out, so we went sight fishing for them. Found some clean water, plenty of bait and plenty of red fish. We got to cast to tailing fish, fish pushing wakes and just plain sight casts. Several times we would hook the first fish we saw only to have packs of fish come and circle the boat. Towards the end of the day we even saw 2 true bull reds working in a foot of water. Got one and while were fighting him, grabbed another one in open water for a double bull bonus. On a side note, almost every trout we caught was in two foot of water inside the marsh. Was the only scenario that produced for us.
Capt Kenny was out with Mike Feoli and JIm for day 2 of their 3 day fishing adventure. They came out looking for trout, and smaller fish. Called them on the VHF and Kenny said they were complaining about sore arms from the drum and bull red fish from yesterday. Kenny kept them moving, and made a day of grabbing a handful of trout at each stop. He even made them fight the bull reds that were hooked as incidentals. Mr Mike even called me later in the evening, just to say how much fun he and Mr Jim were having.
Capt Brett was nice enough to lend us a hand and his 24 triton for the day. He had the Bailey crew and sounded like he did well. He checked in late in the day when they got back to the dock. His text read, "Back Safe 50 Trout". That'll do Brett, That'll do...
Saw plenty of boats out today, and happy to report there is nothing to report in the way of knuckle head behavior(at least around us). Hope this trend continues all year long for everyone!
****SHORE THING Fishing Charters****

The finest inshore fishing on the entire MS Gulf Coast. Specializing in
speckled trout
,
red fish
, flounder, triple tail,
black drum
and more! We fish the Louisiana Marsh, the Mississippi Barrier Islands and many other areas. Our full time fishing guides are extremely knowledgeable, courteous, and professional. With four boats available, small and large groups are welcome. Anglers under the age of 13 fish for free! All of our boats and guides are licensed to fish in Mississippi and Louisiana. We supply rods reels, tackle, snacks, drinks, ice, fuel, bait and fun. No charge for fish cleaning and bagging. Be sure and ask about our all inclusive overnight fishing packages to the
Cat Island
House. www.shorethingcharters.com or 228-342-2206

Be sure and check us out on You Tube:

http://www.youtube.com/watch?v=VdJjkK7ldsk

http://www.youtube.com/watch?v=hr0twtm3Bng

http://www.youtube.com/watch?v=tiMDCa5OD6U