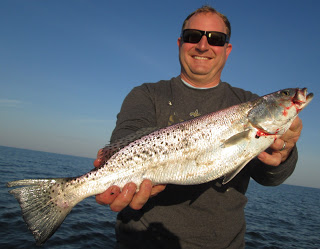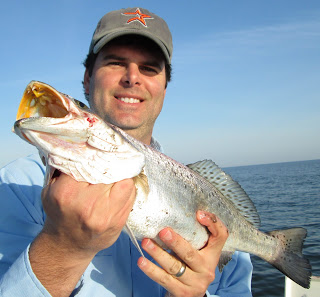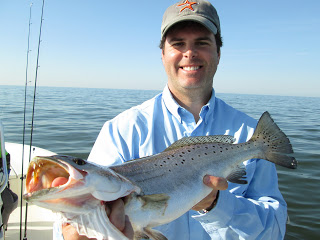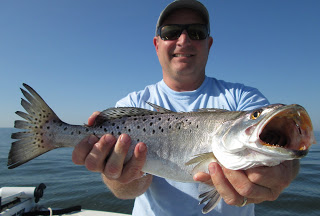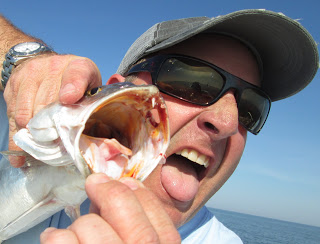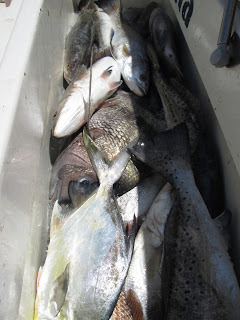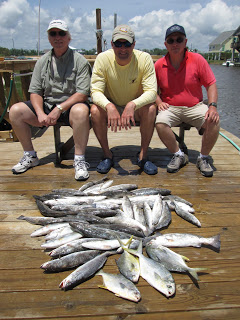 Three boats out Thursday for one fine day of weather and fishing. The Mighty Capt Matt and I took both of our crews to the LA Marsh. Capt Kenny had Mike Feoli and Jim for the last day of their 3 day adventure. Mike and Jim had already done a Bay trip, Cat Island and the LA Marsh, so they got to pick what they wanted for their last day. Since they had never caught so many big fish, close to the dock, they requested one more Bay trip. Careful what you wish for, was the lesson they got. With the calm seas and good tide, Capt Kenny hit the mother load on the drum. The crew was fighting fish all morning long. Kenny said he even thought he saw Magic Mike actually fall asleep from exhaustion near the end of the trip. He said the two man crew caught and released an astonishing 26 SEA MONSTER BLACK DRUM. They even managed to boat 10 of the smaller puppy drum that Capt Kenny would later "release in da grease". What a great way to end their 3 day adventure!
I had the crew from Guice Offshore, Billy and David with me. First time in a very very long time that a crew was at the dock before me. I was not late and they were not early, "technically". Billys brother Nathan had set up the trip and told Billy to be at the dock for 0515. Bait man did not open till 0500, and I figured we cold leave around 0545. Long story short, we met in the middle and left the dock at 0530(Thanks Nathan). Light chop for the ride across that turned into a flat calm sea as we got into the marsh. Set up over some structure with live shrimp on the carolina rigs. Bite was steady all morning long, and the trout were the biggest to land in my fish box this year. Capt Matt warned me from his past trips. If you are on fish, stay put, even if means waiting 20-30 minutes. We just grinded out the morning and put 30 fat trout on ice before pulling the plug. Did manage a couple a sheepshead and even a bonus pompano as well. Fished two small pockets looking for red fish. Wind was different and water was dirty from the day before. Got one rat and one slot red before Billy called for a move to the skinning shed. Found out later this was his Birthday trip, so Happy Birthday Billy!
Capt Matt had Blaise Ernst and the boys. They set up and put their live shrimp to work on the carolina rigs over some shells. They did very well on the big trout, that is until...
Sad to say they had not one but two boats get literally right on top of them. Capt Matt, who is about the most layed back guy I know was boiling hot when I talked to him that afternoon. He said one of the boats anchored exactly where their casts were landing. The other boat could not get his anchor to grab. This resulted in the vessel drifting between him(10 feet) and where he was casting to not once, not twice, not three times, not four times, not five times, but SIX TIMES! After each anchor drag the boater would fire up the engine and ride through where Matts crew was fishing. It did not help that Capt Matt and his crew kept catching fish while all of this was going on. Even through all of this chaos, the charter squeezed out almost 50 trout and 4 pompano. No telling how well his crew would have done without these shenanigans.
None of us own the water, I fully understand and respect that. There are plenty of fish and plenty of places to fish out there for everyone. This sounded like an issue of extremely poor etiquette on the other boaters part. The rule of thumb we use if we fish next to each other, or other boaters is very simple. ALWAYS, come in on the trolling motor or drift in. Your farthest cast should not land anywhere near the other boaters farthest cast. If you are leaving a spot and the other boater is staying(fishing), trolling motor out or drift out, as not to disturb things. If and when the area does not permit any of the above, radio or ask the primary fishing boat if they mind if you set up close to them and tips for doing it correctly.
I actually enjoy fishing and catching fish next to other boaters. Nothing is better than cutting up out there with other boaters and sharing what a great gift we are blessed with here in our front yard. Just use the space between your ears, if it does not look or feel right, it most likely is not. We all make mistakes, it happens, but we must learn from them. Have fun and be safe, and please be courteous.
Got weathered out for Saturday, Happy Mothers Day to all the mommas out there!
****SHORE THING Fishing Charters****

The finest inshore fishing on the entire MS Gulf Coast. Specializing in
speckled trout
,
red fish
, flounder, triple tail,
black drum
and more! We fish the Louisiana Marsh, the Mississippi Barrier Islands and many other areas. Our full time fishing guides are extremely knowledgeable, courteous, and professional. With four boats available, small and large groups are welcome. Anglers under the age of 13 fish for free! All of our boats and guides are licensed to fish in Mississippi and Louisiana. We supply rods reels, tackle, snacks, drinks, ice, fuel, bait and fun. No charge for fish cleaning and bagging. Be sure and ask about our all inclusive overnight fishing packages to the
Cat Island
House. www.shorethingcharters.com or 228-342-2206

Be sure and check us out on You Tube:

http://www.youtube.com/watch?v=VdJjkK7ldsk

http://www.youtube.com/watch?v=hr0twtm3Bng

http://www.youtube.com/watch?v=tiMDCa5OD6U