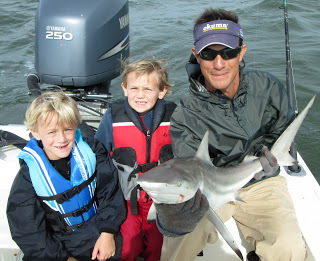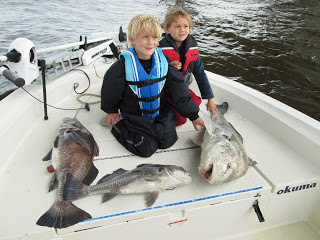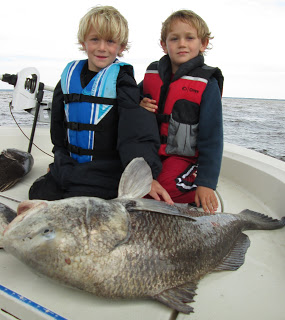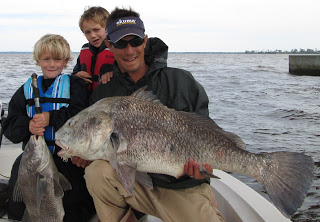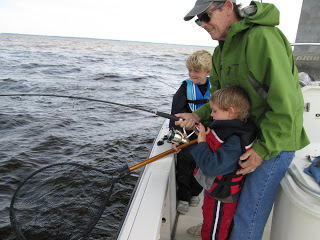 From all of us at Shore Thing Charters, we would like to wish all a very Happy Mothers Day!
Only boat on Saturday, and it was a fun one. Had Robert Creely and his two young sons(Kyle and Bobby). We left from Pass Harbor anticipating the north wind. We were not disappointed, it blew all morning but we were protected. Robert wanted to get his boys on some big fish, and promised them we would go shark fishing. We made a few drifts around cat island, but not much was going on in the way of trout or reds for us. Broke out the cast net and grabbed about 20 mullet for chum and bait. The young anglers were a big help wrangling the fish and letting me know where to throw the net. These boys were tough, but I was glad we did run into any real big sharks. They handled the 2 and 3 foot silky and black tip sharks like pros. After they caught and released a few sharks each, Mr Robert asked if we could try out the black drum in the Bay. Happy to oblige such nice people, so we made the trek in no time. What a good call...
Three baits out and three fish on! Young Kyle and Bobby were working on a double while Dad was filming. I looked on the opposite side of the boat and saw the third rod doubled over in the rod holder. Got the double in and I grabbed the third rod, it barely moved. Somehow, the boys took turns and we brought the hawg into the boat. Had to be one of the bigger drum we have seen on the deck this year! We caught several more and the boys started getting distracted with the live wells and other stuff. Big Rob called for lines in and we headed to the dock. When we hit the dock, I assume they had a good time. He told me to book him for my next open date. See you soon Team Creely!
A very eye opening ride home back to Bay St Louis, trailering the boat. Was stopped in a road block at the foot of the Pass/Bridge. I handed the State Trooper my license and proof of insurance and he asked me where I had been? He did not think it was funny when I told him Cat Island and inside the Bay. He asked where did I dock the boat and I realized it was a sobriety check point after I said, "Shaggy's"(it's a bar and grill in the Pass Harbor). I had actually gone inside because I saw several people I knew, one was a guy who will be fishing me in a few weeks. I was offered several cocktails, but declined on all of them, thank the Lord. Never been against having an adult beverage on or off the water, but you gotta be responsible on both. Last thing I expected to see at 12:45 on Mothers Day(Sunday) on HWY 90 was a DUI check point, but I was in it. Since I said I was technically leaving a bar, the trooper gave me a breathalyzer. Blew a 0.0 and off I went. Just wanted to pass this along to everyone. Please be safe and responsible on an off the water.
****SHORE THING Fishing Charters****

The finest inshore fishing on the entire MS Gulf Coast. Specializing in
speckled trout
,
red fish
, flounder, triple tail,
black drum
and more! We fish the Louisiana Marsh, the Mississippi Barrier Islands and many other areas. Our full time fishing guides are extremely knowledgeable, courteous, and professional. With four boats available, small and large groups are welcome. Anglers under the age of 13 fish for free! All of our boats and guides are licensed to fish in Mississippi and Louisiana. We supply rods reels, tackle, snacks, drinks, ice, fuel, bait and fun. No charge for fish cleaning and bagging. Be sure and ask about our all inclusive overnight fishing packages to the
Cat Island
House. www.shorethingcharters.com or 228-342-2206

Be sure and check us out on You Tube:

http://www.youtube.com/watch?v=VdJjkK7ldsk

http://www.youtube.com/watch?v=hr0twtm3Bng

http://www.youtube.com/watch?v=tiMDCa5OD6U