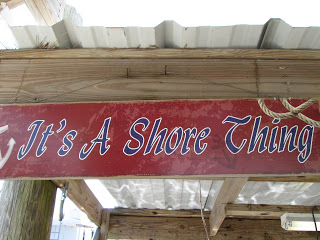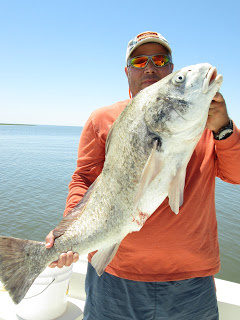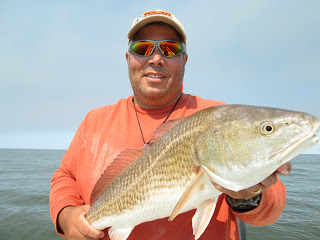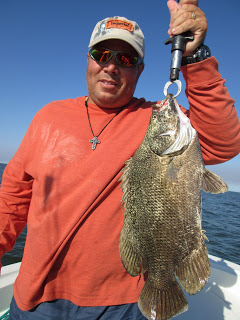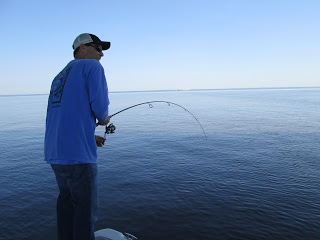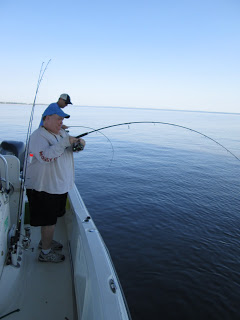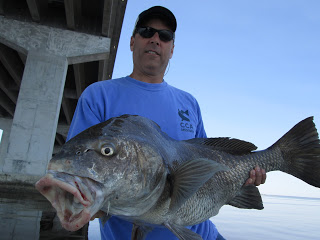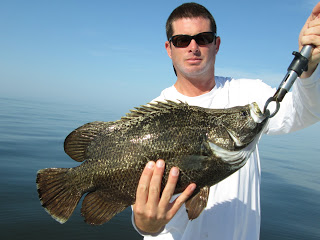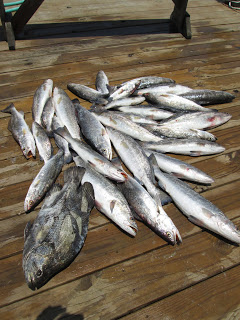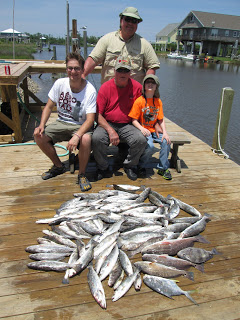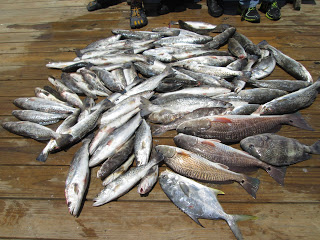 3 boats out on Monday, 2 to the Bay in the morning, and one to the LA marsh in the afternoon.
Capt Kyle and Capt Kennys crew were fishing in the morning. They had two crews that wanted to pick fights with the big sea monsters in the Bay. Even in the wind and the fast moving current, the boys were able to put on a show. Kennys got a little more than they bargained for with the big black drum. Some of them are well over 40lbs, and an unbelievable fight on trout tackle. Our stuff can handle them, but it is not made for this relentless torture. Kennys crew of youngsters shattered two of his rods and fried two of his reels. It happens, it stinks, but it happens. Both boats had their fill of the unbelievable near shore drum fishing, while staying safe and comfortable.
I rolled the dice, and finally won. Mr Clark really wanted to get to the marsh. Looking a the forecast, it showed that the winds and seas were going to drop out in the mid afternoon. We met at Shiyou Caddy at 1PM and the weatherman finally told us the truth. Calm ride to the marsh and then it flattened out to nothing. Clark brought his buddy Steven from Ocean Springs. We were able to find a few trout, but certainly won the variety award. First fish of the day was a big black drum(can't get away from em). We found plenty of undersized fish using the live shrimp. Tide quit moving and think that really hindered our bite. Did grab a dozen fat trout, but other fish kept coming over the side too. We found a couple of bull reds(released), several spanish mackerel, blue fish, sheepshead, some ground mullet, and of course cat fish. The last time Mr Clark fished with me, he and his grandsons boated a huge triple tail, last year. With the cooler water temperatures and dirty water I had little confidence of seeing one. While riding through open water we passed by an old pine tree base with all the roots. Not only did see a triple tail, we saw 3! First cast snagged the roots, and we cut the line. Second cast got the first triple tail of the year for the Shore Thing Boats. The live shrimp that was lodged in the root was getting attacked by the other triple tail. We never got the other ones to hit, and they eventually swam off. A few minutes later we nabbed triple tail number 2 under a bucket. A few minutes after that we had another shot at another one under a small log, but missed it. With the south wind, we should see plenty more in the very near future. Back before dark with plenty of food for supper time.
3 Boats out on Tuesday, 2 to the marsh and one to the Bay. Capt Matt and Capt Kenny took advantage of the flat calm seas and went to the LA Marsh. Only got the greatest hits after a busy afternoon of honey doos. Seems Matt had only customer on his boat(Mr Brown). They were on the trout, but only kept a few for Capt Matts grease release. They called Kennys crew(Team Lofton) in on the bite. Kennys crew was keeping fish and keep fish they did. The Lofton crew was able to box 80 specks, 1 red, 5 sheepshead, and 1 bonus pompano! Pretty sure they were both on the live shrimp band wagon.
I had a fun crew for a day in the Bay. Al Jones, now with WLOX TV was on board for an outdoor story. Happy to report WLOX will be doing an outdoor report on Thursday(I think) and will keep yall posted, should start this week. Al grabbed our good freind, Executive Director of CCA Mississippi John "Fish Head" Marquez. Since the drum fishing will eventually take a back seat to trout, red and triple fishing, we all decided to get some footage of the epic sea monster fishing while it is on fire. First freaking cast from AL set the pace for the morning. On an almost every cast bite, we got all the video and pics we needed in a little over 2 hours.Lost count how many we caught, and we left em biting. Just glad the local news is spot lighting the wonderful fishing we have hear on the MS Gulf Coast. Gotta thank my man John for washing the boat back at the dock, it was a very big help.
3 boats out again on Wednesday, and everyone enjoyed the flat calm seas and hungry fish. I only had one person on the boat with me. Mr Guice wanted two things, big trout and a triple tail. Happy to say that we got both. Used live shrimp on the carolina rigs for the majority of our trout. Biggest trout came off of finger mullet(cast netted), some of the fish were close to 4lbs. Did catch and release 1 bull red. Have given up on the stealthy approach for leaders. Have started using 40lb green mono for leader material, and so far it has been working. Still keep the flouro handy on the slower days. The unlucky triple tail we saw free swimming in open water. Mr Guice pitched a live shrimp and that was all she wrote. Got his LA limit of big trout(25), and a went 1 for 1 on triple tail.
Capt Matt and the Tally gang were getting back to the dock as I was leaving. He had several baskets of fish to unload. The exhausted crew had 61 keeper trout, a mess of big ground mullet, 3 reds, a sheepshead and a pompano! He said his fishing would have been much had the sharks not been knocking his fish in half and shutting down their bites.
Only got a text from Capt Kenny, who was fishing with the Hammond crew. They were the last boat in but had a good box. They got 45 trout, 1 flounder, and 1 pompano. The bait was all over the marsh(mullet, pogies, rain minnows, and bay chovies). Looks like spring has officially sprung!
****SHORE THING Fishing Charters****

The finest inshore fishing on the entire MS Gulf Coast. Specializing in
speckled trout
,
red fish
, flounder, triple tail,
black drum
and more! We fish the Louisiana Marsh, the Mississippi Barrier Islands and many other areas. Our full time fishing guides are extremely knowledgeable, courteous, and professional. With four boats available, small and large groups are welcome. Anglers under the age of 13 fish for free! All of our boats and guides are licensed to fish in Mississippi and Louisiana. We supply rods reels, tackle, snacks, drinks, ice, fuel, bait and fun. No charge for fish cleaning and bagging. Be sure and ask about our all inclusive overnight fishing packages to the
Cat Island
House. www.shorethingcharters.com or 228-342-2206

Be sure and check us out on You Tube:

http://www.youtube.com/watch?v=VdJjkK7ldsk

http://www.youtube.com/watch?v=hr0twtm3Bng

http://www.youtube.com/watch?v=tiMDCa5OD6U