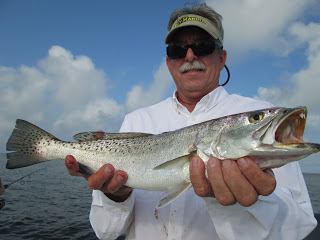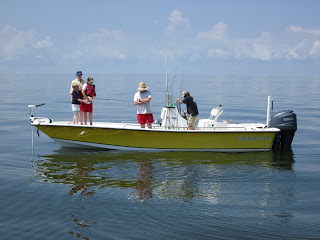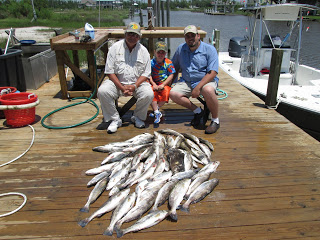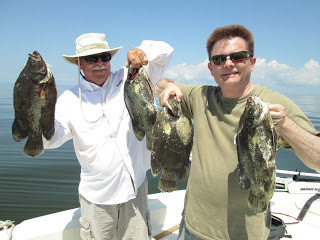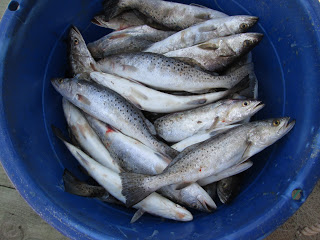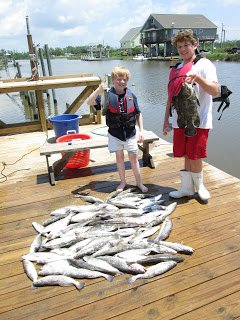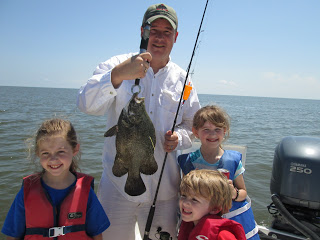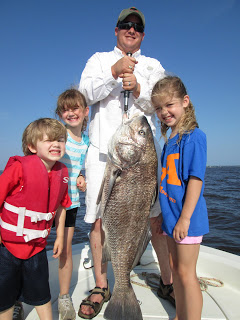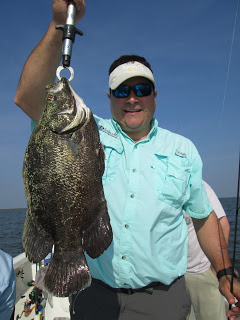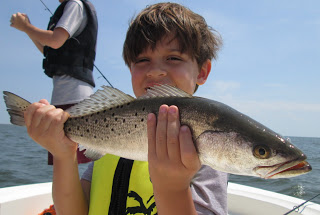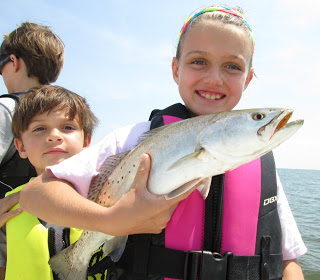 No rest for the weary, but enjoying the heck out of the good weather and fishing...
Myself, Capt Matt and Capt Kenny were out on Thursday. Let the engines run on the flat calm crossing to the LA Marsh. Moving clean water, that was full of bait and trout. My crew was an hour behind the other two boats, but we rolled up, they were slinging trout over the sides. Kenny had Mr Ron Williams, his son and his grandson out. Mr Ron caught the biggest trout of the year last year with Capt Kenny(6lber). They had not broken the old record yet, but had done well with some huge trout. Kenny said their bite was slowing down, but pointed us over to some diving gulls in open water. We lucked out and started catching nothing but 13 to 14 inch trout every cast, using the popping corks(Boat Monkey) with any color soft plastic under them. Got about 20 very fast and the crew wanted to try for some bigger ones. Set up shop over some shells next to Capt Matt and the Carter crew. Mark, Annette and thier sons Samuel and Thomas were making a day of it on the trout. They already had many big trout, a pompano and a sheepshead in the box. We got lucky and grabbed several big fish using live shrimp carolina rigged.
All three boats finished strong on the trout, our boat had close to 40, Captain Kenny had over 50(sevaral in the 3 to 4lb range), and Capt Matt crew had near 70! Everyone ran through a trash line on the way in. All three boats were able to garnish thier fish boxes with triple tail.
Was able to finish up cleaning fish, and just enough time to spruce up the boat in time for the Allen tribe. Promised Lee and his wife Jenny that we would put their 2 girls and son on a shark. On the way to the sharking grounds we were able to tag a baby triple tail for the youngsters. Set up shop on the sharks and started chumming with cut mullet. Was able to grab some slilky and black tip sharks. The younger anglers went balastic when we put them in the boat for some pictures before we released them. Seas picked up a bit so we took them to the reefs to look for sea monster black drum. The fish were so big that Mom and dad had to help the young anglers bring them in. Great day, long day, but a great one.
Couple hours sleep and back at it in the morning. Loaded up Reagan Leopold, and his buddies Nick and Andy for a trip to the marsh. The boys were treated to an every cast bite on the big trout. Used the live shrimp under the shells. Even boxed a flounder and missed one during the chaos. After our bite ended we chased birds, and it took many flocks to get it right. Lucked up and found one flock busting on big shrimp. All the fish in the flock were over 12 inches and hungry. Called it a day with close to 40 keeper trout, and even found a triple tail in open water or Reagan(his first ever).
Swapped out crews again, this time I had the entire Guice family: Nathan, Missy, Sydney, Tyler and Deacon for a quick afternoon trip. Passed Capt Kenny and Capt Matt on the way back out. They both had good boxes of fish for the Williams and Clemmons crews. Capt Kenny caught most of his fish over shells and Capt Matt had most of his under birds. Capt Jimmy Ray was out too with the Jones crew, they had over 50 trout, 1 red and some whopper ground mullet. Really had no clue where to fish, since none of the boats were leaving a bite wihen I talked to them. Just eased our way to the Marsh, seas were a little choppy, but calmed down nice in the afternoon. Went to one spot over shells and hit it big. Every single cast with live bait, tight lined soft plastics and eventually popping corks. Just got lucky on a school of big fish when the tide switched over. Nathan was casting lines, Missy was helping the young ones reel and sling fish. I was baiting lines, netting fish and taking pictures. When the smoke cleared 43 monsters were laying on ice(45 minutes). The ride home was a fun one in calm seas. Got lucky and was able to tag and release two small triple tail for Sydney and Deacon. True to form, Nathan was nice enough to help me clean fish after a very long two days on the water. Heading back out, some pics are on the Shore Thing site, but will post em all later.
****SHORE THING Fishing Charters****

The finest inshore fishing on the entire MS Gulf Coast. Specializing in
speckled trout
,
red fish
, flounder, triple tail,
black drum
and more! We fish the Louisiana Marsh, the Mississippi Barrier Islands and many other areas. Our full time fishing guides are extremely knowledgeable, courteous, and professional. With four boats available, small and large groups are welcome. Anglers under the age of 13 fish for free! All of our boats and guides are licensed to fish in Mississippi and Louisiana. We supply rods reels, tackle, snacks, drinks, ice, fuel, bait and fun. No charge for fish cleaning and bagging. Be sure and ask about our all inclusive overnight fishing packages to the
Cat Island
House. www.shorethingcharters.com or 228-342-2206

Be sure and check us out on You Tube:

http://www.youtube.com/watch?v=VdJjkK7ldsk

http://www.youtube.com/watch?v=hr0twtm3Bng

http://www.youtube.com/watch?v=tiMDCa5OD6U