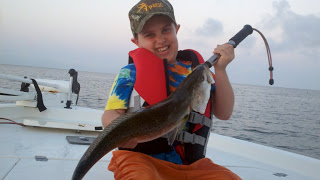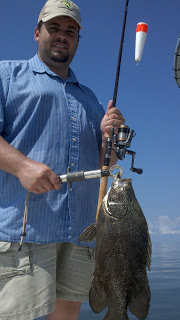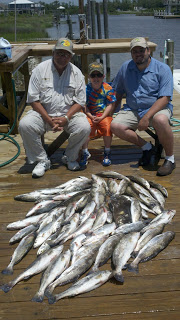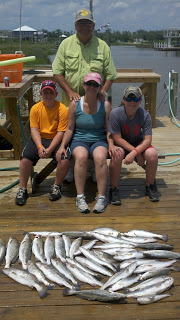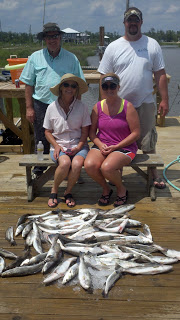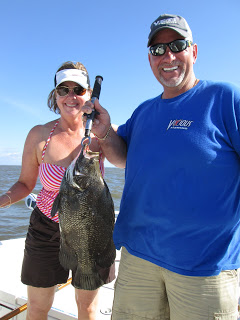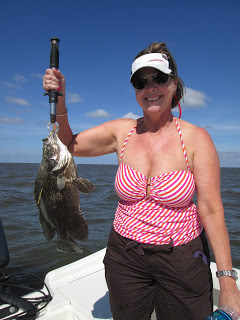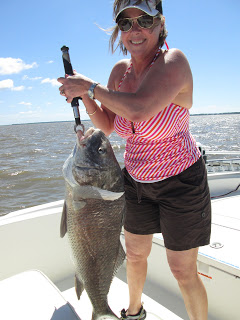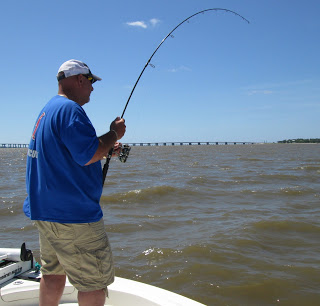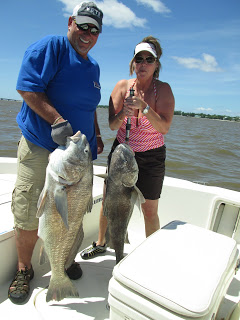 Have had a few days off with this wind, Tuesday was the last day we had boats out. Just been working on the boats, trailers, electronics, and tackle with the down time. The Memorial Day weekend was one for the record books. I do not recall ever seeing that many boats out, hope everyone had fun, was safe and caught fish. Nothing really new going on, just playing the cards that mother nature is dealing. If the wind blows and we can make it to the marsh, we either chase birds or go red fishing. Saturday three boats went to the marsh in the wind and did well on the reds. They were very limited in the areas they could fish, but when they found fish, they worked on em. They returned with 40 something red fish, but 3 boats spent all day pounding banks. The near shore stuff has been good, even on the windy days. Only problem I have been having is finding small fish(eaters). Most, if not all of the drum that have come over the side of my boat have been over 15lbs, some pushing 40! Plenty of fun on light tackle in a 15-20mph wind, but them small ones eat good...
Speckled trout fishing is right where it should be. On the calm days, areas with shell bottoms and moving water have been the ticket. Live bait on the carolina rigs have given us all the action we need. After this much south wind, the shrimp should be covered up in the marsh. Warm salty water should be here to stay for the rest of the summer as well. I would imagine our big toothy friends(sharks) will be here for summer vacation too.
The triple tail fishing has been picking up, just make sure you know where you are fishing and what is in your fish box. If you are coming back from LA waters and have trout under 13 inches and or more than 15 trout per angler, do not stop and fish MS Waters. The fish we have been seeing are in both LA and MS waters so just make sure your fishing lisence and catch comply with the state you are fishing in. LA does not have a size or bag limit on triple tail as of now, and MS is 3 fish per angler with an 18 inch minimum. I have been checked or seen agents in MS waters almost every single day, so make sure you know where you are and what you got. Agents have been very polite, but have made their presence well known.
Sunday was my wife Stephanie and I took our daughter Margot(3 years old) out to look for her first triple tail for our 6th wedding anniversary fishing impromptu fishing trip. I had spent the morning busting trout with the Creely crew(Bob, Kyle and Lil Bobby). On the way in from that trip, we tagged a small triple tail for each of the boys, and did find one keeper. I texted my girls to meet me at the dock after the Creely crew left with their cleaned fish. We eased our way out into open water. Tad bit choppy, so my little one made me keep the boat at 5mph. Worked in our favor and in an hour of slow motoring we saw 5 triple tail, and caught 3. It was my wifes and and daughters first, and a very special day for me. Luckily I had thrown the cast net that morning and left 6 big mullet in the live well. Margot chased those poor fish around the live well the entire time. Happy to report all 6 were released with only emotional injuries.
We have several boats open on the week of 4th of July if anyone is wanting to wet a line.
****SHORE THING Fishing Charters****

The finest inshore fishing on the entire MS Gulf Coast. Specializing in
speckled trout
,
red fish
, flounder, triple tail,
black drum
and more! We fish the Louisiana Marsh, the Mississippi Barrier Islands and many other areas. Our full time fishing guides are extremely knowledgeable, courteous, and professional. With four boats available, small and large groups are welcome. Anglers under the age of 13 fish for free! All of our boats and guides are licensed to fish in Mississippi and Louisiana. We supply rods reels, tackle, snacks, drinks, ice, fuel, bait and fun. No charge for fish cleaning and bagging. Be sure and ask about our all inclusive overnight fishing packages to the
Cat Island
House. www.shorethingcharters.com or 228-342-2206

Be sure and check us out on You Tube:

http://www.youtube.com/watch?v=VdJjkK7ldsk

http://www.youtube.com/watch?v=hr0twtm3Bng

http://www.youtube.com/watch?v=tiMDCa5OD6U