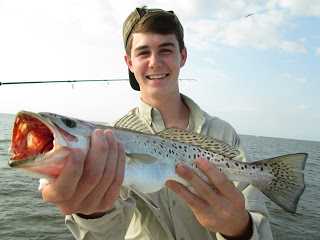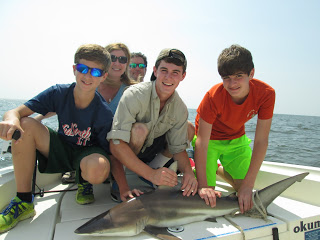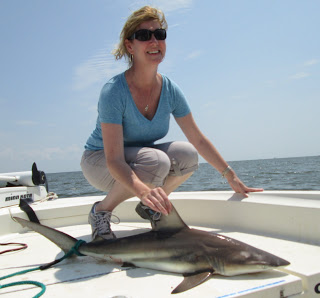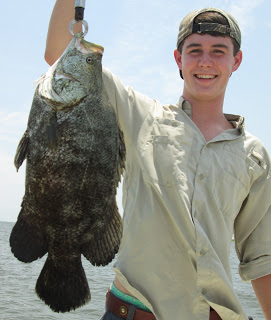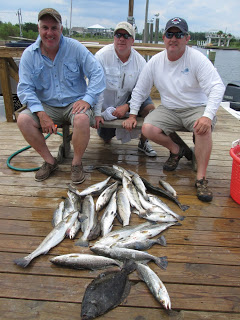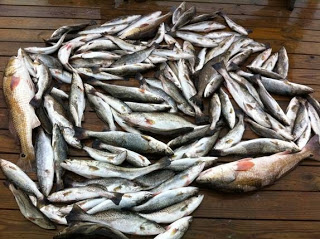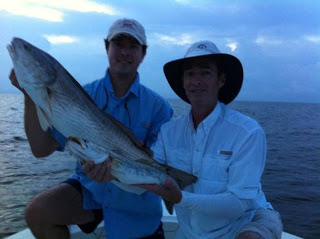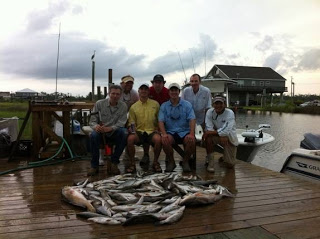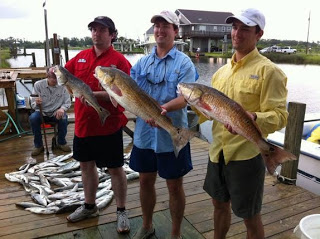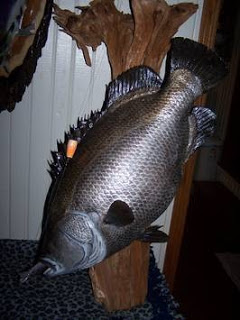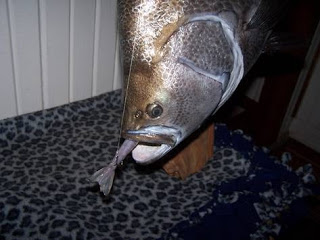 Hope everyone had a safe and happy 4th of July. All the boats canceled for the 4th, hind sight is 20/20. Could have made a go of it, but live and learn...
Besides that day, we have been rolling every day with good catches of speckled trout, white trout, redfish, ground mullet, big sharks, triple tail and even a flounder or two. The majority of the action has been over in the LA Marsh for us. Now that the tides have been not so severe, the trout bite has gone from good to great. Even on some of the windier days this past week, the boats were putting up stellar numbers in less than perfect conditions. With the rain minnows now pushing in, the lady fish and spanish mackerel have made life a bit difficult. Bulk purchases of plastics, jig heads, hooks, sinkers, swivels and leader material have been made by all the guides. Now that the big bulls and black tips have moved in, I have been hiding the big poles in gunnel rod holders.
Many of the crews have insisted we try to catch them once the trout bite slows down. I am still boycotting redfish in protest of the unruly hoarse fly epidemic in the marsh. Shark fishing in open water has been a nice trade off. One of the Bulls we got with Chip and Jenn Babin was well over the 100lb mark. The 3 and 4 foot black tips we got with the Hurley crew gave the younger anglers all they could handle. Heck, their mom, Mary Margaret even yanked one in...
On the calmer days we are still seeing triple tail almost every day. The size seems to improve every day, just wishing for more calm days. Speaking of 27 pound triple tails! Capt Kenny got his trophy mount back from professional taxidermist and Shore Thing customer, Mr Ken Wampner. The 27 pounder he caught last year is mounted eating a 12 count shrimp and looks absolutely incredible. He is planning on having his 26 pounder mounted as well. Guess we will see who breaks the 20 pound mark this year...
Believe it or not, we did fish today(Friday) for a few short hours. We had the smallest of windows to fish, with a massive storm system barreling down on us. The Minor crew has been going with us for years and were up for the challenge. Capt Kenny and I threw the hail mary and lord did it work. Both of us fished over some shells with live shrimp, croakers, mullet and pogies. When the bite switched into high gear, Kenny and his crew jumped off the live bait band wagon and switched to tandem rigs. We stayed on the live bait, but both boats were putting on a text book skull dragging. We did not even look over at Kennys boat, the loud thuds from two and 4 at a time trout signaled he was on the bite. I had Doug, Henry and Tony with me and I can honestly say this was one of the biggest boxes of trout my boat has seen maybe this year(fat fish). When the smoke cleared and the black clouds sent us running, Kennys crew and mine boxed 105 porkers. Somehow 3 red fish found their way in the box too. Got back to the Shiyou Caddy skinning shed right as the bottom fell out and the lightning show began. July 5th has now been labeled Fin-da-pendence Day!
****SHORE THING Fishing Charters****

The finest inshore fishing on the entire MS Gulf Coast. Specializing in
speckled trout
,
red fish
,
flounder
, triple tail,
black drum
and more! We fish the Louisiana Marsh, the Mississippi Barrier Islands and many other areas. Our full time fishing guides are extremely knowledgeable, courteous, and professional. With four boats available, small and large groups are welcome. Anglers under the age of 13 fish for free! All of our boats and guides are licensed to fish in Mississippi and Louisiana. We supply rods reels, tackle, snacks, drinks, ice, fuel, bait and fun. No charge for fish cleaning and bagging. Be sure and ask about our all inclusive overnight fishing packages to the
Cat Island
House. www.shorethingcharters.com or 228-342-2206

Be sure and check us out on You Tube:

http://www.youtube.com/watch?v=VdJjkK7ldsk

http://www.youtube.com/watch?v=hr0twtm3Bng

http://www.youtube.com/watch?v=tiMDCa5OD6U