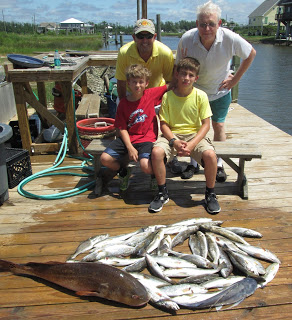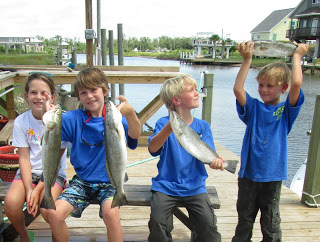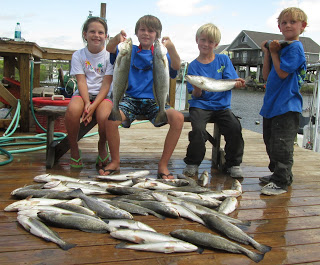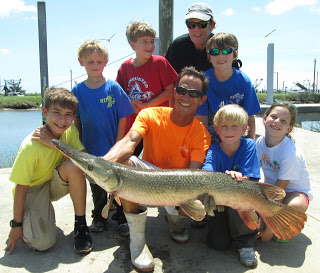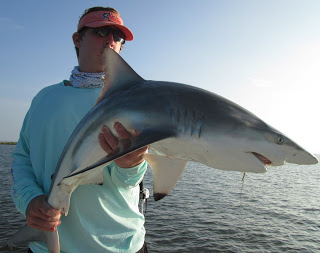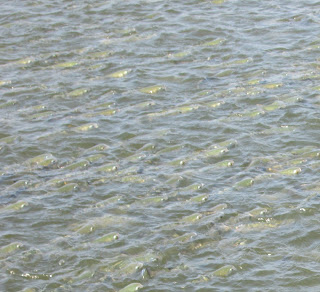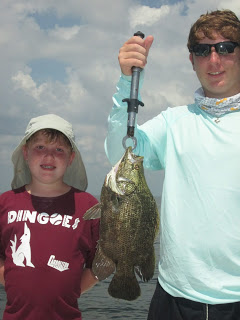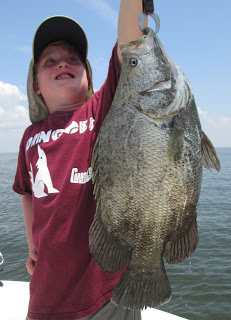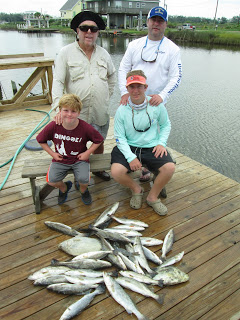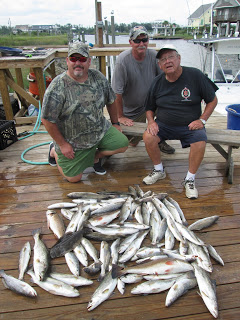 Yes sir, we have been enjoying the nice weather, the calm seas and the fantastic fishing. Boats have been loaded with youngsters trying to get a trip in before they all go back to school. Several days worth of fishing reports, but got plenty of pictures on the shorething site too. Also wanted to let everyone know that Shore Thing will have a booth at the Jackson Wildlife Extravaganza this weekend. Here is the link if anyone is looking for more info:
Sunday was young angler day, all three boats were full of kids(young and old). Capt Jimmy Ray and I had the Creely crew out for a two boat bonanza. I got to ride with Mr Bob and his boys Kyle and Bobby. Bite was slow for our boat, but the boys were troopers. We were able to bring in close to 50 specks for the crew with the much needed help from Capt Jimmy Rays boat. Capt Kenny was out there with us too. He was fishing with Team Logan and they did well. Mr Rick and the boys landed a huge bull red that I am pretty sure they are getting mounted. They grinded out the near shore reefs and put 40 keeper trout in the box. All three boats were fishing near shore trips using live bait(shrimp, minnows, croakers) on the carolina rigs. Lil Bobby and the other 5 youngsters at the dock made us put out a gar rig. Took all of 4 minutes before they had a brute on the line. With the help of all 6 kids we hauled the monster on the bank. Honestly believe they had more doing that than trout fishing. Never a dull moment at Shiyou Caddy...
Great weather on Monday and we had two boats out. I was with Shore Thing Gold status members, the Huertin crew(Dr Jim, lil Jim, William and KIllian). Trout was on the agenda and we did good. In between the younger boys fighting sharks we did box a few. Dr Jim was happy to have his grandsons in some steady action no matter what was biting. We were able to get around 25 keeper specks before the heat and the sharks sent us looking for triple tail. We covered some water and did find a few. We saw 3 and caught 2. Capt Kenny was able to put Team Payne on some fish in the Marsh. They did not move as much as we did and it payed off. They just kept it slow and steady and boxed 49 keeper specks. They worked some shore lines with the live shrimp under the Boat Monkey popping corks to get three reds before hooking it north.
Tuesday Capt Kenny and I got treated to flat calm seas for a morning crossing to the LA Marsh. He was fishing the two man Calhoun crew and I was fishing a Shore Thing veteran, Mr Curtis Lee, his buddy Jinx and grandson Joe. Sharks were thick in the marsh, they were breaching the water in the acres of mullet. Took us several moves to find trout that were not getting hammered by the toothy critters but both boats got it done. When the water got moving our bite kicked off. We just found some shell bottoms around points of moving water. Used the live finger mullet, pogies and shrimp to put 45 trout and ground mullet in the box. Once it got hot we turned on the yamaha A/C and headed home. Ride home took for ever due to frequent stops from the triple tail we kept seeing. Proud of my crew for batting 1000. We went 6 for 6 on triple tail. Only kept 2 and tagged 4 very small ones.
Capt Kenny was doing it to it with the Calhoun boys. They pecked around the marsh and nabbed 27 keeper specks. The feeding frenzy of sharks and mullet certainly put a damper on the trout fishing. Capt Kenny did roll into the dock with 4 stud triple tails. The did miss a few but the ones the got were healthy.
Had some fun on Wednesday with one of my favorite families, the Capos. Matt, Kyle and Hailey got to the dock early and were ready for an adventure. Promised Matt we would look for trout before we turned the young ones loose on the sharks. Did not fish for trout long, but boxed some big ones. Just as the sun was creeping up we had 16 fatties in the boat. Mrs Hailey did the best, but her older brother Kyle was happy to net fish for everyone. Live mullet on the carolina rig was the bait of choice. While we were putting our gear away for a run to the sharking grounds we drifted right into a nice triple tail. Matt pitched a live shrimp perfectly and Kyle netted the fish. Found ourselves near the marsh hoping to find the big sharks crashing mullet again. Action was slow, but we did get Kyle a small black tip. Capt Kenny was taking a break from a good trout bite and fishing for sharks as well with Team Covington. They already had a box of good trout and were looking to pick a fight with some big fish. The Capo's and I found a rumble big enough to handle two boats of anglers. When we started dropping whole 10 inch mullet behind the boat we hit pay dirt with a school of ravenous bull reds. Dont think we ever got two rods out at the same time, the bulls were slamming them right behind the boat. Was finally able to call Capt Kenny in on a bite. Both crews got their limit on bulls in minutes, it was just like amberjack fishing. No big sharks were caught, but we did find one big jack crevealle. Missed one small triple tail on the way home and sent Matt home with an ice chest full of fish and two exhausted children. Honestly have no clue were he found the time or the room, but Capt Kenny had 5 big bulls, 4 hawg leg triple tails and a mess of trout for the Covington crew. Too much fun...
****SHORE THING Fishing Charters****

The finest inshore fishing on the entire MS Gulf Coast. Specializing in
speckled trout
,
red fish
,
flounder
, triple tail,
black drum
and more! We fish the Louisiana Marsh, the Mississippi Barrier Islands and many other areas. Our full time fishing guides are extremely knowledgeable, courteous, and professional. With four boats available, small and large groups are welcome. Anglers under the age of 13 fish for free! All of our boats and guides are licensed to fish in Mississippi and Louisiana. We supply rods reels, tackle, snacks, drinks, ice, fuel, bait and fun. No charge for fish cleaning and bagging. Be sure and ask about our all inclusive overnight fishing packages to the
Cat Island
House. www.shorethingcharters.com or 228-342-2206

Be sure and check us out on You Tube:

http://www.youtube.com/watch?v=VdJjkK7ldsk

http://www.youtube.com/watch?v=hr0twtm3Bng

http://www.youtube.com/watch?v=tiMDCa5OD6U