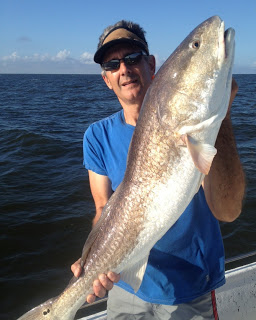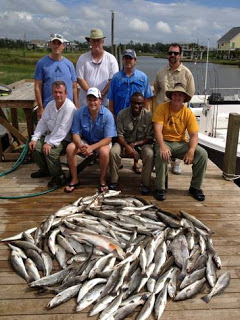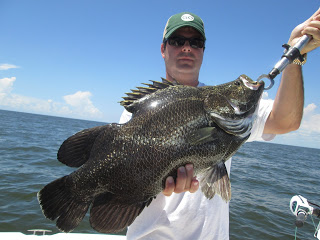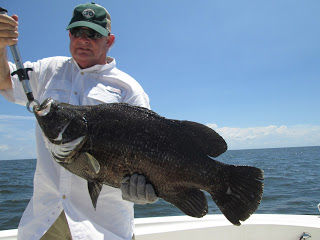 The weather this past week kept us more on land than on the water. Have spent a few days restocking the tackle boxes, spooling reels and just doing a little preventative maintenance on the boats. I can only imagine when this tropical system plays itself out, the fishing should be incredible. Had to play the hands we were dealt all week with the weather, but the trips that did leave the dock did great.
Tuesday, Capt Kenny sent me a text very early in the morning on his way back from the LA Marsh. He and Mr Ronnie Breland were rolling back to the dock in time for breakfast. They said they bite was all on plastics and darn near every single cast.
We had several boats out on Thursday. Capt Kenny brought a group out to the Cat Island house to check it out. They did wet a line or two and caught a few trout. The Mighty Captain Matt did the best on the trout. Did not hurt that he had one of the best fisherman in the northern gulf on his boat.From the famed F/V Fighting Chicken, Captain Lenny Maliotesi and his buddy Frank were looking for a few trout. Even in choppy dirty water, Capt Matt was able to put the boys on 45 keeper trout. They even battled and released a bull red and black drum. Lenny is just one of the guys, if it has gills and fins, he can catch em an a lot of em. Throw in a bit of mad scientist, with a dash of comedian, and you got a fun guy to fish with. Capt Matt said they were catching fish on mostly live shrimp, but the crew did grab a few on the tight lined soft plastics. Sounded like they were able to anchor over some shell bottoms.
I had the Guice boys, brothers Nathan and Billy with their dad Mr William. Would not say it was calm, but it was fishable. We opted to go look for a few triple tail for Mr Guice. Even with choppy seas and pretty stout breeze, we were able to catch some nice fish. Mr William did get the fish du jour with a whopper 27 inch triple tail. The boys did great with some smaller fish, Billy even caught one that looked like it had a bite taken out of it but healed nicely.
Friday some of the boats rescheduled, and some of the boats went for it. Three of the boats were fishing with the group from Heritage Plastics. Captains Matt, Jimmy Ray and hired gun Brett Ladner were able to pull it off. Just glad they were able to find some water to fish in. Sounded like they found some fish in deep water and put the live baits on the carolina rigs. Working closely together, they were able to bring in almost 140 speckled trout some red fish and black drum! Big thanks to Shane Nicholson for working with us to set this up. Nice work on the fish boys!!!
Both Saturday and Sunday were wash outs, and judging from the radar and buoy reports, it was a good call.
On a side note, wanted to thank the DMR and it's new executive director Jamie Miller for making time for us. We have had some questions and concerns that we could not seem to find straight answers. Not only did they make time for us, but they opened their doors for sit down in person meetings with Miller and his department heads. Just thought it was very good of them to treat the smelly fishing guides from Bayou Caddy with such respect. Very pleased with the way they are running things over there, and wanted to say thanks.
****SHORE THING Fishing Charters****

The finest inshore fishing on the entire MS Gulf Coast. Specializing in
speckled trout
,
red fish
,
flounder
, triple tail,
black drum
and more! We fish the Louisiana Marsh, the Mississippi Barrier Islands and many other areas. Our full time fishing guides are extremely knowledgeable, courteous, and professional. With four boats available, small and large groups are welcome. Anglers under the age of 13 fish for free! All of our boats and guides are licensed to fish in Mississippi and Louisiana. We supply rods reels, tackle, snacks, drinks, ice, fuel, bait and fun. No charge for fish cleaning and bagging. Be sure and ask about our all inclusive overnight fishing packages to the
Cat Island
House. www.shorethingcharters.com or 228-342-2206

Be sure and check us out on You Tube:

http://www.youtube.com/watch?v=VdJjkK7ldsk

http://www.youtube.com/watch?v=hr0twtm3Bng

http://www.youtube.com/watch?v=tiMDCa5OD6U