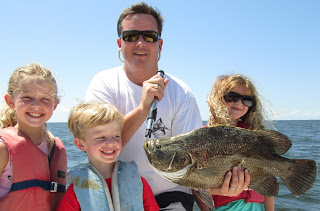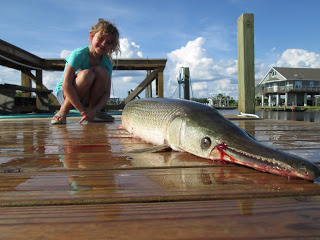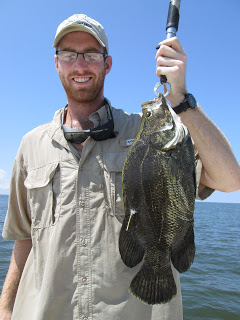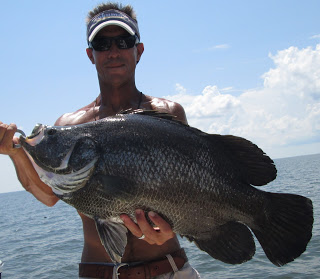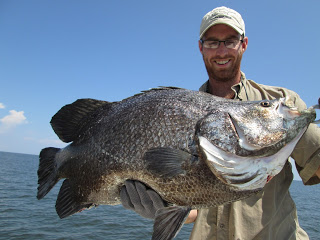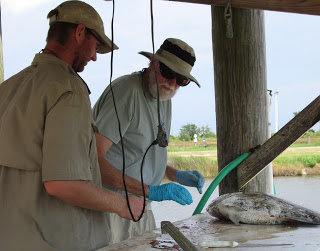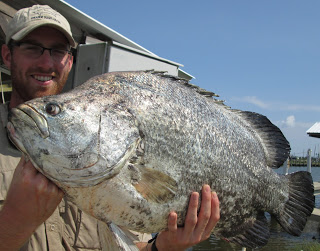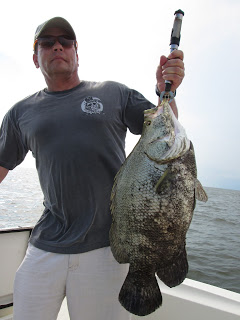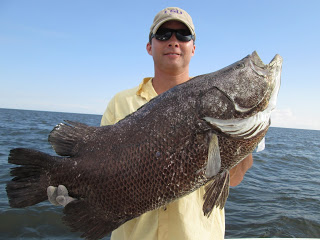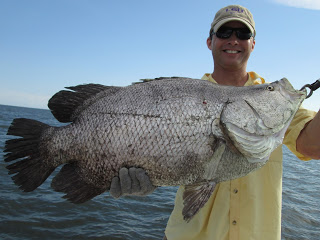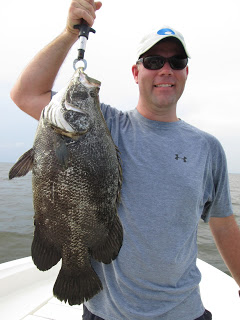 We did not get to fish much of September last year, thanks to H-word Isaac. Since we still have salty water and the seas have been relatively nice, the fishing has been fun. Trout fishing has been here and there, but decent. The red fishing has been good. Since the pogies are in thick, the bull reds have made their presence well known.
I have been blessed, fortunate, lucky, sneaky and convincing enough to have most of my crews wanting to go triple tail fishing. Monday the Allen family dropped by, on their way home from Fairhope, AL. They wanted one more day of fun in da sun, before heading back to work/school. We left at the crack of noon and it was warm to say the least. More of a boat ride than a fishing trip, but we did manage to see and catch a few triple tail. All three of the Allen kids were able to tag and release a triple tail. Leigh got his big one early in the trip, but missed a brute later in the afternoon. Back at the dock, the youngsters were more entertained with the big gars rolling by the cleaning tables. Had to rig up a line to see if we could get em one. Got a big 4 footer on the dock with the entire family screaming and yelling. Gar fishing is how any good family should end every vacation in my opinion…
Captain Kenny was keeping normal banking hours, fishing with the Guthrie crew. Only got to chat with him on my way out. They certainly made a day of it with a little of this and that. I know they covered some ground, not staying in one place too long(heat), and put nice box of fish together. The boys got over 30 trout, 2 reds and one bonus triple tail on the way home.
AND THEN THERE WAS TUESDAY…
Capt Kenny had a boat load of youngsters with the Princhard Posse. Kenny said the boys were all jazzed up about being on the water and catching fish. I had a bit of a long day, but he said they got a few trout and saw several big triple tail. Once they got things dialed in, they were able to get some of both.
I was out helping Dr Jim Franks assistant Pat Graham with the Gulf Coast Research Lab We were trying to collect male fish for triple tail spawning. Party Pat has been with me a few times this year, and he has gotten pretty darn good at it. We got very lucky with the seas, wind,tide and clear skies. We located many good fish in 6 ½ hours we scoured the gulf. Dr Jim jokingly told us not to come in with out a mess of big males. We saw a pile of fish and we were even able to tag several smaller ones. Last stop of the day yielded the biggest fish of the year for Shore Thing. While I was fighting a small tag worthy fish, Pat hooked into a true tropy fish. Neither of us realized how big the fish was till we got it in the boat. We took it over to the commercial dock to have it weighed. The beast tipped the scales at 22.5 POUNDS!!! This makes 4 years in a row that a 20 plus pounder has hit the Shore Thing dock. Just waiting to see how long Capt Kenny is going to let me have the top spot…
Eight of the big fish we got were fertile males. They will hopefully be able to extract enough baby batter to impregnate the big females they have back at the lab. Very good feeling helping Dr Jim, Pat and the GCRL, they do so much for our fishery and the mighty triple tail.
Biggest triple tail to ever land in my boat happened on Thursday(Sorry Pat). Malcom Nelson from Birmingham along with his buddies Keith and Robert were on a trip that never should have been. They had booked three days at the Cat Island House. Half their group backed out and left them all dressed up with no place to go. We got them set up at a rental house on the Jourdan River and just booked them for three days of day trips, crisis averted. Did not leave the dock till 2pm but it did not take long. The boys picked up the technique quickly and triple tail were flying of the side in no time at all. With light winds and an almost slack tide, the fish were on the surface. We stumbled into a few random floating objects and hit paydirt. They got 8 big triple tail, but Dr Keith was the lucky one. He fought the brute for close to 15 minutes before we got a net barely under it. My old boat record was 23.5lbs from 2009. This one topped the scales at 24.5lbs!!!! Not bad for 4 hours of fishing…
****SHORE THING Fishing Charters****

The finest inshore fishing on the entire MS Gulf Coast. Specializing in
speckled trout
,
red fish
,
flounder
, triple tail,
black drum
and more! We fish the Louisiana Marsh, the Mississippi Barrier Islands and many other areas. Our full time fishing guides are extremely knowledgeable, courteous, and professional. With four boats available, small and large groups are welcome. Anglers under the age of 13 fish for free! All of our boats and guides are licensed to fish in Mississippi and Louisiana. We supply rods reels, tackle, snacks, drinks, ice, fuel, bait and fun. No charge for fish cleaning and bagging. Be sure and ask about our all inclusive overnight fishing packages to the
Cat Island
House.
www.shorethingcharters.com
or 228-342-2206

Be sure and check us out on You Tube:

http://www.youtube.com/watch?v=VdJjkK7ldsk

http://www.youtube.com/watch?v=hr0twtm3Bng

http://www.youtube.com/watch?v=tiMDCa5OD6U