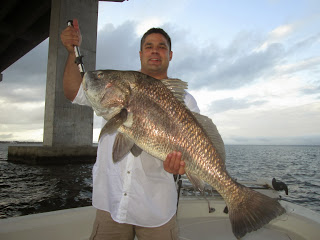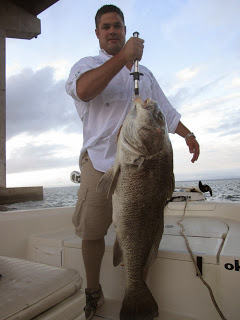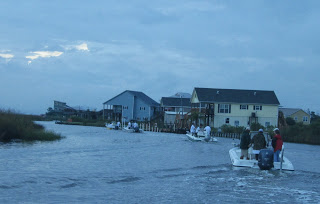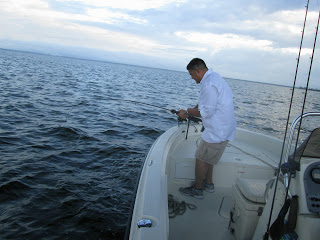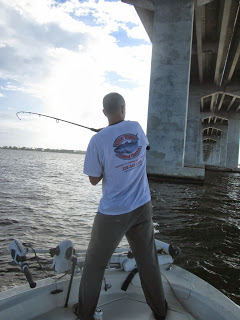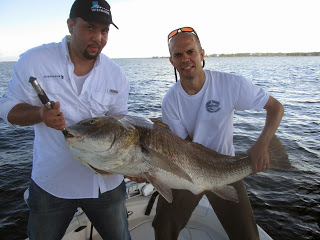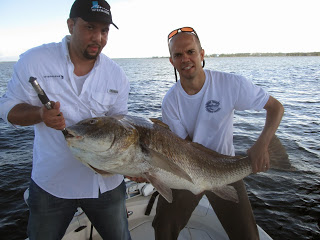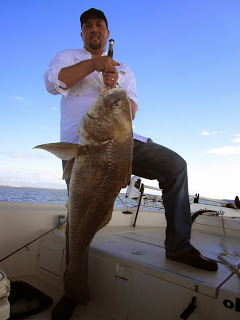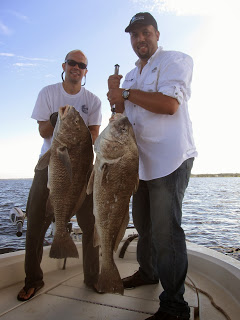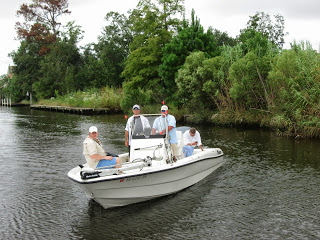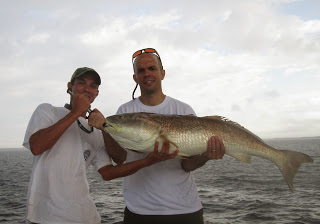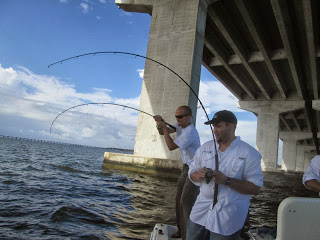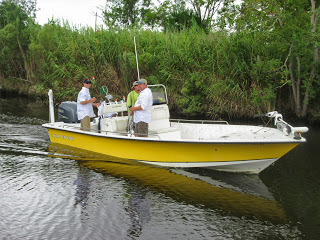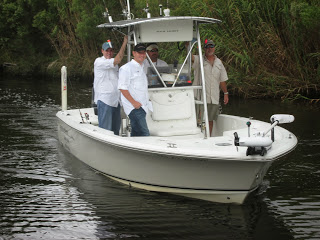 Had the 5 boat Intermarine corporate group in town for the Break Bulk Conference on Tuesday. The last time this crew fished with us(2 years ago) we had one of the best trips in Shore Things history. They brought in over 70 flounders in under 4 hours. Well, they were a little early for the flounder run this time, and the weatherman was calling for a 70 percent chance of rain. The only option we had with the east wind and forecast was to fish the Bay. All in all, it was a great call. Most of the crew was from way out of town or international. We had guys from Trinidad, Dubai, the Netherlands and several other exotic locations on the boats. Did have to call in some hired guns to help with the trip. Joining me, Captains Matt and Kenny were Captains Brett and Darren.
Left from the world famous Bay Marina and only got about 4 hours of fishing in before mother nature sent us packing. The boats were all over Bay St Louis. We had boats working the bridges, reefs, marshes and river mouths. Everyone just kept moving, fishing fast, not waiting for the bite. Capt Kennys crew did the best on the slot reds. They got their limit just working points and drains. The falling tide kept the bait moving and the fish feeding. They all found trout, but the smaller fish were much hungrier than the keepers. The boys just had them flinging everything they had. Some of the boats were doing carolina rigs with live and dead shrimp. Some were working spinner baits against the banks. The go to popping corks with soft plastics under them tipped with dead shrimp were used also.
Best thing about fishing the Intermarine group is getting to fish with my brother. He set up the big trip and of course found his way on my boat. Since the other guys were doing so well on the numbers, we opted to go for the size. We set up over some shells and went looking for the big drum and bulls. Stayed on a steady bite from start to finish and did great. Everyone on the boat got to catch several of the big drum. Big brother even got a huge bull red in the chaos. The fish were huge, we broke my favorite landing net and simply fried one of my reels. The biggest one we caught was pushing the 45 plus mark! Very fun on light tackle.
Got back to the dock right as the big rain began to fall, and never got a drop on us. Between the fleet, we had a good mess of puppy drum, slot reds, speckled trout and some nice flounder. Considering the conditions we were working in, it was a big victory for the Intermarine boys.
****SHORE THING Fishing Charters****
The finest inshore fishing on the entire MS Gulf Coast. Specializing in speckled trout, red fish, flounder, triple tail, black drum and more! We fish the Louisiana Marsh, the Mississippi Barrier Islands and many other areas. Our full time fishing guides are extremely knowledgeable, courteous, and professional. With four boats available, small and large groups are welcome. Anglers under the age of 13 fish for free! All of our boats and guides are licensed to fish in Mississippi and Louisiana. We supply rods reels, tackle, snacks, drinks, ice, fuel, bait and fun. No charge for fish cleaning and bagging. Be sure and ask about our all inclusive overnight fishing packages to the Cat Island House. www.shorethingcharters.com or 228-342-2206
Be sure and check us out on You Tube:
http://www.youtube.com/watch?v=VdJjkK7ldsk
http://www.youtube.com/watch?v=tiMDCa5OD6U