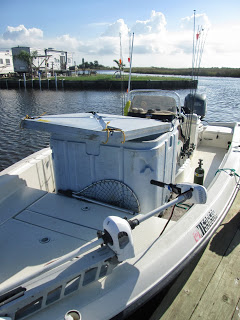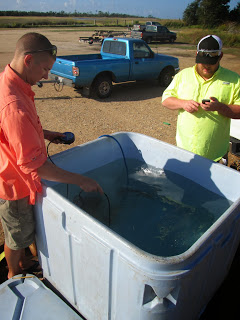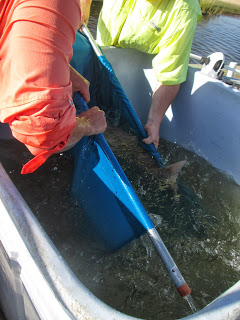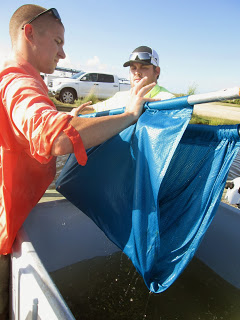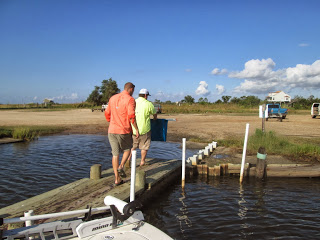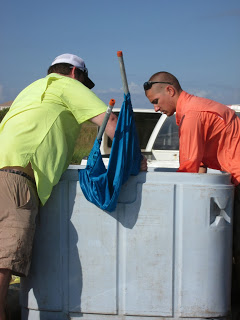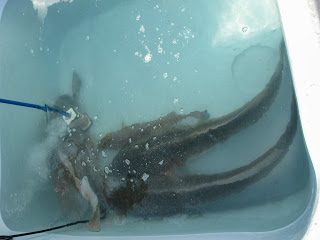 Minus a little wind and some high water, looks like we dogged a bullet. TS Karen looks like it is fizzling out and things should be back to normal in a day or so. If there is a silver lining to these storms, it is natures "courtesy flush". With the high water, the ponds deep in the marsh will get a blast of good salty water. Putting this a day or two from a cold front, should make for some incredible early fall fishing. We did have some fun on the water before we had to yank the boats out Hows about a fishing report?
Last Wednesday we canceled all trips due to rain, lightning, wind and rough seas. Kind of put me and my crew in a bind. I was still working with the boys from Aqua Green. They needed at least 8 bull reds but were really looking for more. One day off certainly put a damper on our goal of 12. We were standing strong at 6 big bulls and only had one day left to get more. Thursday, the man in the box was calling for 15-20mph east winds, things were not looking good.
Decided to leave early from Lafrances Marina in Ansely, anticipating the big blow. To our surprise, the seas were calm with the light and variable winds. Moved quick and set up shop where two drains emptied into a large bay in about 4 foot of water. Had plenty of pogies, rain minnows and mullet in the area. Finding the fish was not a problem, both Chris and Walter hooked up in the first few casts. Still have no clue how, but we broke them off, even with 40lb leaders. I broke off the next one, and things were looking grim.
Went from 0 to hero in three casts. Chris hooked a good fish as Walter and I sent our Boat Monkey Popping corks next to swirl of the first fish. Both corks went under, putting us on a triple hook up. Had three big bull reds on, and managed to land all three. The boys put the fish in the hot tub sized live well on the front of the boat. While they were getting the salinity and oxygen levels right we drifted into some flooded broken marsh. We tipped the soft plastics under the corks with some dead shrimp. In just a few minutes the three of us got 2 more reds over 25 inches,that they could use. Also managed 8 trout, and 1 flounder(Aquaculture guys gotta eat too). We felt the breeze starting to kick up and called it a day. Missed our goal of 12 fish by 1, but sent them back to the hachery with 11 breeders. Last time I spoke with Walter up at the hatchery, he said all the big reds were doing great, and have even started eating.
The Mighty Capt Matt was out too, but he left from our dock in Bayou Caddy. He was treated to the same nice weather we were that morning, and used it to his advantage. He was fishing the Davis crew and did very well. Did not get the where and how, but did get the what. They caught 30 specks, 6 reds and plenty of white trout.
We all spent the next two days scrambling to get our boats and equipment to safety. Happy to report no damage what so ever, and are very ready to get back on the water. We have a very busy two months ahead of us. Weather permitting, we should have plenty of fishing reports and pictures coming.
****SHORE THING Fishing Charters****

The finest inshore fishing on the entire MS Gulf Coast. Specializing in
speckled trout
,
red fish
, flounder, triple tail, black drum and more! We fish the Louisiana Marsh, the Mississippi Barrier Islands and many other areas. Our full time fishing guides are extremely knowledgeable, courteous, and professional. With four boats available, small and large groups are welcome. Anglers under the age of 13 fish for free! All of our boats and guides are licensed to fish in Mississippi and Louisiana. We supply rods reels, tackle, snacks, drinks, ice, fuel, bait and fun. No charge for fish cleaning and bagging. Be sure and ask about our all inclusive overnight fishing packages to the
Cat Island
House. www.shorethingcharters.com or 228-342-2206

Be sure and check us out on You Tube:

http://www.youtube.com/watch?v=VdJjkK7ldsk

http://www.youtube.com/watch?v=hr0twtm3Bng

http://www.youtube.com/watch?v=tiMDCa5OD6U