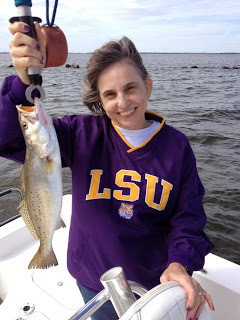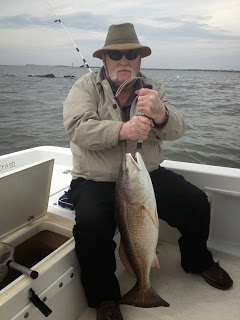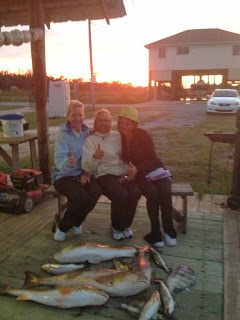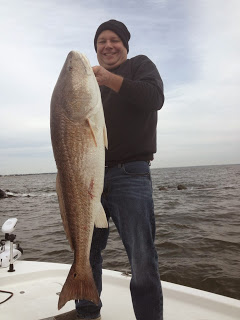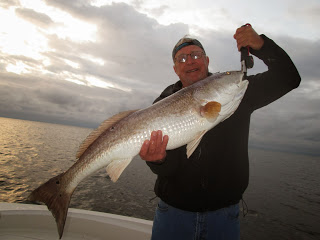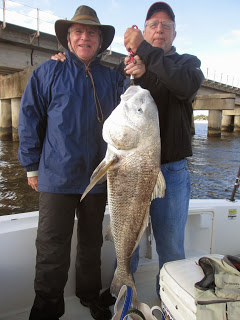 The boats have still been out everyday and still doing great. Capt Kenny even ran the Pugh Ladies out for an afternoon trip on Saturday when the rain let up. They were treated to some huge reds and great action on the near shore reefs. Kenny has been out with the Stone Cold Austin crew the last few days. They have been staying in close, doing the catch and release thing. Did get a photo from them with one of the biggest reds we have seen this year, 44 INCHES! We see plenty of big bull reds, but that is a HAWG LEG!
Magic Matt did make a run to the LA Marsh on Monday with the Tonti Group. He said the water was low, but sometimes that works into his master plan. He was able to grab a limit of reds(15) and did grab 20 something trout for garnish.
Had a great two week span with my buddy Gus Lorber(and friends) for Octlorber fest retirement fishing fun fiesta. He spent 10 days on the water with Shore Thing and we had some great catches. Caught the weather right one day for some insane sight fishing for red fishing, some of the best action I have ever seen. On a couple the windier days, we beat up the reefs and bridges for huge drum, bull reds, big jack crevealle, sheepshead, flounder and even a few small mangrove snapper(MORE REEFS = MORE FISH). Trout fishing was good, but most of the catches were quantity not quality. The smaller school trout are thick as thieves, we did have fun with them on the top water baits. I honestly lost count on how many bull reds we caught over his almost two week tour with us. Most amazing thing about his incredible fishing vacation had to be the wide freaking open triple tail bite we stumbled on. Even on choppy days with a fast moving current, we were still able to see, hook, and catch big triple tails. On the calm, clear days with little to no current, it was not even fair. All of the friends he brought in to fish with him got at least one triple tail, for most it was the first one they had ever seen.
Speaking of triple tail fishing, our good friend, Dynamic Doug Borries with Dynamic Outdoors put together a cool Youtube video from out trip in September. Here is the link if you want to see one of the better trips we had this year on those tasty, hard fighting critters:
****SHORE THING Fishing Charters****

The finest inshore fishing on the entire MS Gulf Coast. Specializing in
speckled trout
,
red fish
,
flounder
, triple tail,
black drum
and more! We fish the Louisiana Marsh, the Mississippi Barrier Islands and many other areas. Our full time fishing guides are extremely knowledgeable, courteous, and professional. With four boats available, small and large groups are welcome. Anglers under the age of 13 fish for free! All of our boats and guides are licensed to fish in Mississippi and Louisiana. We supply rods reels, tackle, snacks, drinks, ice, fuel, bait and fun. No charge for fish cleaning and bagging. Be sure and ask about our all inclusive overnight fishing packages to the
Cat Island
House. www.shorethingcharters.com or 228-342-2206

Be sure and check our videos:
http://www.youtube.com/watch?v=VdJjkK7ldsk

http://www.youtube.com/watch?v=hr0twtm3Bng

http://www.youtube.com/watch?v=tiMDCa5OD6U