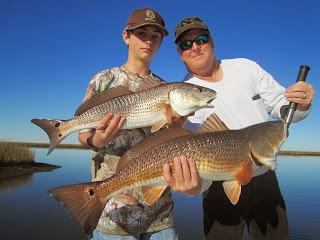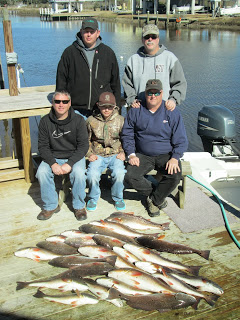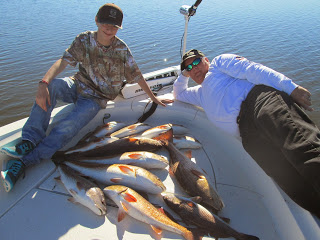 Sunday, Capt Matt and I were on a two boat trip with the Rowell Crew. I guess the wind, seas, low tide, lack of haze and angle of the sun were perfect on the ride out? From the rock pile at Bayou Caddy you could see the LA Marsh! Capt Matt and I were trying to figure out what we were looking at the entire way out. Safe to say Matt and I have been to the marsh a "few" times but never have we seen the marsh from the main land. It was mirror calm, we thought it might be a huge wake or a massive flock of ducks? When we got to half moon island, sure as shootin, you could see miles down into the marsh. Just a neat thing to see, but was very freaky. We did fish too…
Our man JT and his son Zack have fished with us before, this time they brought a truck load of buddies and family to play. They were flexible with their vacation and were nice enough to bump their trip back a day. Wind was blowing 20 mph most of Saturday, but was non existent on Sunday. Our two boat crew got treated to one of the best days of winter time red fishing we have had in years.
Still having to plan the entire day around the super low tides. Even with little to no water, the red fish have been stacked up in the shallow water ponds. Capt Matt's crew was a few casts ahead of us when we started fishing. They were already seeing, and hooking fish, it was gonna be a good one. Glass calm water and blue bird skies, it was going to be a sight fishing paradise. Water was murky, but it was mainly because of the large packs of reds in the shallow water pond. It you did not see the first one or two of the pack, the rest would just gang up around the boat and then head in every direction. It was tricky and frustrating, but there was soo many fish in the ponds you just had to roll with it.
Both boats were primarily slinging Strike King Red Fish Magic spinner baits. Color did not matter as much as did a well placed cast. As long as you got your bait in front the pack, you got bit. Even though we got the weather right, moving the trip came with a price. The boys had a very long trip home, so we had to run in early. Tough to leave on such a perfect weather day, but we got what needed. We kept 25 reds for the 5 man crew, and released plenty of fish over 27 inches. Got treated to another glass calm ride home. One of the best days of January fishing I have ever had.
Have been trying to keep up with Captains Kenny, Darren, Jimmy Ray and Kyle over the winter. Them boys have been doing a number on the deer and hogs. Capt Kenny and Jimmy Ray, along with the crew at Devil Swamp have been laying down some good swamp donkeys and big hogs. Gonna have to sneak back out there before the season ends…
****SHORE THING Fishing Charters****
The finest inshore fishing on the entire MS Gulf Coast. Specializing in speckled trout, red fish, flounder, triple tail, black drum and more! We fish the Louisiana Marsh, the Mississippi Barrier Islands and many other areas. Our full time fishing guides are extremely knowledgeable, courteous, and professional. With four boats available, small and large groups are welcome. Anglers under the age of 13 fish for free! All of our boats and guides are licensed to fish in Mississippi and Louisiana. We supply rods reels, tackle, snacks, drinks, ice, fuel, bait and fun. No charge for fish cleaning and bagging. Be sure and ask about our all inclusive overnight fishing packages to the Cat Island House. www.shorethingcharters.com or 228-342-2206
Be sure and check our videos:
http://www.youtube.com/watch?v=VdJjkK7ldsk
http://www.youtube.com/watch?v=hr0twtm3Bng
http://www.youtube.com/watch?v=tiMDCa5OD6U