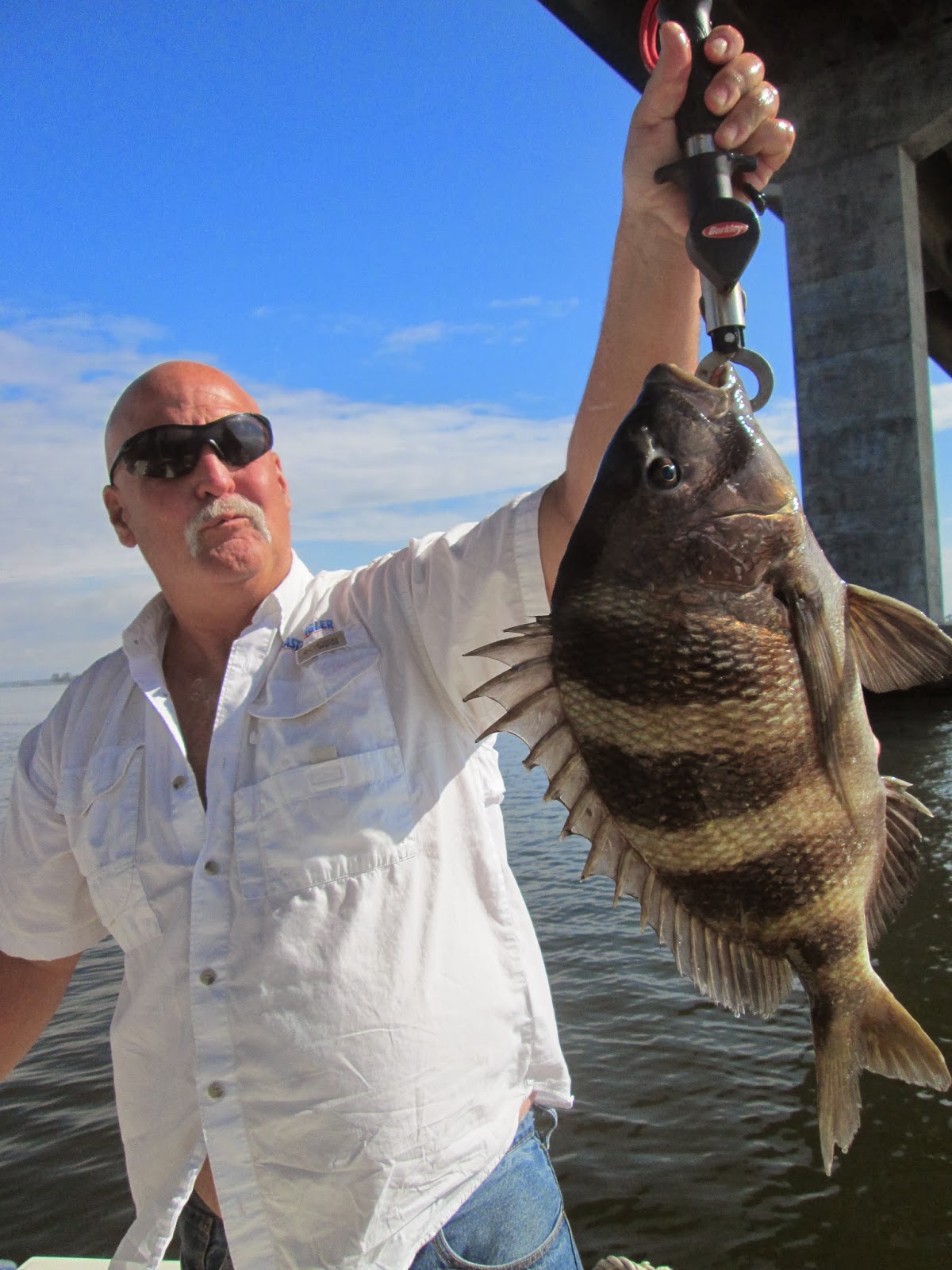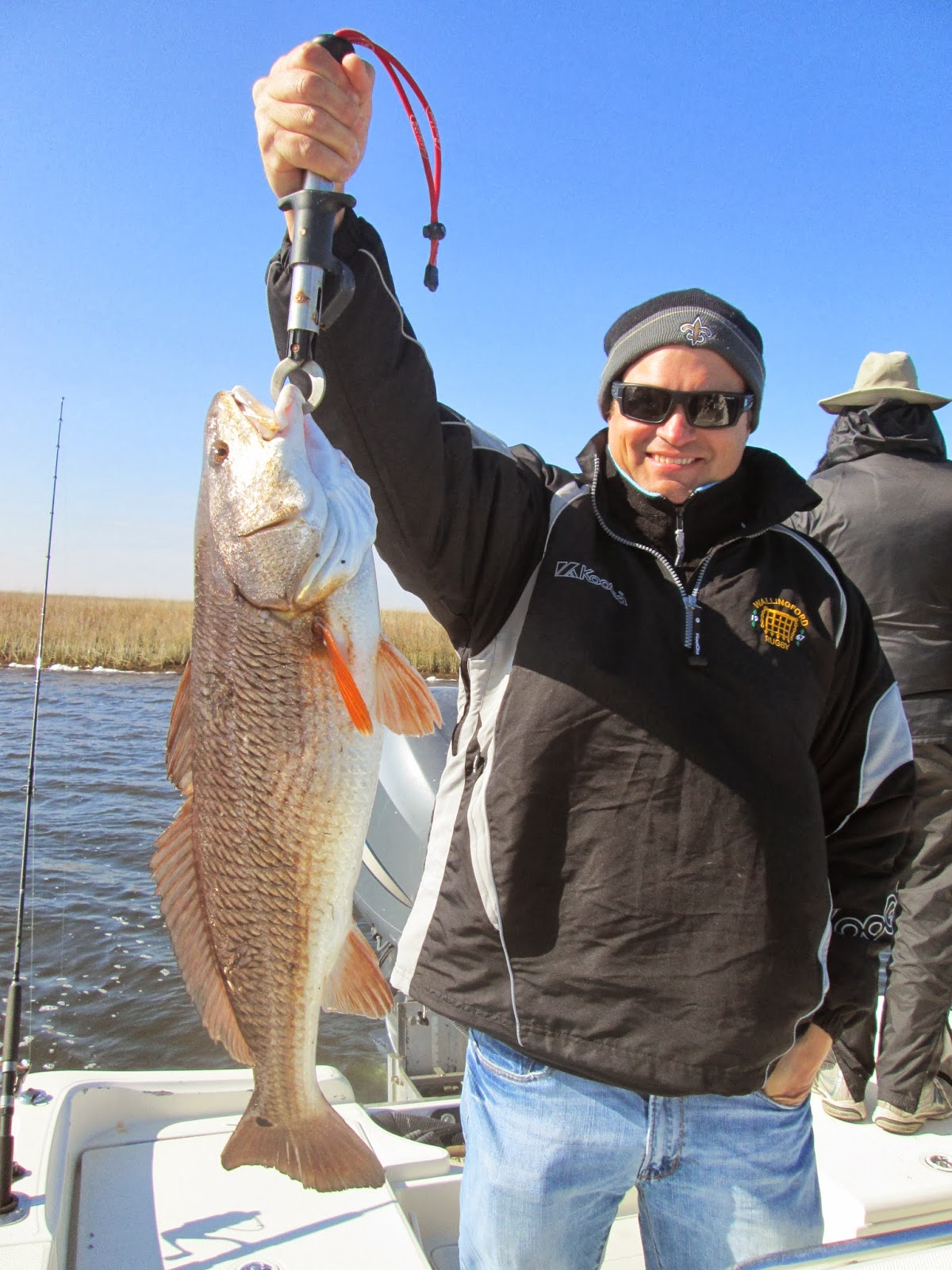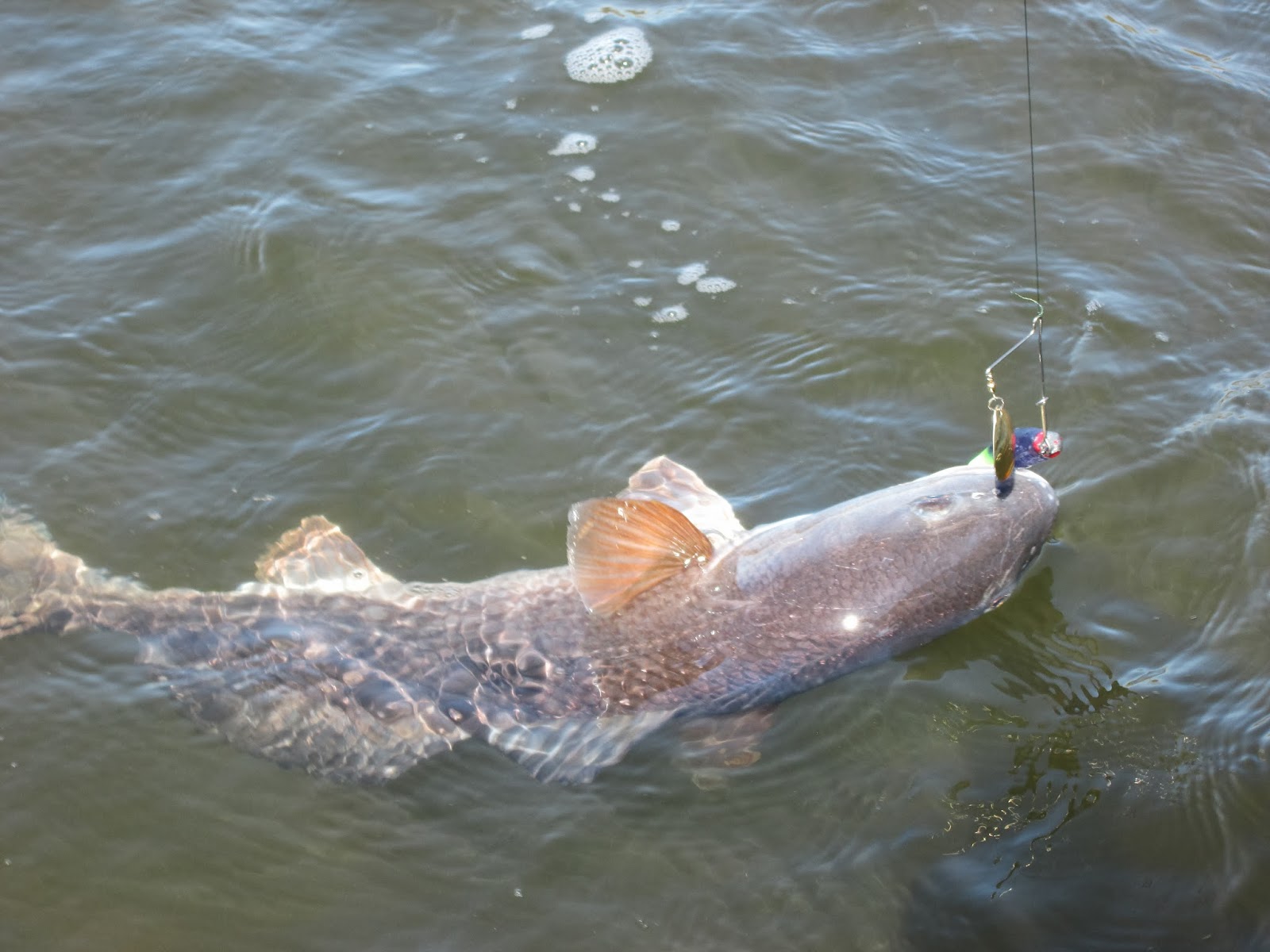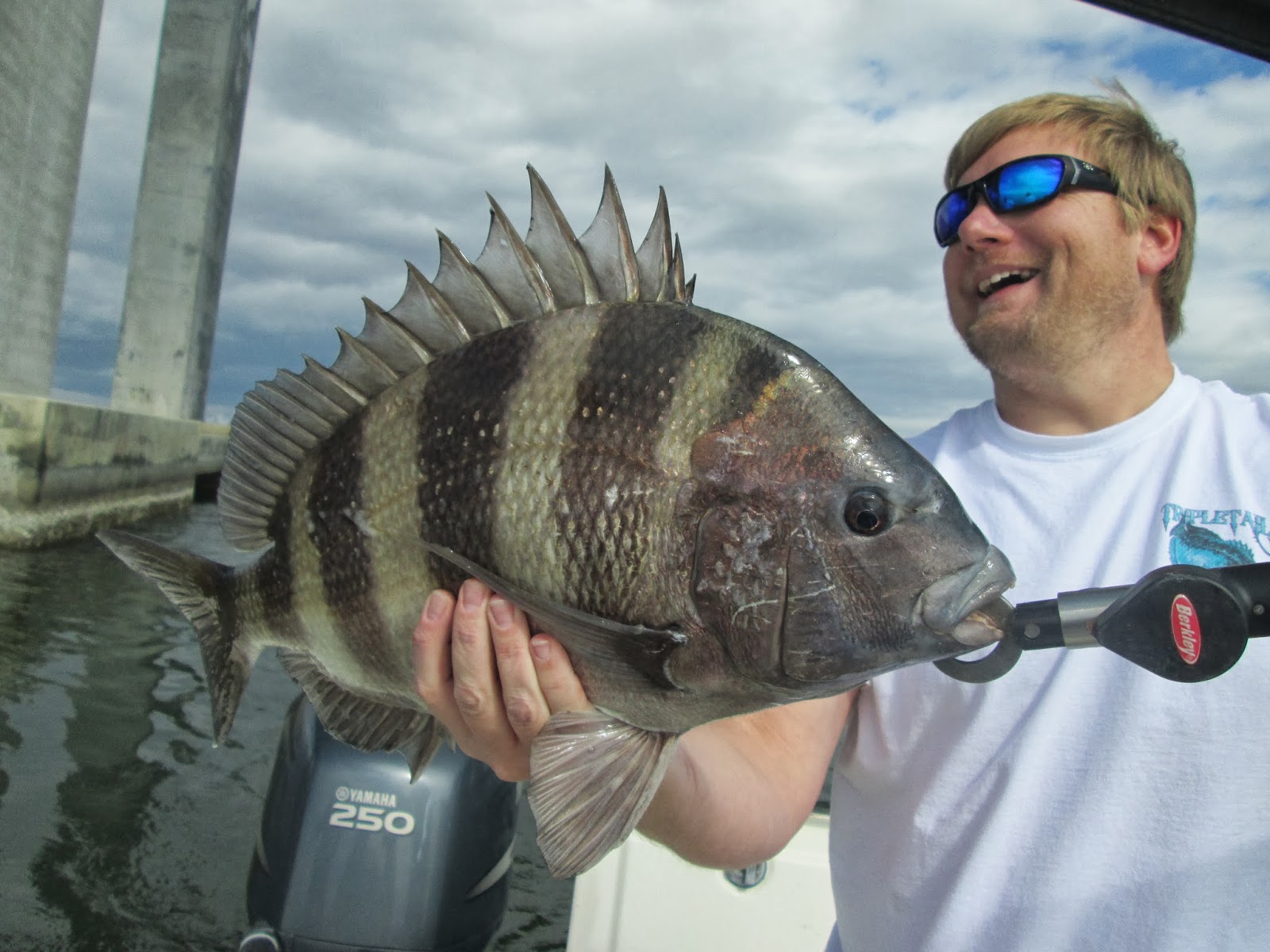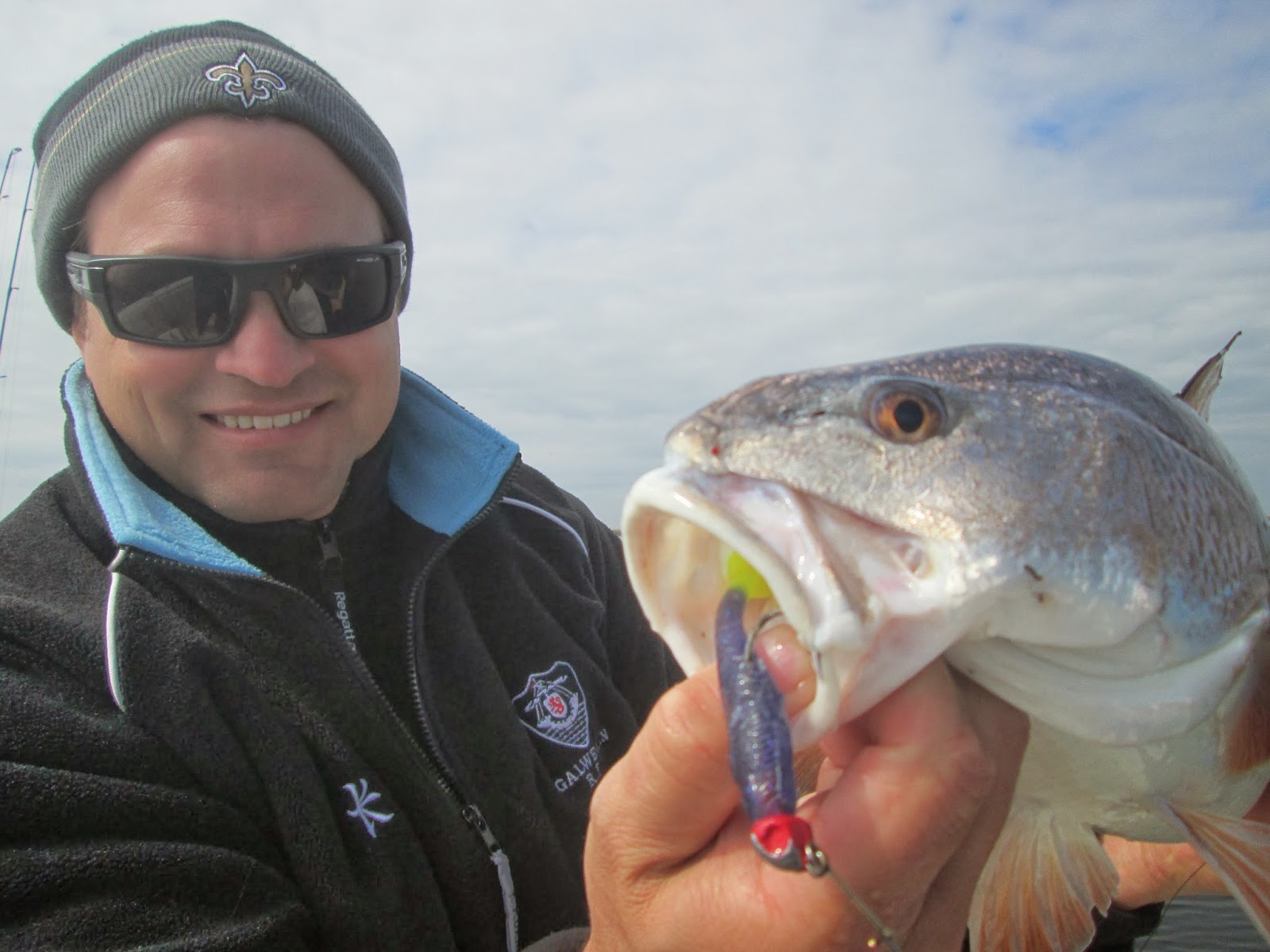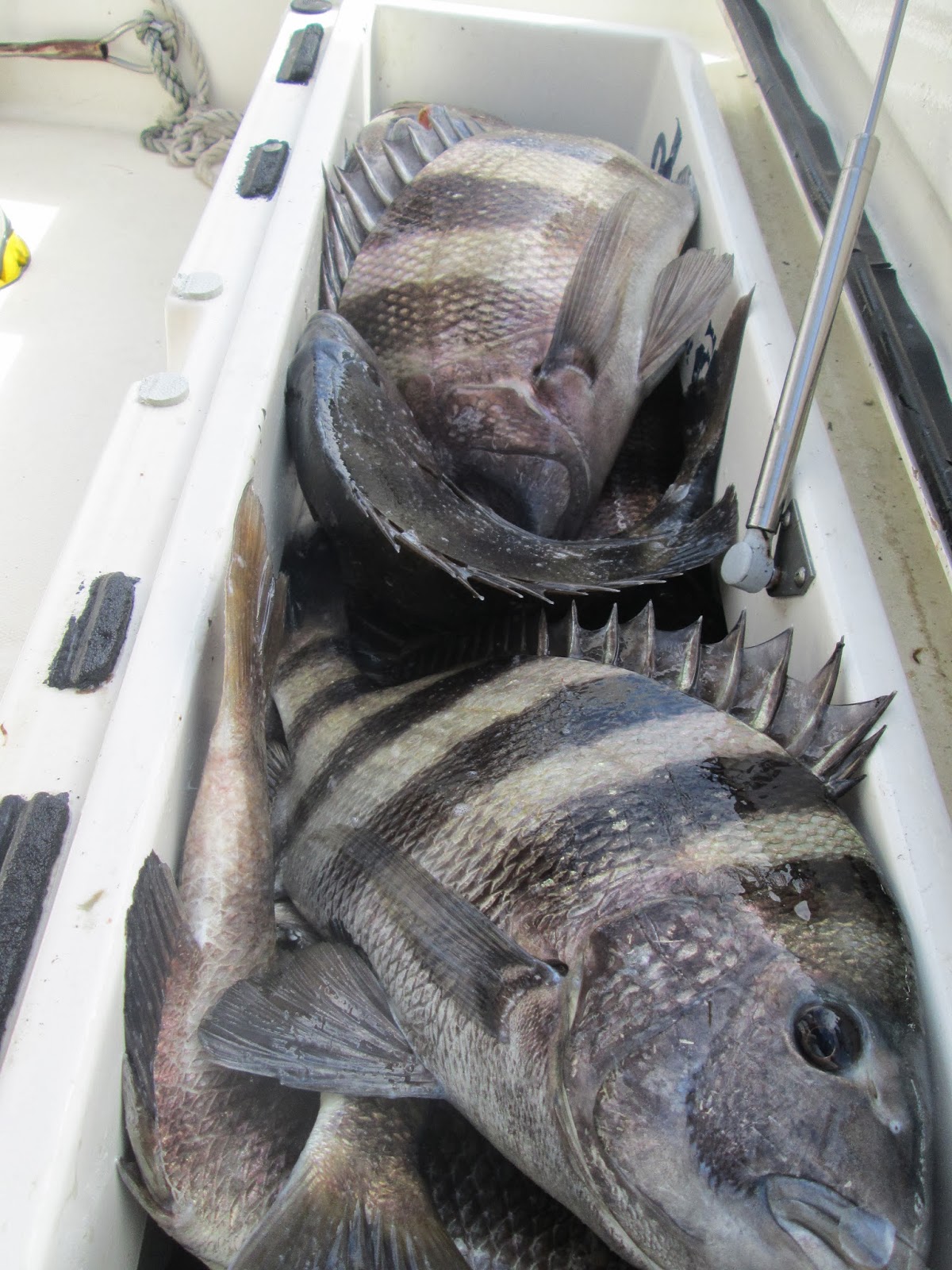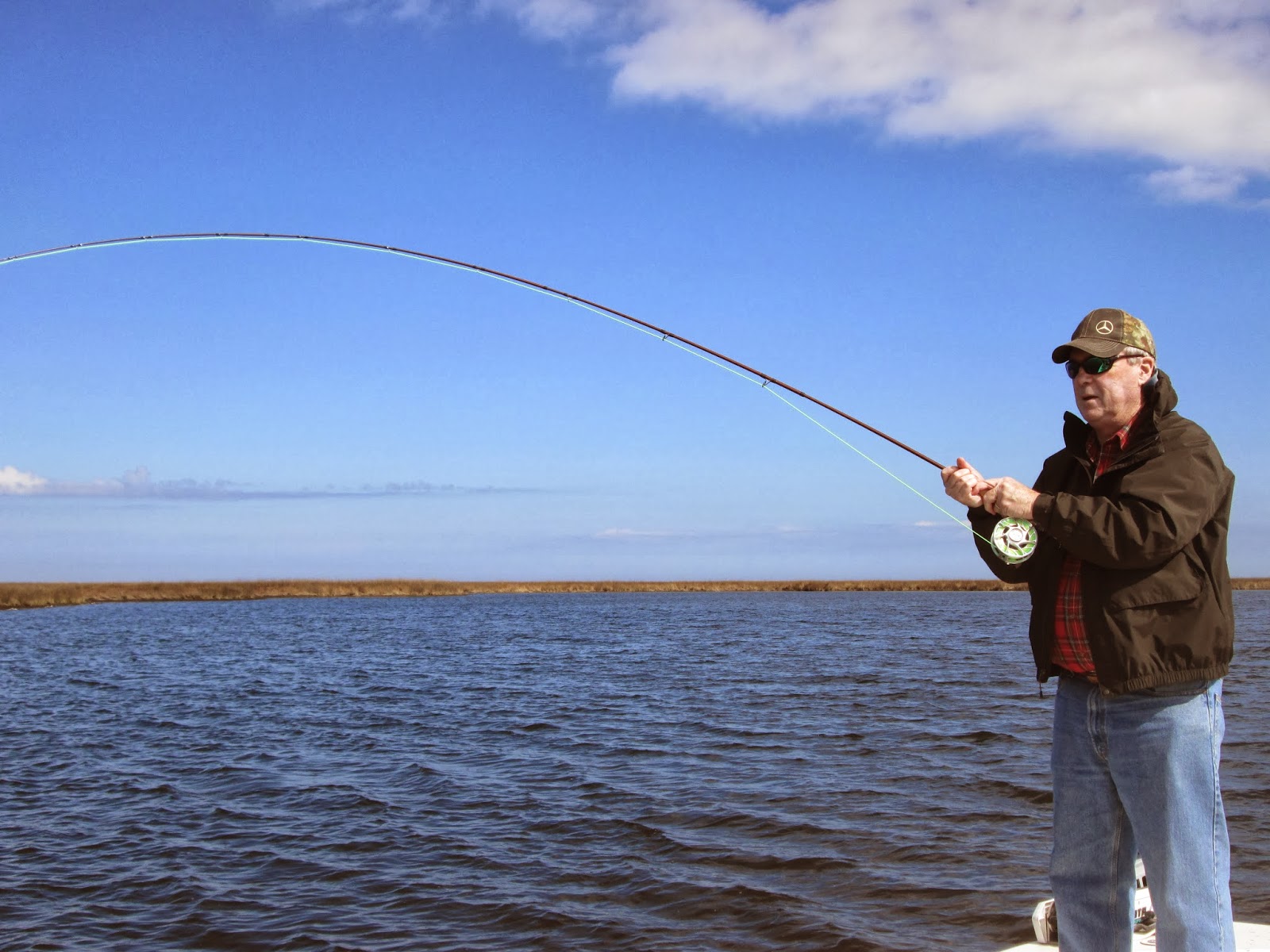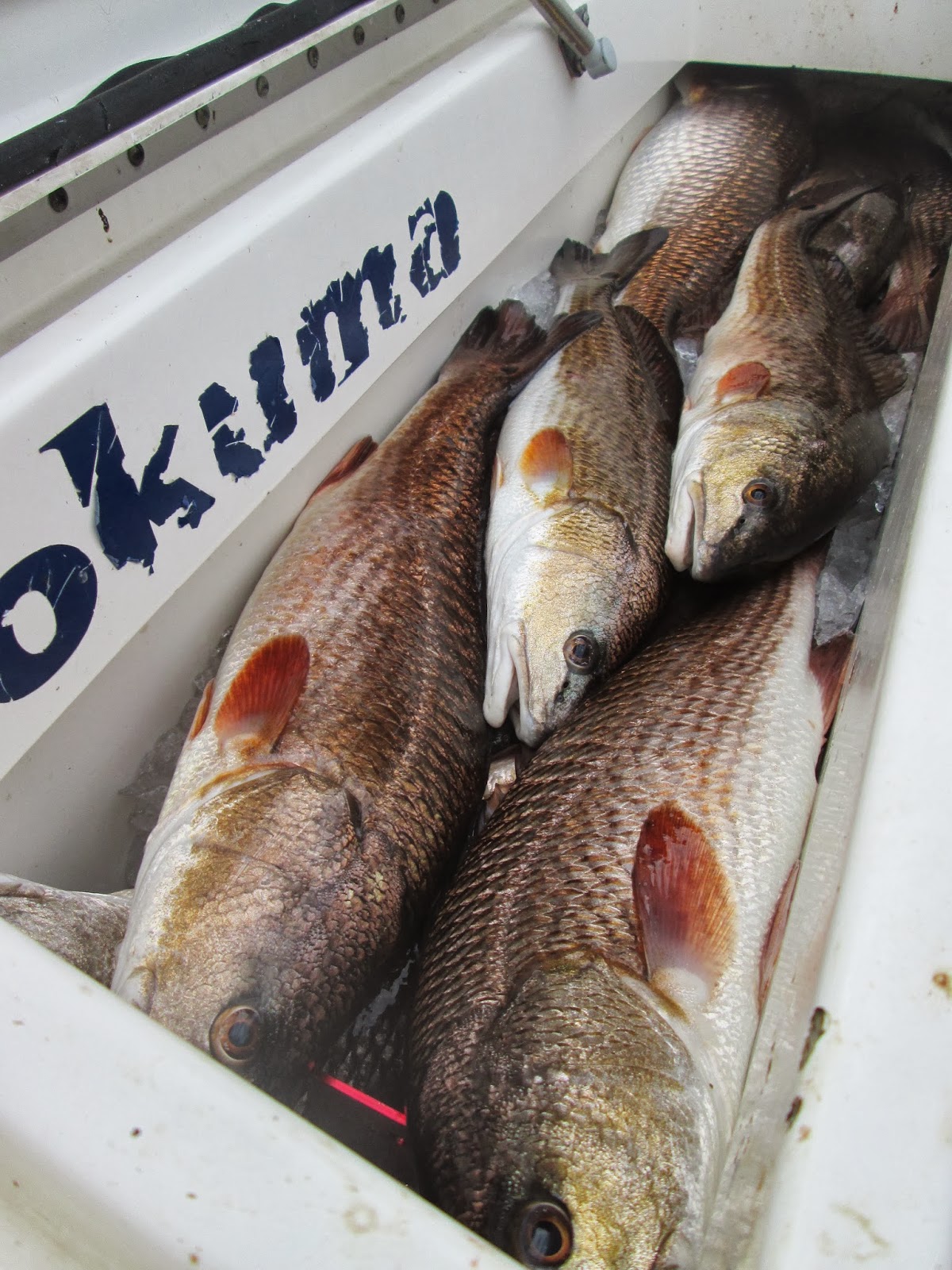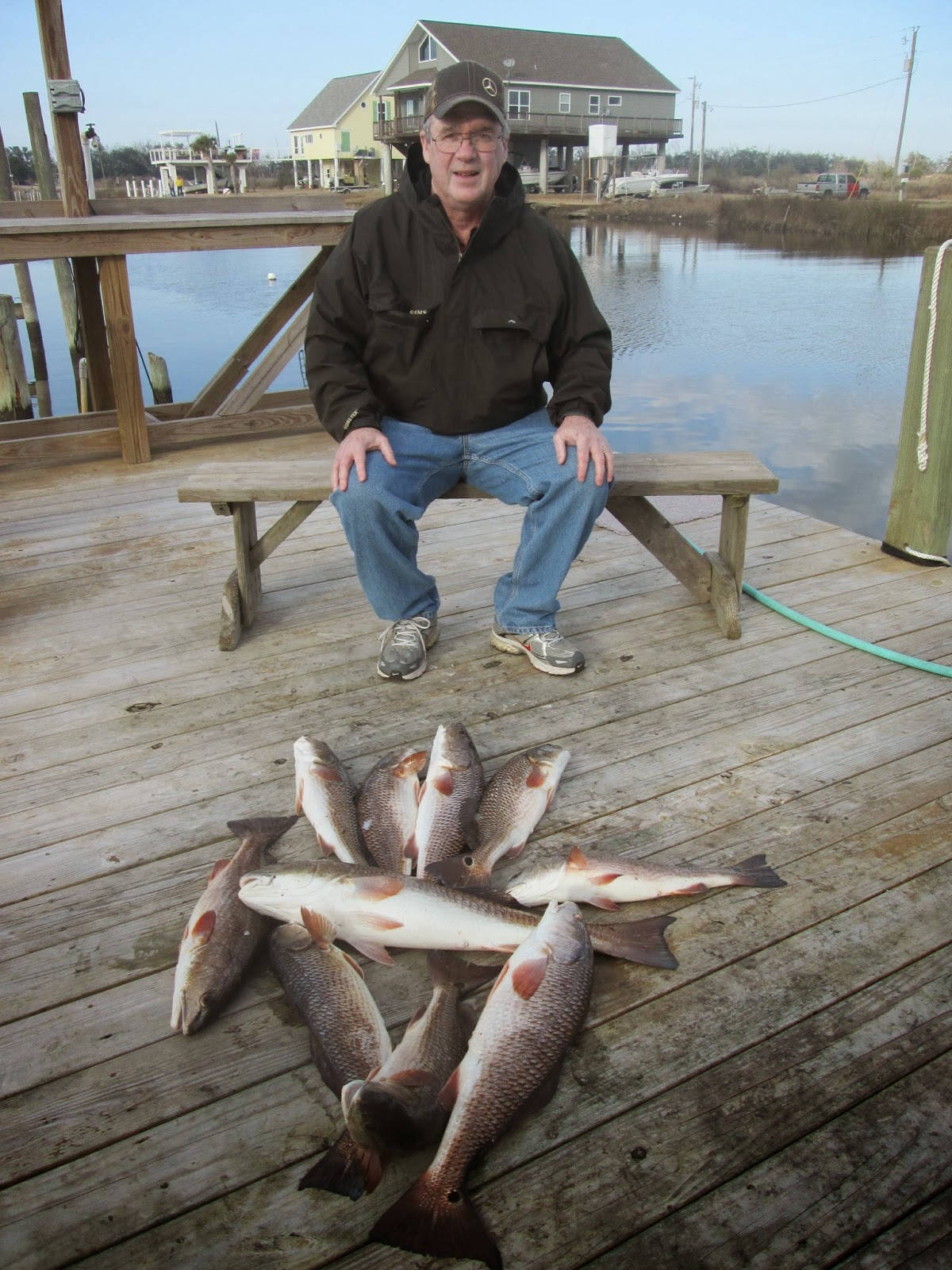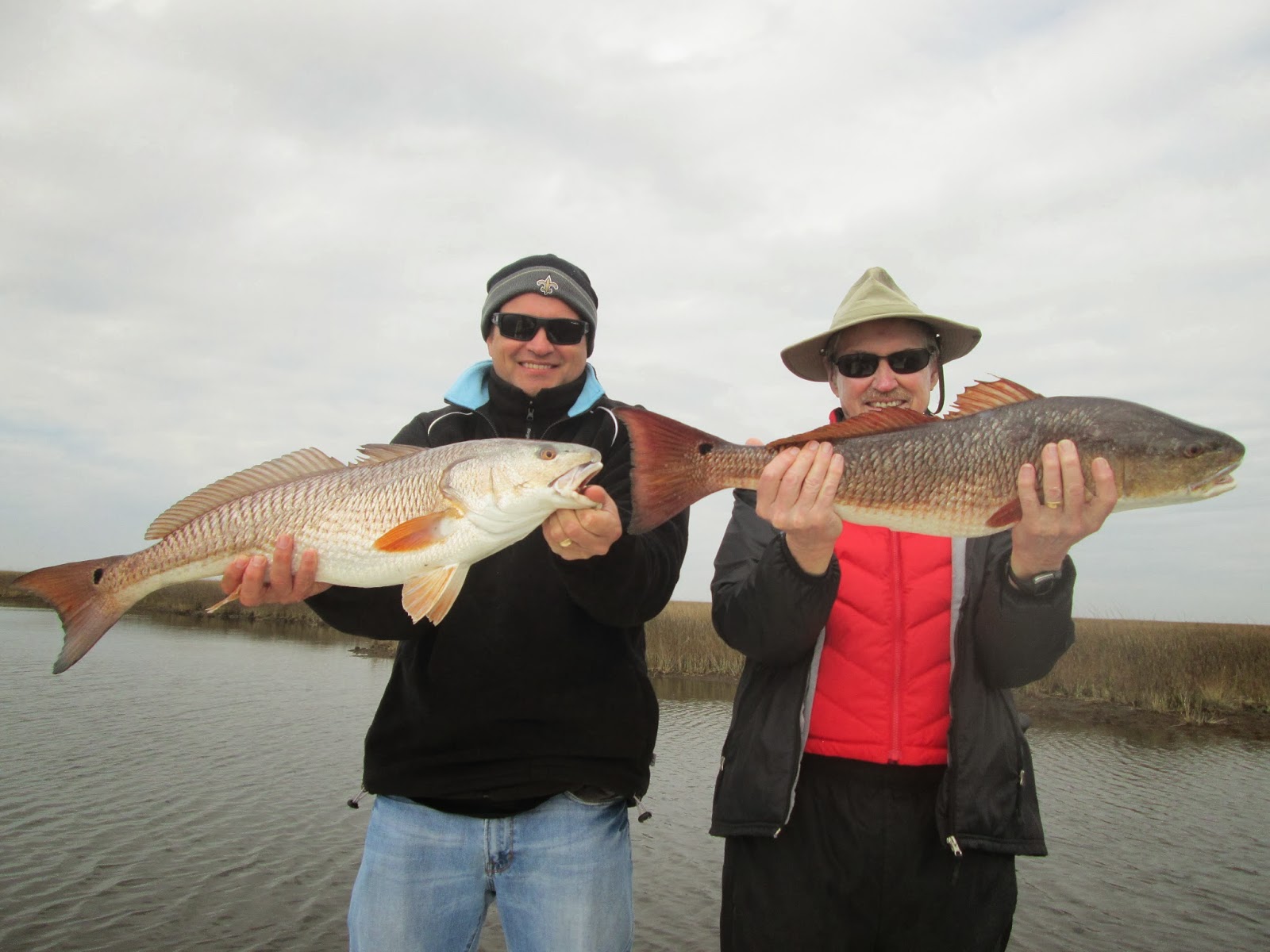 Actually got three days in a row on the water, and they were all full of great fishing! Got to take some people to do a little sight fishing, a little fly fishing, and even snuck in a sheepshead slaughter. Here we go…
Some of my oldest customers/friends, the Russells were in town on Saturday. Actually, they were here all week, but mother nature did not let us out till Saturday. They were in for an incredible trip to the marsh, sight casting to red fish. Took it a little slow due to the chilly morning, but once we got into the shallow ponds, deep in the marsh, it was very comfortable. Virgil Sr has been fishing with me since my tuna days back in Venice, LA. We have had some incredible trips over the years, and this was one for the books. The big packs of reds were in numbers of 20's to 40's and very hungry. Several times we just turned off the trolling motor, put the Cajun anchor down, because fish just kept coming down the banks. We kept the same three baits on all day long. We all used the Strike King Magic Spinners, tied directly to the 20lb power pro. Switched the plastics on the spinners over to Matrix Shads(Clear/chartreuse, Black./Chartreuse, Purple/Chartreuse). Used the Okuma Trio's and V's spinning reels for ultra long casts. Kept 15 and released many more. Even enjoyed some cold Popeyes fried chicken they brought, to cap off one heck of a day.
Sunday my man Bragg Williams wanted to try out his fly rod after hearing Saturdays stellar red fishing report. Bragg never misses church, so we left around 11AM. Good call and we had plenty of water to navigate the ponds. The wind was a little more than we anticipated, but it always seems to blow whenever a fly rod is on the boat. Bragg stuck it out with his 8 weight, with a spoon fly and did get a few. The wind murked up the water, so the fish he caught, came from persistent blind casting. We did get our limit and most came off the spinner baits. Took a following sea home and were back in 4 short hours.
And then there was Monday…
Had my friends Al Jones and Lee Field from WLOX news along with Ben Bloodsworth and Ron "The Pirate" from Coastal Angler Magazine. They were on board for a good ole fashioned Sheephead slaughter. They were wanting to get some pics and video of the "Bay Snapper" to help promote the Stripes, Spots and Dots Tournament(Feb 22nd) at the Biloxi Boat and RV Show. I will be posting much more info on this tournament in the next few days if anyone needs more details. This a huge money tournament, with over $7500(guaranteed) up for grabs. Biggest Sheepshead and biggest 2 trout/1red stringer are the two big money categories. After Mondays fishing, all I can tell you is that the $2500 biggest sheepshead prize is going to be a battle royal. We caught some monsters just a couple hundreds of yards off the beach. The fact that anyone has a shot at first prize is what I like most about this category. Someone fishing off a pier has just as good a chance as does someone in a 50 foot yacht. Seldom do the guides from Shore Thing fish tournaments, but we are all looking forward to fishing this one.
We only fished for 3 hours and could not fit another sheepshead in the box. Al has a big church group coming in for a fish fry, so we kept plenty to feed the masses. A simple Carolina rig, with shrimp on the bottom, near anything that grew barnacles was the ticket. The bites were subtle, but when you set the hook it was a fight. Weather man is calling for some warm weather this weekend, after this front goes through. Got plenty of boats open Friday, Saturday and Sunday if anyone wants to get in on it. The near shore sheepshead fishing is incredible for the youngsters, I know this big kid enjoys them.
****SHORE THING Fishing Charters****
The Largest inshore fishing company on the MS Gulf Coast. Specializing in speckled trout, red fish, flounder, triple tail, black drum and more! We fish the Louisiana Marsh, the Mississippi Barrier Islands and many other areas. Our full time fishing guides are extremely knowledgeable, courteous, and professional. We have many boats available, small and large groups are welcome. Anglers under the age of 13 fish for free! All of our boats and guides are licensed to fish in Mississippi and Louisiana. We supply rods reels, tackle, snacks, drinks, ice, fuel, bait and fun. No charge for fish cleaning and bagging. Be sure and ask about our all inclusive overnight fishing packages to the Cat Island House. www.shorethingcharters.com or 228-342-2206
Be sure and check our videos:
http://www.youtube.com/watch?v=VdJjkK7ldsk
http://www.youtube.com/watch?v=hr0twtm3Bng
http://www.youtube.com/watch?v=tiMDCa5OD6U