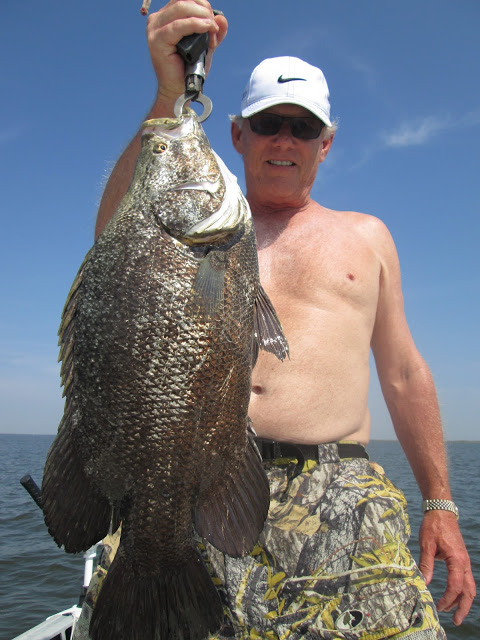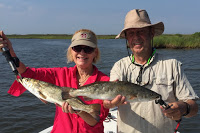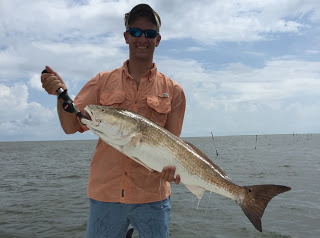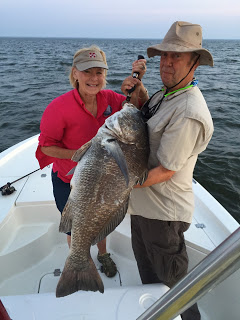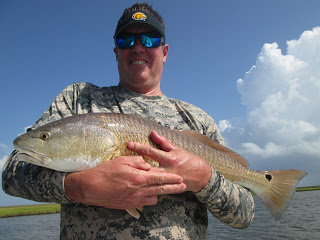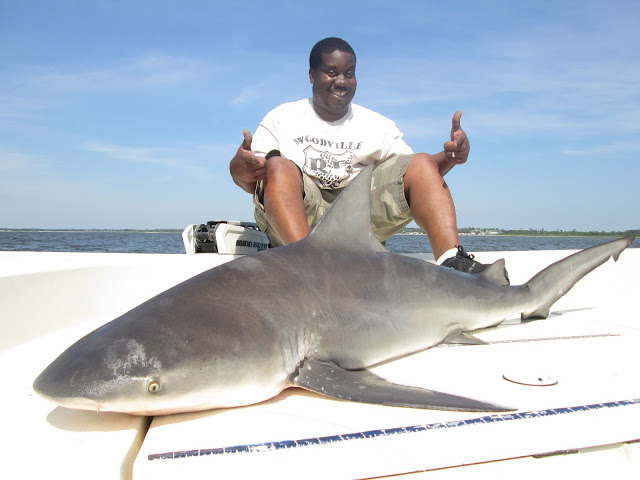 We have literally had boat loads of politicians the last few days. We have had plenty of ups and downs, mostly related to the weather, but for the most part, the fishing has been enjoyable. The bull reds have been wearing out both tackle an anglers. The triple tails have been cooperating and the trout have been keeping us on our toes.
Had three boats of Dentist out this weekend, thanks to Dr Randy Wolfe. Captains Alex, Kenny and myself took the boys across to the LA Marsh for a lil fun in the sun. Think the bull reds visited every boat, along with a nice mess of trout. We rolled in with right at 100 trout. Capt Alex's boat got top honors for biggest trout.
Got to run a trip for the Silver Slipper Casino with my new buddy Shawn. We stayed in close due to the winds, and had fun with the big fish. Was able to get him his biggest fish ever! Shawn bested a massive bull shark we found lurking in a school of lady fish. We were less than half a mile off the beach!...
Capt Jimmy Ray did number on the big trout with Jason Morrison and his family. Had to see the pics myself, they had a box of logs. Jason and his crew even nabbed a cool lil bonnet head shark and some big sheepshead.
The politicians started showing up on Monday. We had former Mayor of Hattiesburg, former Senator and current President of Awesome Town, Mr Ed Morgan. Arnie Headerman guides me around DC when I am up for there for fisheries management issues. It was nice to guide him and his buddies around for a change. These boys came down to catch their first triple tails. They showed up early so I talked them into working on the trout and bull reds first. They did well, but as soon as the sun came up, they were ready to roll. We put some miles on the boat looking for triple tails, but it was all worth it. Senator Morgan, Arnie and their partner Mike all got fat triple tails. True to form, we missed the biggest one of the day...
Capt Darien was out with the Mississippi Insurance Commisioner, Mr Mike Chaney and his lovely wife. He was getting a few hours in, early in on the water before getting back on the campaign trail(up for re-election today). They did fantastic in close, catching some huge trout in MS Waters. They even got to tangle with our back breaking sea monster black drum.
Capt Kenny has been keeping it slow steady on the trout, reds and triple tails. He was out putting a very impressive box of fish together with the Neff Crew. Kenny has been very consistent, something that has been very tough to do with the changing winds and weather.
Capt Darrien was cooking up a big helping of humble pie for me today. Had Bo and Mike along with me today. We got treated to a glass calm morning and a quick run to the marsh. Broke off 2 bull reds right away, and could not get a good bite of keeper trout going. Just picked a couple of keepers here and there. Did find a big jack crevalle and got redemption on a nice bull. Capt D was with Mr Donnies crew and they crushed us on the trout. The winds got to howling mid morning, but they capitalized on a live bait bite over a shell key. Took it slow coming home in the side sea, but got home safely for our desert of humble pie...
Gotta thank the BOATHOUSE CREW (Sid, Ronald, Steve, Dylan, and Griffen), for saving my rear end again. I have been having issues with my running lights for, lets just say quite some time. They finally talked me into getting rid of those plug in lights that always corrode and break. They put in some cat eye LED's under the bow and a stern light on top of the engine cowling. Very pleased with the work, price and compliments the old Hydra Sports has been getting. Thanks Boathouse!!!

****SHORE THING FISHING CHARTERS****
ESTABLISHED IN 2003. The Largest inshore fishing company on the Mississippi Gulf Coast. Specializing in
speckled trout
,
redfish
,
flounder
, tripletail,
black drum
and more! We fish the Louisiana Marsh, the Mississippi Barrier Islands and many other areas. Our full-time fishing guides are extremely knowledgeable, courteous, and professional. We have many boats available - small and large groups are welcome. Anglers under the age of 13 fish for free! All of our boats and guides are licensed to fish in Mississippi and Louisiana. We supply rods, reels, tackle, snacks, drinks, ice, fuel, bait, and fun. No charge for fish cleaning and bagging. Be sure and ask about our all inclusive overnight fishing packages to the Cat Island House. www.shorethingcharters.com or 228-342-2206.
Be sure and check our videos:
http://www.youtube.com/watch?v=p7zPtztzBT0
https://www.youtube.com/watch?v=tiMDCa5OD6U
http://www.youtube.com/watch?v=VdJjkK7ldsk
http://www.youtube.com/watch?v=hr0twtm3Bng
https://www.youtube.com/watch?v=RN7WxqYBly4
https://www.youtube.com/watch?v=NM9QOmFHe2g