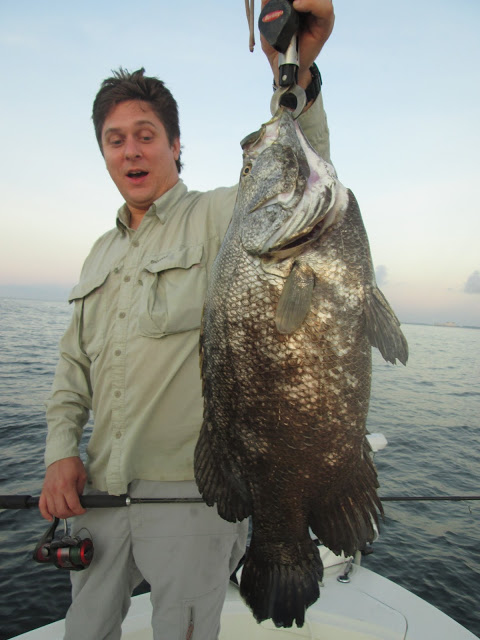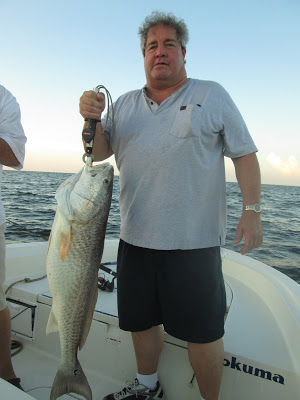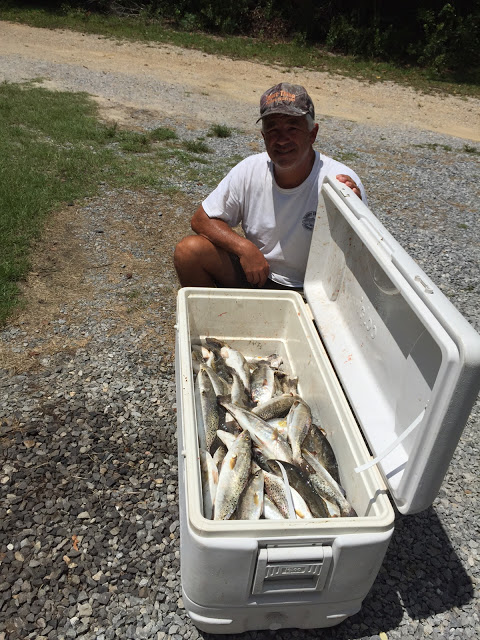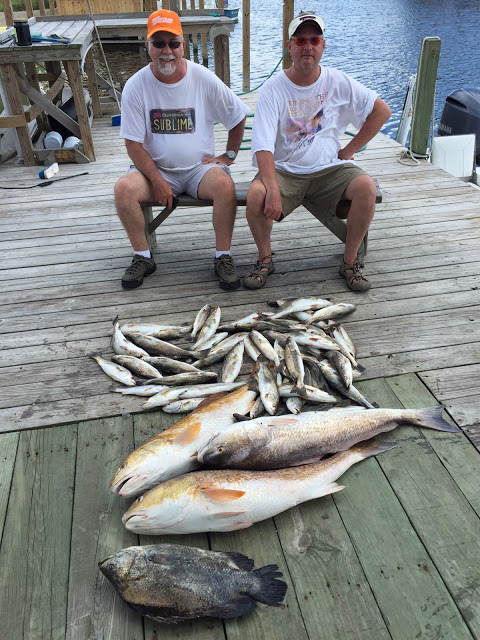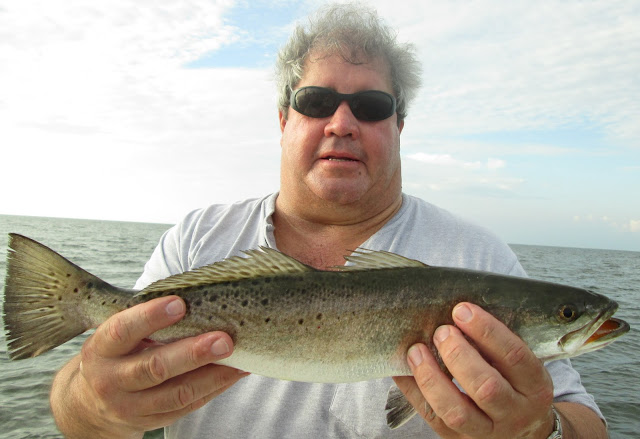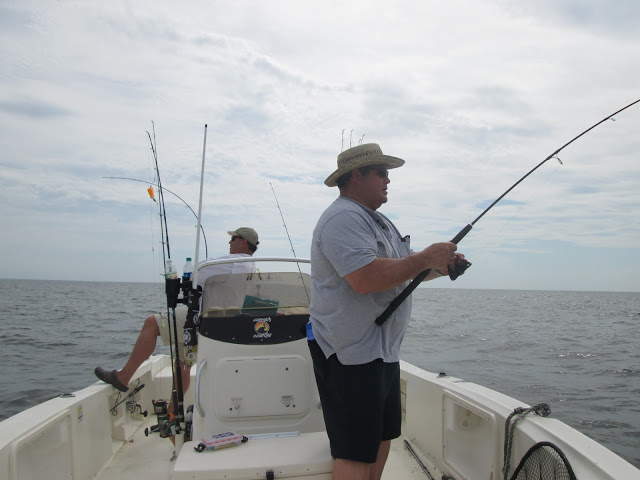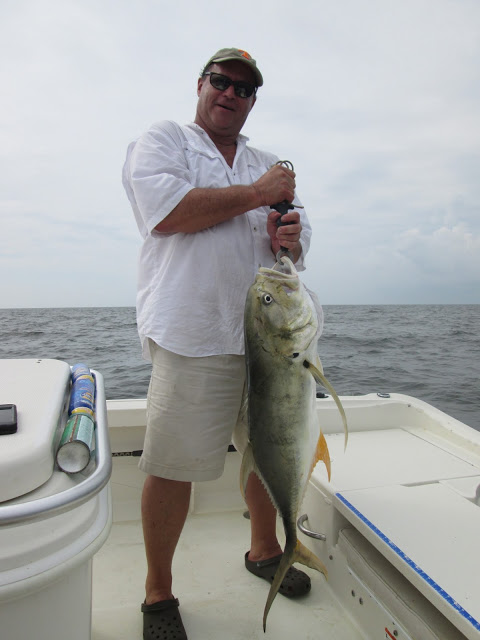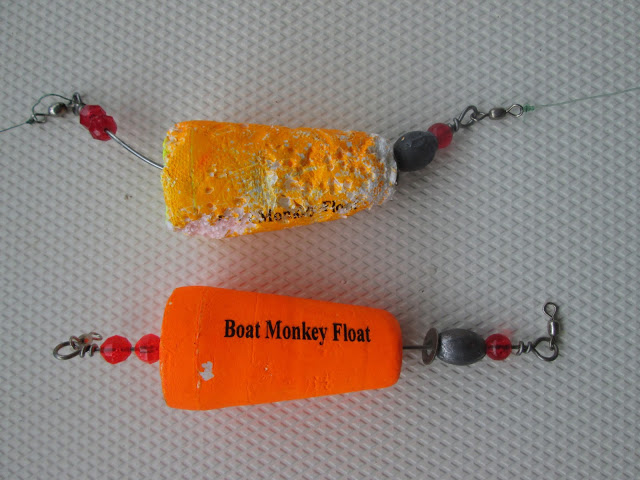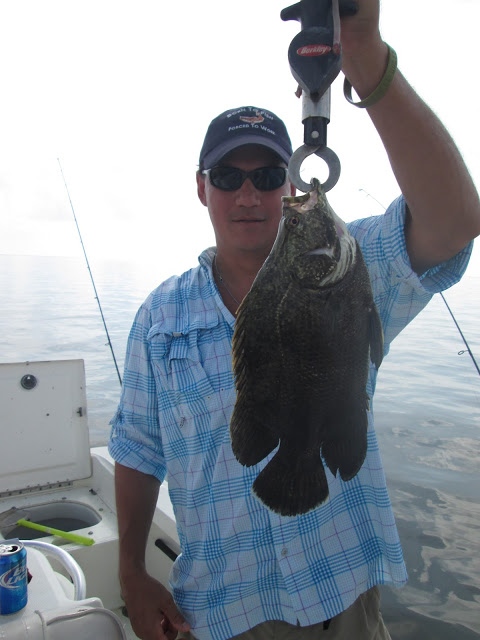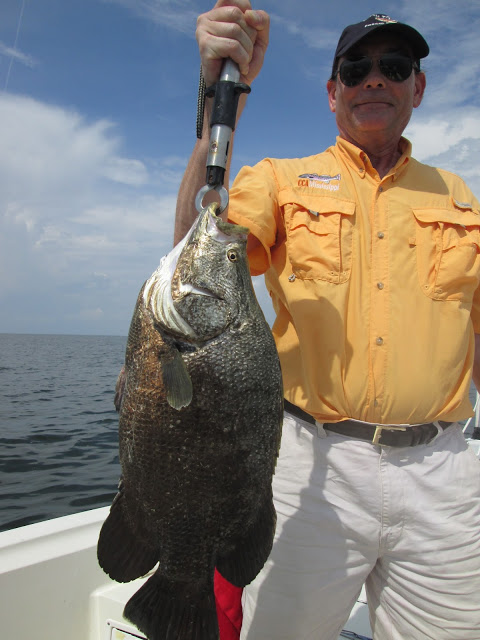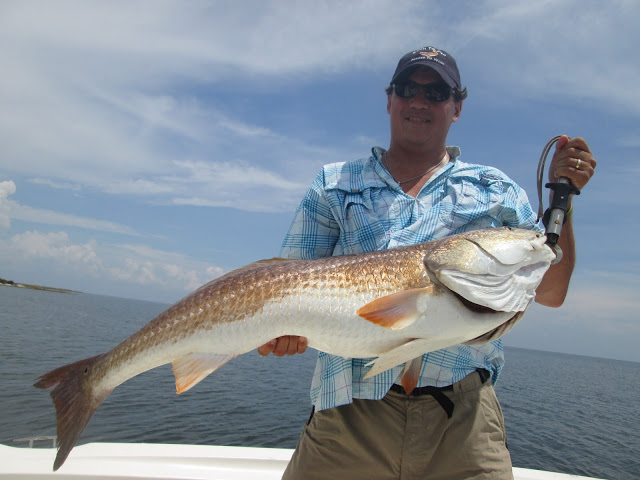 Good week of fishing, but a bad week on tackle. The weather has kept us on our toes, but we have been able to have some incredible catches. Earlier in the week, we actually tried to cancel our trips. Our crews were in town, and asked to try. Dewey with Sunbelt Properties was here on business and only had a small window to fish Wednesday. We stayed in MS waters and did incredible. We were able to catch Dewey and his buddy their biggest fish ever. We started off our day with a big bull red and their day was made. We topped it off with a few good trout and some sheepshead. While we were looking for some triple tails, we ran into what looked like a school of busting tuna! No, it was not tuna, but it was a big school of big bull reds and jack crevalle. They ate everything we threw at them. We got spooled, and lost several corks. One would smash the soft plastics and one would crush the Boat Monkey popping cork. A couple of the fish hit less than 5 feet from the boat! While we were out fishing, Dewey told me a horror story he had on his last charter, many years ago. They were not updated on the rough seas, and his entire family got sick. He was very appreciative we kept him updated on the conditions and offered to reschedule.
The very next day, we had storms to the west that looked pretty nasty. Gave my guy the option, and he asked if we could try. "Bad Weather" Burns Smith has been rescheduled soo many times on charter trips, it is just the norm with him. We just inched our way south, and kept a close watch on the storms. Burns was trying to scratch triple tail off of his bucket list. His buddies Keith and Chris were up for what ever. We got an early start and stopped off to check on some birds working down in the Marsh. We did find some keeper specks and many whites. The bull reds were right on time, and completely shut down our bite. We started our quest for the triple tails, but ran into more diving gulls and big jumping shrimp in about 4 feet of water. The triple tails got put on hold for a lil bit. Our half ditch effort put 23 specks and 20 whites in the box quick. We put our game faces on and kept on the triple tails for better part of the day. Many miles later, Keith had tagged a small one and we had missed another. FINALLY, we found a stud and Burns was up. I have been using my Okuma RTX 65 spinning reel, with 60lb braided line for the bigger fish. Yes, it is over kill but it helps when the big ones wrap you in structure. This one got tangled up twice! Against all odds, Burns Smith can now scratch triple tail off his bucket list! We made one quick stop on the ride home and Keith got to settle the score with the bull reds. He caught a 40 inch behemoth, that was his biggest ever! Great day!
While we were running all over the northern gulf, the Mighty Capt Matt was punishing the slot reds and flounder. The two man Jones crew got their LA limit of perfect slot sized reds with a couple of fat flounders. Matt said they just stayed put on a good clean shore line, and the fish kept coming. He said most of the fish that they hooked had a fish following them too!
I had a full house on Friday with the Mcdonald gang. They were staying at the "Big House" on Bay St Louis. Since we were fishing in MS Waters, I got up early and picked them up off the private pier in front of the house. The boys were in town from London, Alaska and north MS. We fished all over the place, from one end of the county to the other. At 6:15 AM, we even put not one, but TWO triple tails in the boat. Would not have seen the bigger one if he had not had such a white belly. Not sure if a triple tail has ever been on my boat that early in the morning? Had plenty of action, but most of it was too much to handle. We had fun with the smaller reds, and we found our big schools in open water again. We destroyed some tackle, and had nothing to show for it but sore arms and smiles. Cant believe I am typing this, but in 20 minutes, we went 0 for 6 on the big ones. Did not get spooled this time, but again, the fish were soo charged up, they were hitting the Boat Monkey Corks while fish were on the plastics and snapping the lines. We ended our day battling big sea monster black drums. We did get a few of the smaller puppy drums in the box, but most of the sea monsters schooled us. Those boys were flattened when I dropped them off at their pier.
We saw Matt here and there through out the morning, and he did much better with the smaller eater sized fish. He was fishing the Fletcher Family and they kinda put on a clinic at two of the stops we were by them. They landed on the keeper speckled trout at the first stop of the morning. Looked like they were flinging live shrimp under the Boat Monkey Popping corks. When we left them, they had at least 20 on ice. While we were fishing near them at one of the reefs they were doubled up on the big drum. It was tough to fish next to them, they all brought their A-Game.
Capt Kenny and Capt Darren had crews down in the LA Marsh, and they both did very well. Not sure of the tactics they used but they came in with full fish boxes. Capt Darren got his crew their two man 50 fish limit. Capt Kenny rolled in with 46 keeper specks, 3 big reds and one fat triple tail with the Moore crew. Good day to be on the water, it was nice n calm and the water was a pretty green.
****SHORE THING FISHING CHARTERS****
ESTABLISHED IN 2003. The Largest inshore fishing company on the Mississippi Gulf Coast. Specializing in speckled trout,
redfish
,
flounder
, tripletail, black drum and more! We fish the Louisiana Marsh, the Mississippi Barrier Islands and many other areas. Our full-time fishing guides are extremely knowledgeable, courteous, and professional. We have many boats available - small and large groups are welcome. Anglers under the age of 13 fish for free! All of our boats and guides are licensed to fish in Mississippi and Louisiana. We supply rods, reels, tackle, snacks, drinks, ice, fuel, bait, and fun. No charge for fish cleaning and bagging. Be sure and ask about our all inclusive overnight fishing packages to the
Cat Island
House. www.shorethingcharters.com or 228-342-2206.
Be sure and check our videos:
http://www.youtube.com/watch?v=p7zPtztzBT0
https://www.youtube.com/watch?v=tiMDCa5OD6U
http://www.youtube.com/watch?v=VdJjkK7ldsk
http://www.youtube.com/watch?v=hr0twtm3Bng
https://www.youtube.com/watch?v=RN7WxqYBly4
https://www.youtube.com/watch?v=NM9QOmFHe2g