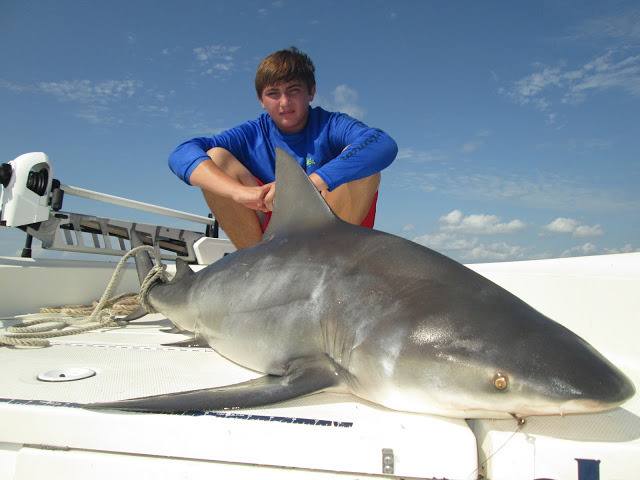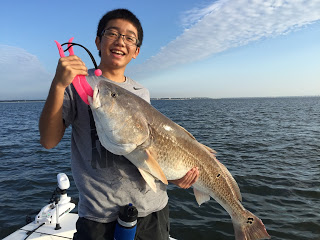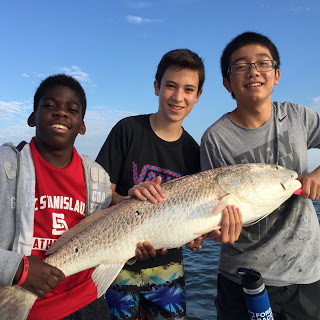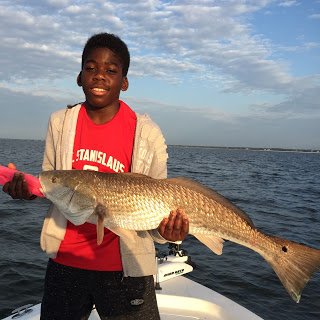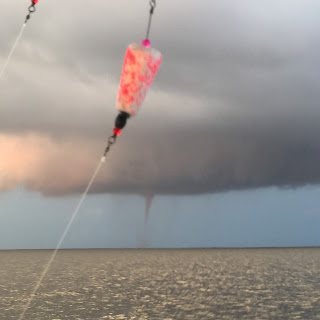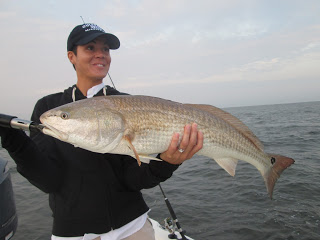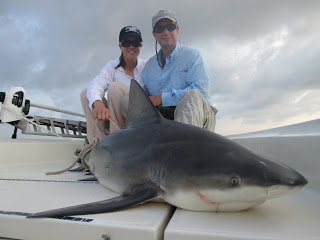 We got a phone call from Capt Alex today, and you will all be happy to know that he is keeping the skies safe against rabid killer doves. He has been up in north MS blasting, while we have down south casting. It has been fun the past few days, we have had some wild trips. The majority of the trips have been fishing in close, in MS Waters. Some days the winds have kept us in close and other days the monster sharks and bull reds have been too much fun to pass up. Yes, we specialize in trout, redfish, triple and flounder, but when the big fish come in this close you gotta have some fun with them...
Capt Matt had the best trout bite of the past couple days. He had the Stevens crew with him, last Thursday. They began their morning catching bull reds and black drum. He made one quick move to the mouth of a drain and hit pay dirt. All the trout came off live shrimp under the Boat Monkey Popping Corks. I was fishing with my old buddy Mitch, our pal Riley and his lovely wife Georgia. It was a birthday trip for Riley, HAPPY 65TH Rollo!!!
We found some stud trout early that morning, fishing live bite over some oyster bottoms. When the catfish, lady fish, and stingrays got too thick, we joined Matt on his bite. Matt was working overtime, unhooking fish and keeping hooks baited. We eased over to the broken grass on the shore line and put Mitch to work on the reds. He popped three almost back to back to back. We drifted a few more shore lines and nabbed a few more small reds, flounder and a couple more big trout. The Mighty Matt and the Stevens crew capitalized big time on their trout bite, getting 50 something specks in less than an hour!
That would pretty much the end of chasing "small fish" for my boat. For the next 4 days, I had crews that wanted to fight big fish. Luckily, the bait fish (rain minnows, pogies, mullet, pogies, and lady fish) have been very thick in the MS Sound. The bull reds and big sharks have been nothing short of incredible.
For last several years, Mrs Kristen at St Stanislaus College Prep( The Mighty Rock-A-Chaws) in Bay St Louis has been sending students in the boarding department fishing with us on holiday weekends. The Saturday of Labor Day weekend put 4 boat loads of fresh young minds fishing with us. Captains Kenny, Matt, Jimmy Ray and myself always enjoy this trip. Kenny and JRay went to Bay High, while me and Matt went to Stanislaus(Class of 95). We keep it fun, but it becomes the War on The Shore with the fishing.
Kenny and his crew did the best on the big trout and put up a good show on the bull reds. He had one little fella on his boat from Angola Africa who was determined to learn everything he could about fishing here. I had his brother on my boat, and he was blown away at the size of the sharks we were catching. We spent all morning doing battle with the big sharks and bull reds. The boys were troopers, and not one of them wanted to quit. After all the boys had caught a couple of sharks, and bull reds, we had to get back. We were a little late getting in, due to a little triple tail we had to catch and tag. We got to goof off all day with these silly lil dudes, one of them even told me, "Capt Sonny, you're nuttier than a port-o-let next to a peanut factory". I guess that was a compliment?...
Capt Kenny crept out to the LA Marsh Monday with the Fowler Crew. Despite the choppy conditions and dirty water, he made a good showing. He said the only way to keep fish going into the box was to keep moving. They never hit a steady bite, just a red fish here, a trout there, or a couple of whites in between. They did find some floating trash in open water, and our buddy Christian was able to tag an under sized triple tail on the way home.
Tuesday I had my lucky charms on the boat. Al Jones and Lee Field from WLOX News Fish n Game Report. These two have been on some amazing trips with me over the years. We shot an episode on one of the best triple tail trips I have ever seen. We have absolutely mauled the big sheepshead in the dead of winter. They have worn out the big sea monsters with us in the Spring. Al has been on the boat when we caught two of the biggest bull sharks I have ever seen, we even hooked a tarpon that day. Oddly enough, I don't think we have ever caught a bull red.
One cast net load of mullet and pogies, a short run into the MS Sound and the bull red curse ended. The first bait out got hammered by a nice bull, followed by a another bull a few minutes later. We were in a mess of lady fish, so we caught a couple of those and sent them out. We spent the next hour or so battling big spinner sharks, and lost some big UFO's. Last bite of our very early morning was the one we were looking for, a big ole mean bull shark. It was not as big as the ones we caught a few years ago, but it was still a brute. We came in early, but got lucky on the short run home and stumbled onto a lil triple tail. The undersized triple tail got his 15 minutes of fame on film, getting tagged n released. We will most certainly post the links when they air the footage in the coming weeks on the WLOX Fish and Game Reports (Wed night and Thur mornings).
Rigging for these big fish has been pretty simple. Get what ever you can for chum/bait. We have used white trout, big croakers, mullet, pogies, and lady fish. The best areas to fish have been in the schools of busting lady fish or pogies. Almost of all of fish have been on the larger size, so I have been using heavy tackle. Big spinning rods, with Okuma 80 class spinning reels (RTX, Azores, and V-series). I have been spooling them with 80-100 braid. We use 2oz of lead if the current is rolling, and just drifting them with no weight if tide is slack. Since the sharks are thick, we have been using #9 Malin wire and spinning haywire twists to the barrel swivels and to the 12/0 circle hooks. Don't think you have to get way out either. We caught a big bull shark over the weekend right off the beach. It was in 2 an 1/2 feet water, swimming in a school of lady fish.
****SHORE THING FISHING CHARTERS****
ESTABLISHED IN 2003. The Largest inshore fishing company on the Mississippi Gulf Coast. Specializing in speckled trout,
redfish
, flounder, tripletail, black drum and more! We fish the Louisiana Marsh, the Mississippi Barrier Islands and many other areas. Our full-time fishing guides are extremely knowledgeable, courteous, and professional. We have many boats available - small and large groups are welcome. Anglers under the age of 13 fish for free! All of our boats and guides are licensed to fish in Mississippi and Louisiana. We supply rods, reels, tackle, snacks, drinks, ice, fuel, bait, and fun. No charge for fish cleaning and bagging. Be sure and ask about our all inclusive overnight fishing packages to the Cat Island House. www.shorethingcharters.com or 228-342-2206.
Be sure and check our videos:
http://www.youtube.com/watch?v=p7zPtztzBT0
https://www.youtube.com/watch?v=tiMDCa5OD6U
http://www.youtube.com/watch?v=VdJjkK7ldsk
http://www.youtube.com/watch?v=hr0twtm3Bng
https://www.youtube.com/watch?v=RN7WxqYBly4
https://www.youtube.com/watch?v=NM9QOmFHe2g