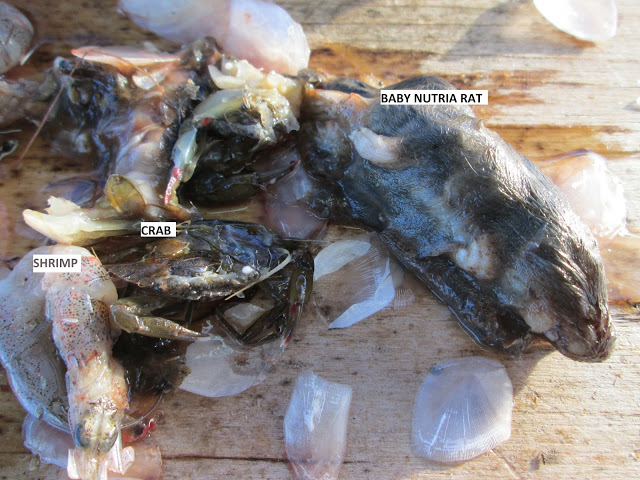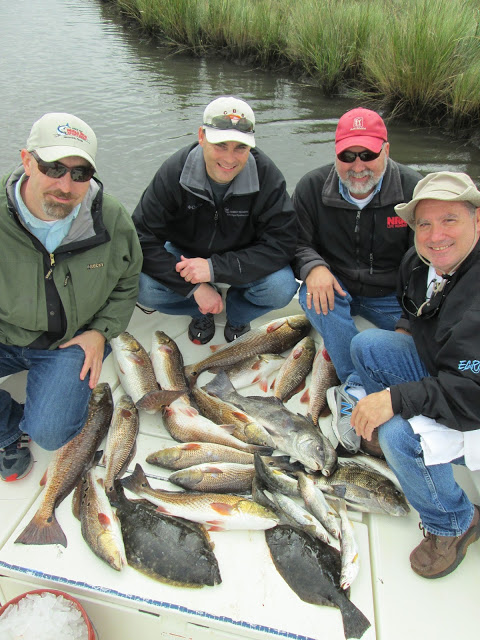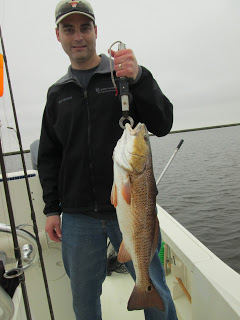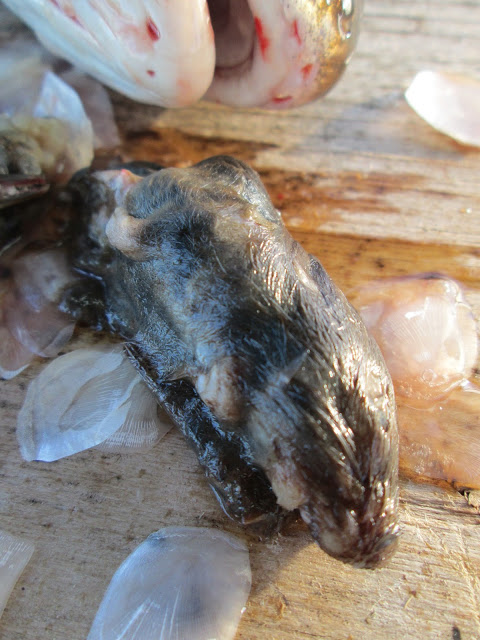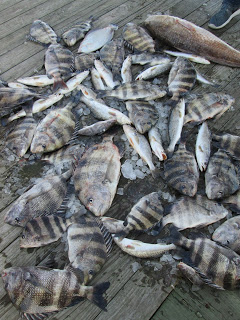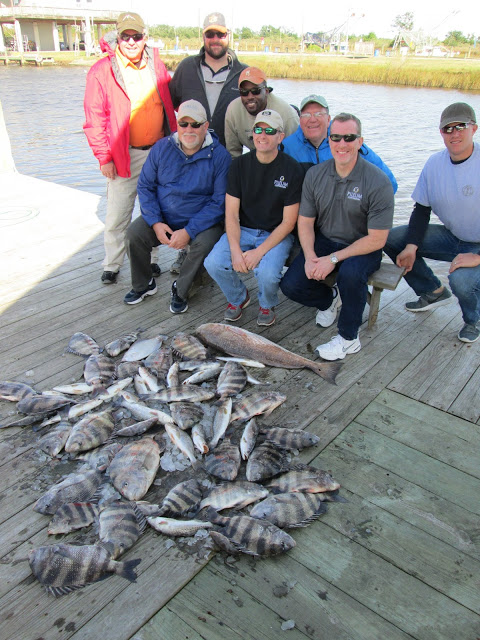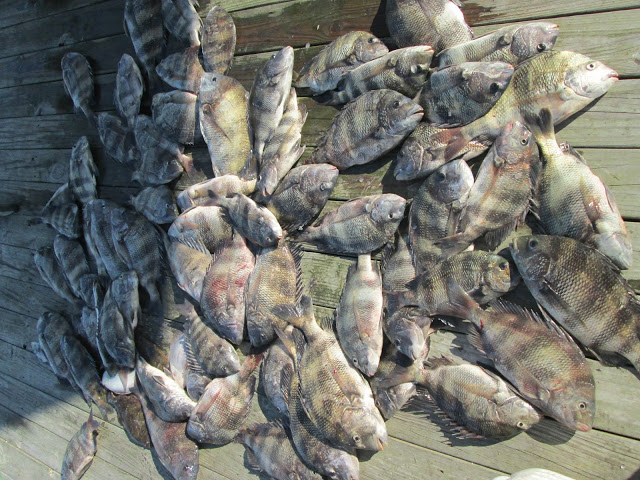 The Brawl in the Fall continues. Some days you are fighting the weather, but everyday we have gotten out, we have been fighting fish. Tuesday, Capt Kenny and I took two crews down south to the LA Marsh. Kenny had the 2 person Battle crew and I had the guys from Cajun Land Seasoning. Both crews were treated to some really nice weather. The Battle boys were doing well on the trout all morning. The bull reds came and played with them before they called it a day. Kenny said just about every single live shrimp they put in the water got hit. Kenny said they could have picked through them all day, but they were really enjoying the constant action. The boys pulled the plug with 30 something specks and told Kenny they were good.
Lenny and Craig with Cajun Land were back again with 2 new buddies for their Fall trip. Last year, they absolutely massacred the reds and came with high hopes for this year. Well, we had to put in a long day with this crew, not because the fishing was slow, but because the areas we fished were way back in the marsh. Getting in an out of the ponds, drains and ditches took a while, so it made for a longer day. It was well worth it, and the "Spice Guys" were able to load the boat again this year. We began working drains for trout, and when our bite petered out, we went straight to the red fish ponds. The overcast skies made spotting the fish nearly impossible. No matter, the boys were content working the banks with the Boat Monkey Corks, short leaders and shrimp tipped Matrix soft plastics. Plenty of the reds gave themselves up, crashing bait along the bank.
When we left our first pond, the boys had a dozen trout, 15 reds, 2 big flounders an a puppy drum. While we were moving to another pond, the sun came out and the gloves came off. With clean water in the pond and blue skies, we were picking slot reds off left and right. We thought had 25 but did not keep track, and came in with 24 reds, along with our other critters. No one really seemed to mind, we couldn't really close the fish box anyway.
Back at the skinning shed, we found a "present" in one of the redfish stomachs. Most of their bellies were slap full of shrimp, crabs and minnows. One of the chubbier reds had a BABY NUTRIA RAT in its stomach! Since 2006 this makes the 7th one we have found. Isn't nature cool, and gross?...
Wednesday was our Veterans Day trip. We did a nice write up on that one with some incredible photos in the previous post.
Thursday, Capt Kenny was the only one of us to brave the elements. He found some protected water to fish, in close. He was fishing the Lawrence Crew on a near shore trip. Literally as the latest front was hitting, they were stacking fish. In less than perfect conditions, staying in close and playing it safe, they grabbed 10 sheephead, 2 trout, 1 flounder, 1 drum and plenty of rats reds and ground mullet. Kept em safe, he made it work and left em happy. Well done Capt Kenny
Friday we had three boats out, and the winds kept us all in close. Captains Matt, Kenny and myself were scattered all over the MS Sound and Lake Borgne. Kenny was fishing the Trest's. Mr Gill and his wife were taking advantage of the Silver Slipper Casinos fishing package they have exclusively with Shore Thing Charters(you really can't beat the deal). Me and Matt were fishing Sandy Turnage and the crew from Pileum. Last year we had these boys down south in the LA Marsh for one of the best red fishing trips of Fall. This year the winds put us in a different area, but we still did great. Capt Matts crew took a quick lead with biggest fish, a good 15lb bull red. They soon went to cracking on the school trout and getting their numbers up. My crew(Sandy, Dave, Will and Chris) saw where this was going and we set up for a sheepshead slaughter. Fishing in 20mph winds and one heck of a fast moving tide, my boys did incredible. They put 29 sheeps in the box with ease. They even sprinkled in a couple ground mullet, trout and one of the biggest bull croakers I have ever seen.
Back at the skinning shed, aka "Shiyou Caddy" the Pileum boys were all smile and high fives. Capt Kenny rolled up, and I knew we were all in trouble when our buddy Boogie pulled into the parking lot. Capt Kenny can clean fish as fast as anyone I have ever met, but when Boogie shows up, it means he loaded the boat. Well... Mr and Mrs Trest must have been well rested from their stay at the Silver Slipper because they worked on the sheepshead. They came in with 64 sheepsheads!!! Boogie and Kenny had a pretty good system going and believe or not, they made very quick work of that pile of fish.
****SHORE THING FISHING CHARTERS****
ESTABLISHED IN 2003. The Largest inshore fishing company on the Mississippi Gulf Coast. Specializing in
speckled trout
,
redfish
, flounder, tripletail, black drum and more! We fish the Louisiana Marsh, the Mississippi Barrier Islands and many other areas. Our full-time fishing guides are extremely knowledgeable, courteous, and professional. We have many boats available - small and large groups are welcome. Anglers under the age of 13 fish for free! All of our boats and guides are licensed to fish in Mississippi and Louisiana. We supply rods, reels, tackle, snacks, drinks, ice, fuel, bait, and fun. No charge for fish cleaning and bagging. Be sure and ask about our all inclusive overnight fishing packages to the Cat Island House. www.shorethingcharters.com or 228-342-2206.
Be sure and check our videos:
http://www.youtube.com/watch?v=p7zPtztzBT0
https://www.youtube.com/watch?v=tiMDCa5OD6U
http://www.youtube.com/watch?v=VdJjkK7ldsk
http://www.youtube.com/watch?v=hr0twtm3Bng
https://www.youtube.com/watch?v=RN7WxqYBly4
https://www.youtube.com/watch?v=NM9QOmFHe2g