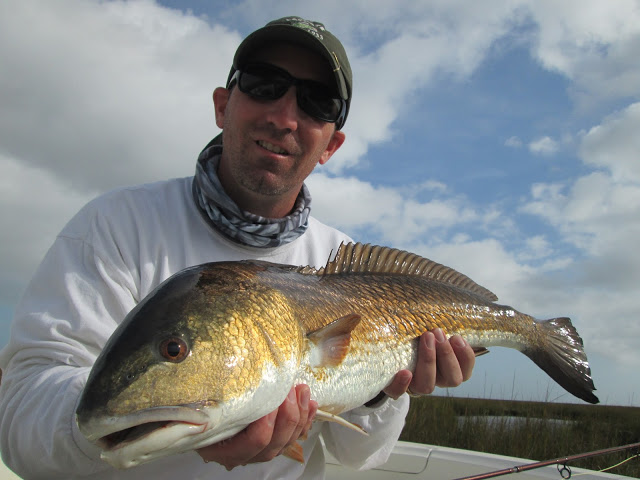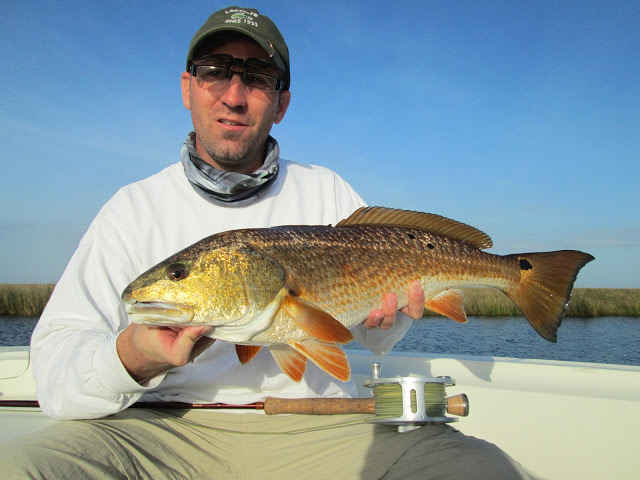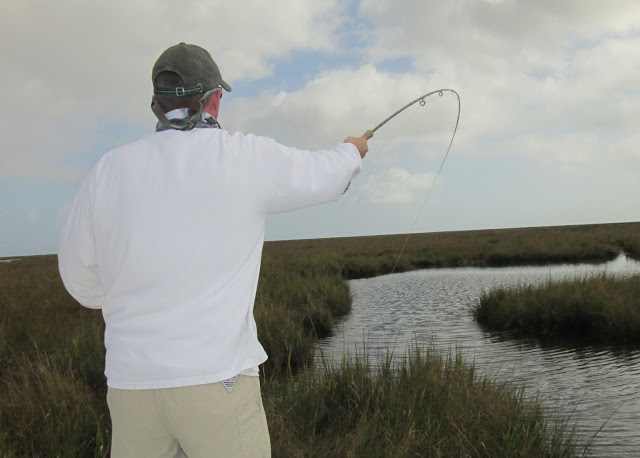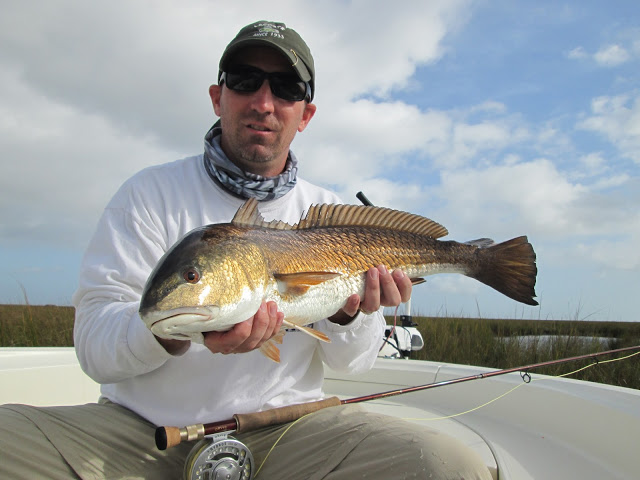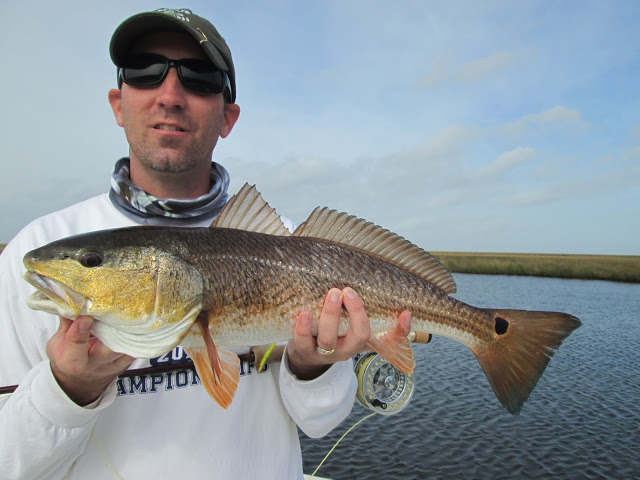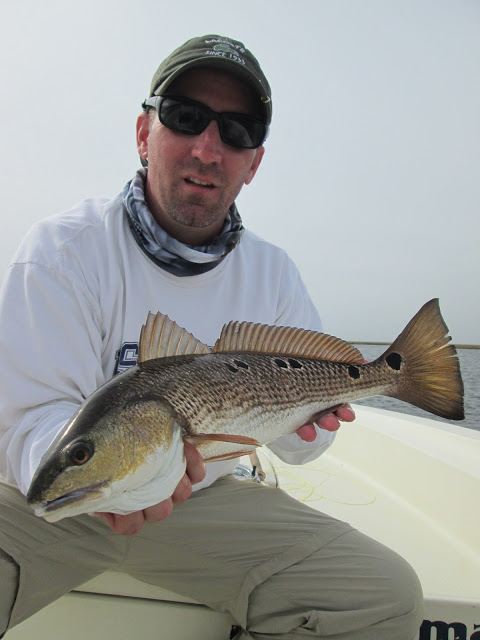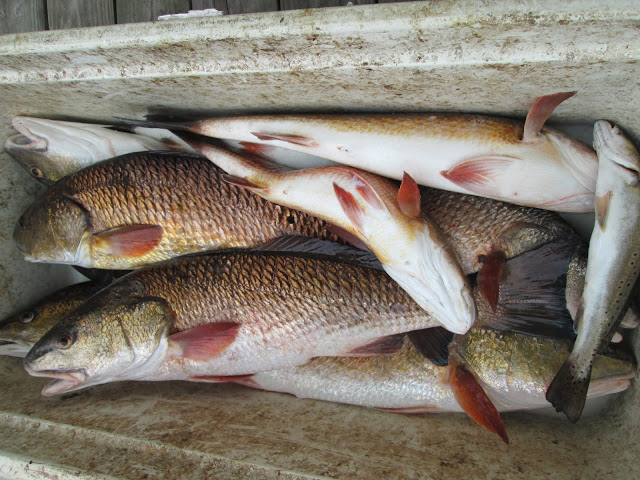 Only had one half way decent weather day this week, so we took full advantage of it. Had my new buddy Kevin Ruefly in town, all the way from Tulsa, OK. Kevin is a diehard fly fisherman, and he told me he wanted to fly fish all day. We were able to ease out to the LA Marsh, and did not see another boat all day. The water was super high in the duck ponds, but the bait was still around. Our only option was to push back as far into the ponds as we could. It was very cool being able to get into some of these areas, we only get to do it a couple of times a year.
Despite the stiff winds, the water was gin clear in the ponds. In some of the ditches going into the ponds you could see the bottom perfect in 4 feet of water!
Kevin was just finishing picking out his flies and making his first few casts when we entered our first pond. Like a bad movie, the cloud cover moved in and shut out our sun shine. We had one little area off the bow where you had a "fair" line of sight. Just played the hand we were dealt. Seconds into the first pond and we had a good fish cruising the bank towards us. Kevin dropped a mullet imitation top water fly in front of the red and it was on. The big red smoked the fly and we were off to a great start.
We were spotting fish, but most of the fish Kevin hooked were on blind casts. Hats off to him, he never quit all day. It helped that he was used to fly fishing in the wind. If we could actually see the fish coming, it didn't stand a chance. Due to the high water, we hardly saw any fish tailing or pushing a wake, it was tricky but fun as hell.
I kept a Stike King Redfish Magic spinner handy in case we saw a pack, or Kevin was fighting a fish. I was able to contribute a couple, but Kevin did the majority of the damage with the fly rod. The mullet popper got the first one, but he switched to the clouser minnows for most of the day. Don't think the lure choice would have made much of a difference. It was more an issue of casting around that wind. We kept our 10 and released more, but I can not even imagine how much fun it is gonna be when we get back in that area with lower water...
****SHORE THING FISHING CHARTERS****
ESTABLISHED IN 2003. The Largest inshore fishing company on the Mississippi Gulf Coast. Specializing in
speckled trout
, redfish, flounder, tripletail,
black drum
and more! We fish the Louisiana Marsh, the Mississippi Barrier Islands and many other areas. Our full-time fishing guides are extremely knowledgeable, courteous, and professional. We have many boats available - small and large groups are welcome. Anglers under the age of 13 fish for free! All of our boats and guides are licensed to fish in Mississippi and Louisiana. We supply rods, reels, tackle, snacks, drinks, ice, fuel, bait, and fun. No charge for fish cleaning and bagging. Be sure and ask about our all inclusive overnight fishing packages to the
Cat Island
House. www.shorethingcharters.com or 228-342-2206.
Be sure and check our videos:
http://www.youtube.com/watch?v=p7zPtztzBT0
https://www.youtube.com/watch?v=tiMDCa5OD6U
http://www.youtube.com/watch?v=VdJjkK7ldsk
http://www.youtube.com/watch?v=hr0twtm3Bng
https://www.youtube.com/watch?v=RN7WxqYBly4
https://www.youtube.com/watch?v=NM9QOmFHe2g