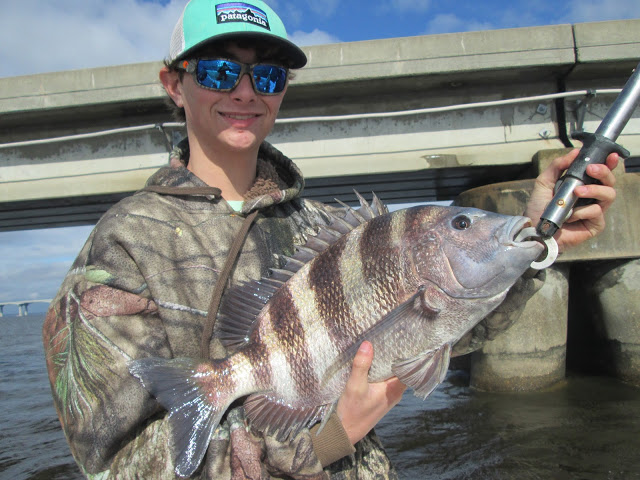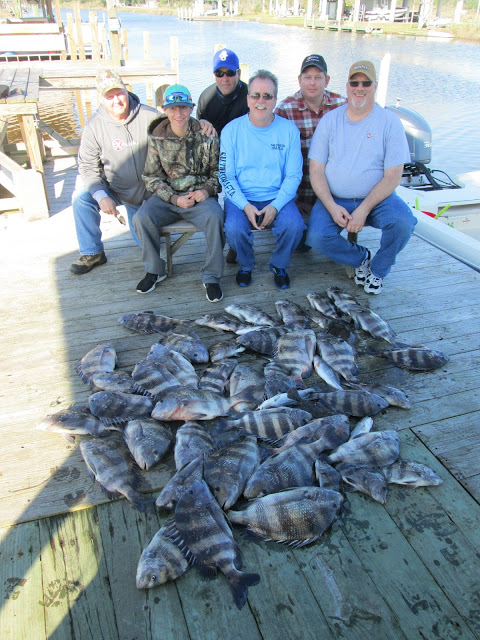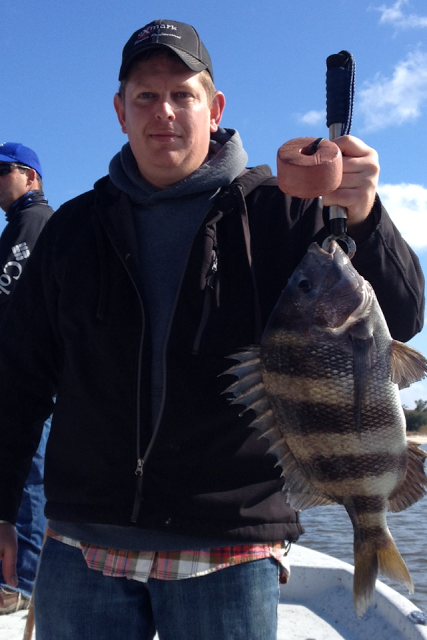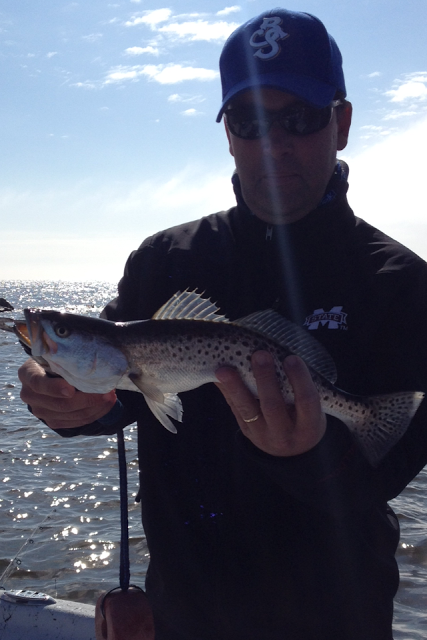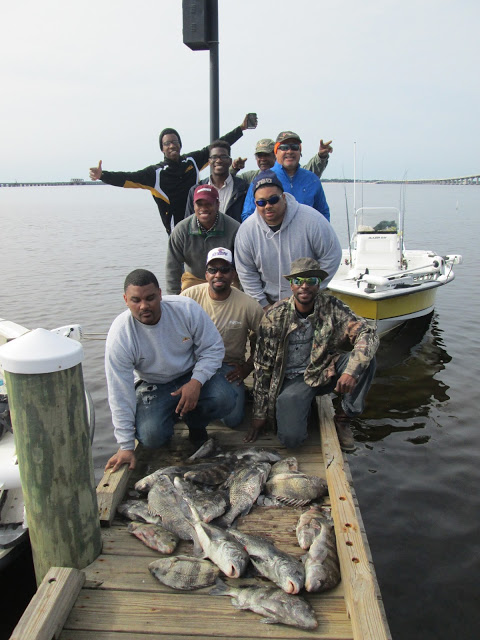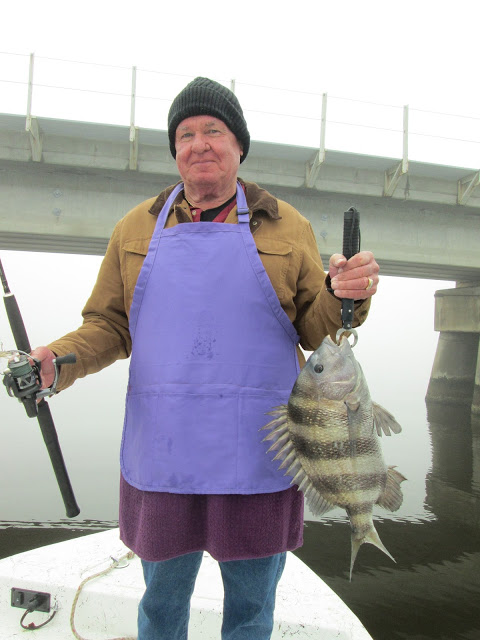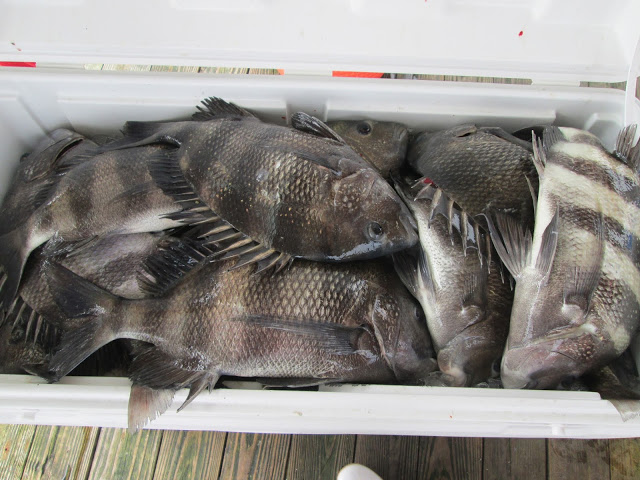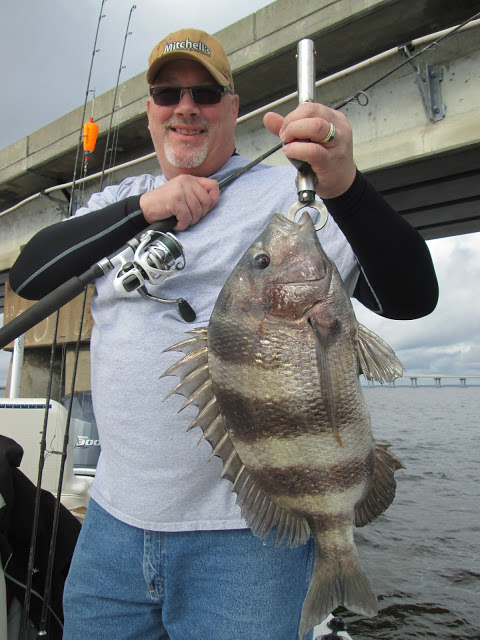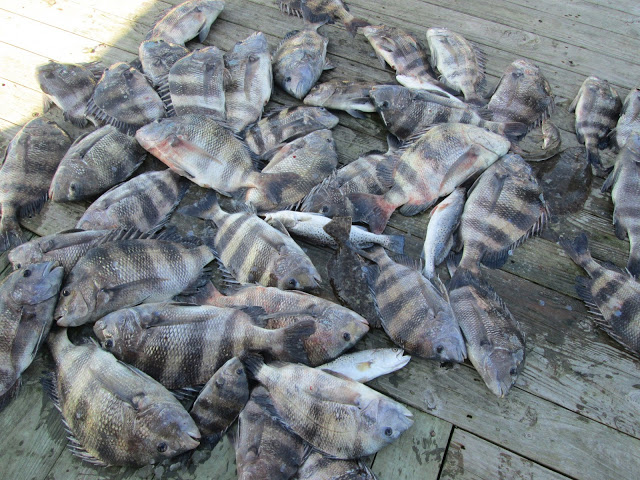 We have been able to have a little bit of fun the last couple weeks. The winds, seas, fog and chill have kept us on land lately, but we have been able to make a few trips. The last couple of trips have been on, have been in MS Waters. The fishing has been fantastic, with good and steady action. The majority of what we have been catching, is big ole sheepshead. We are seeing a couple drum, and flounder, but mostly big sheeps.
Capt Matt and I ran the Clarke crew right before the end of 2015. The guys were looking for an easy day in close. The fishing was good and we were able to give our live shrimp a very noble death. Mike on my boat was our top gun. Even on a decent bite, he was able to put a hurtin on the big sheeps and drums. We sent the guys back to Yazoo with a good pile of sheeps, drum, and even a nice red.
This past week, we finally got a break in the winds, and took full advantage of it. Had my ole offshore buddy Jerry Travis, His wife Sandra and their buddy Byron. Not a breath wind, but the fog was so thick, you could barely see 50 feet. We had to trailer to another launch and idle to a safe spot. Luckily the big sheeps were hungry and plentiful. It only took about 2 and a half hours before we could not close the fish box lid. The fog never lifted, and we had to idle back to the launch. Jerry and I have been on some crazy trips over the years, and now a shut out fog sheepshead slaughter will be added to our collection.
Capt Jimmy Ray and myself were able to pull off a Hail Mary for JT Rowell and the Nebraska Boys. We spent the first several hours of the morning, watching the rain fall. The last time these boys were with us, it was in January and we hammered the red fish down in the LA Marsh. They were up for whatever and happy to wait out the weather. JT just said to call him when the rain stopped and they would be there. Around 10AM we loaded up and headed out. Capt J-Ray actually found a couple keeper trout on the reefs. My crew was out for blood, so went straight to flocks of sheep. Young Zach on our boat, was our top producer. That young man is mad at the fish and it showed. When the smoke cleared, our boat and Capt Jimmy's boat had close to 40 sheeps. There was even a couple flounder and trout mixed in. We got in very late, but were able to make it to Capt Ray aka "Slay Ray" surprise 50th Birthday Party. It was one heck of a party! Happy Birthday Slay Ray!!!
It is winter time, and for us, it is a lot of last minute weather calls. If it is safe and productive, we will fish it. There is plenty of fun to get into this time of year, you just have to take advantage of it when you can.
****SHORE THING FISHING CHARTERS****
ESTABLISHED IN 2003. The Largest inshore fishing company on the Mississippi Gulf Coast. Specializing in
speckled trout
, redfish,
flounder
, tripletail,
black drum
and more! We fish the Louisiana Marsh, the Mississippi Barrier Islands and many other areas. Our full-time fishing guides are extremely knowledgeable, courteous, and professional. We have many boats available - small and large groups are welcome. Anglers under the age of 13 fish for free! All of our boats and guides are licensed to fish in Mississippi and Louisiana. We supply rods, reels, tackle, snacks, drinks, ice, fuel, bait, and fun. No charge for fish cleaning and bagging. Be sure and ask about our all inclusive overnight fishing packages to the Cat Island House. www.shorethingcharters.com or 228-342-2206.
Be sure and check our videos:
http://www.youtube.com/watch?v=p7zPtztzBT0
https://www.youtube.com/watch?v=tiMDCa5OD6U
http://www.youtube.com/watch?v=VdJjkK7ldsk
http://www.youtube.com/watch?v=hr0twtm3Bng
https://www.youtube.com/watch?v=RN7WxqYBly4
https://www.youtube.com/watch?v=NM9QOmFHe2g