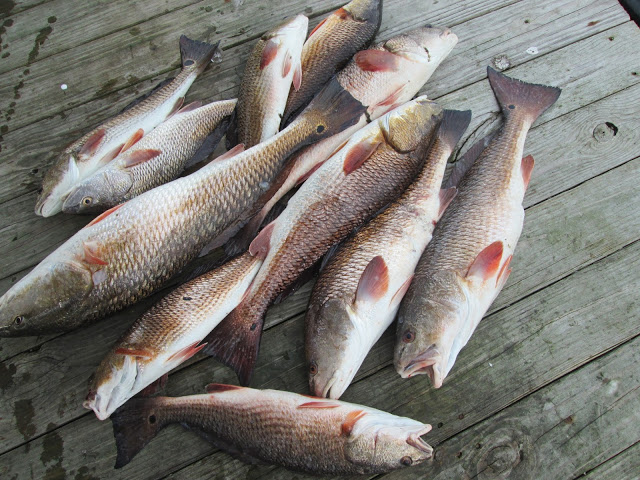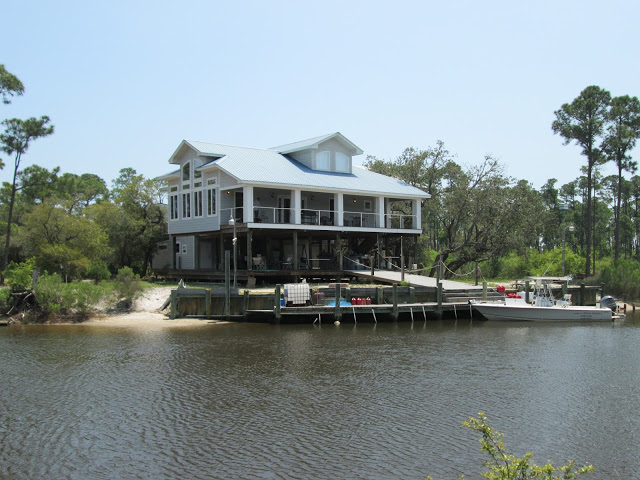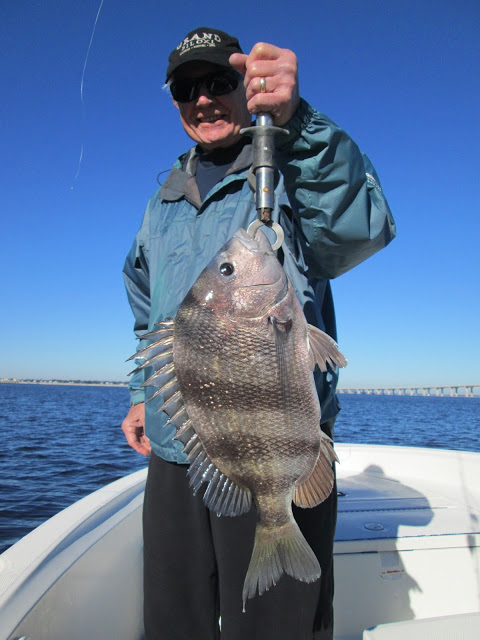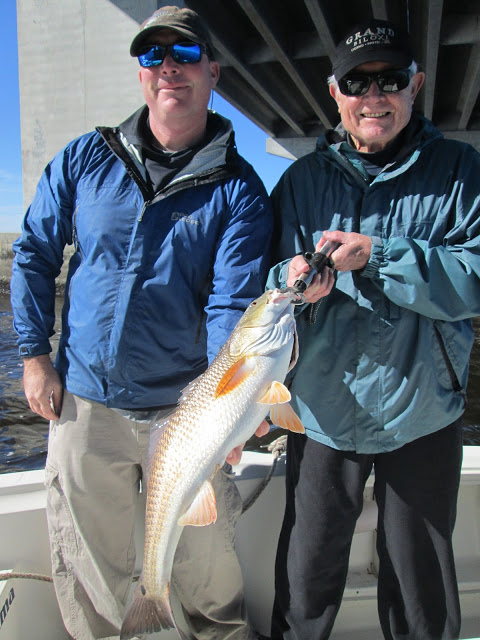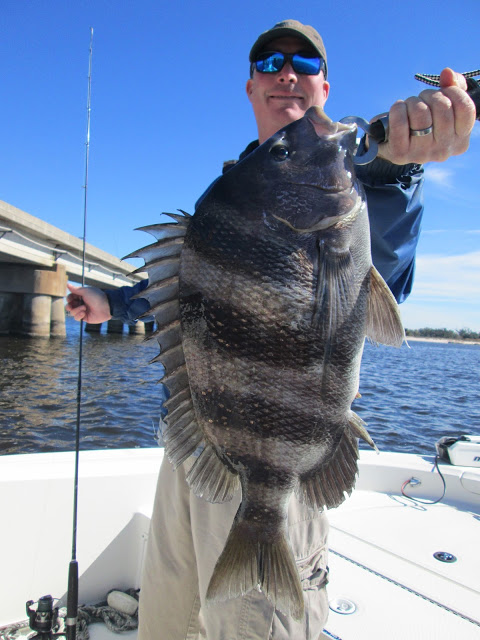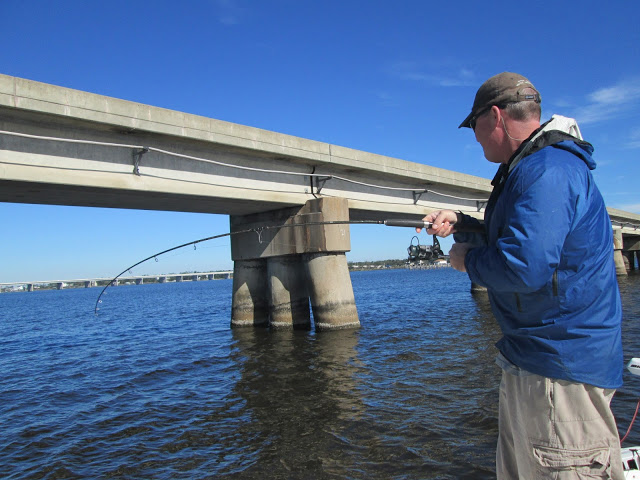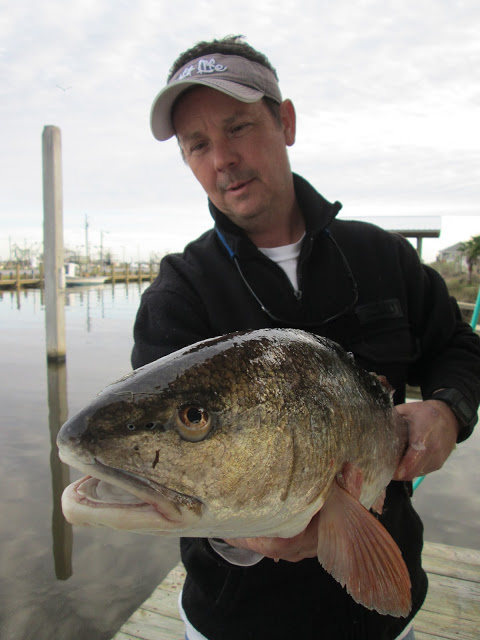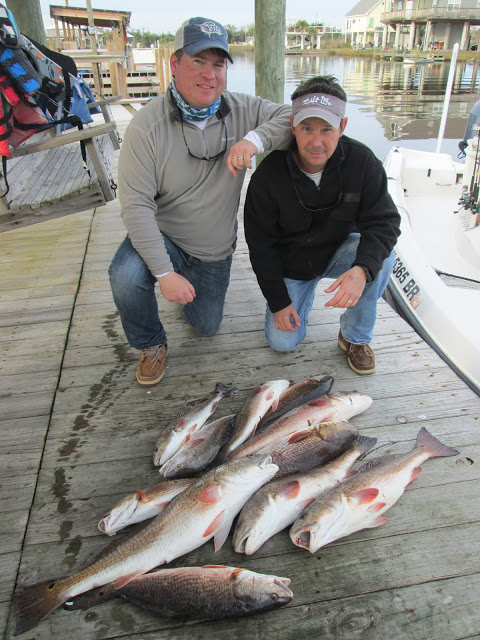 We were able to get several trips off the dock this past week. It was a little chilly, but the fishing was good and we all just layered up. Monday was the coldest ride of the week. We had to run out to the Cat Island house for a photo shoot for an upcoming article in Magnolia Magazine. Photographer Jamie Bates and myself braved made the run across in the 33 degree temperature. Wasn't that bad, and the "Mayor of Cat Island" Walter Gaudin even had a hot cup of coffee waiting on us. Jamie hit the ground runnin, he was busy with his cameras getting the shots he needed. Walter an I talked shop, for what looks like a very busy year out at the island for Shore Thing and "The Mayor". Never wet a line, but it is hard to have a bad time out at Cat Island.
Tuesday we put the finishing touches on our upcoming TV show with Gulf South Outdoors. Andrew Whitman needed a few sound bites to add to his video footage of our killer trip to the LA Marsh we took a lil while back. The show should be airing in the next few weeks but we will give yall a heads up when it airs. Trying not spoil it, but you will have to see it to believe what we did. He said the footage is incredible.
Wednesday, I was able to take full advantage of the cool temps and calm seas. Had my pal Capt Eli Underhill and his paw-in-law Boyd on board. Capt Eli runs a commercial fishing operation out of Sitka, Alaska. He spends half the "warm months" up there and the cold months down here. Our daughters go to school together and we have been trying to get on the water together for months. Schedules finally allowed us to get him and Mr Boyd out for a fun easy day in the Bay. Usually I get my ears chewed off with questions, but I did not give poor Eli with the questions. Eli commercially fishes for salmon, halibut, herring and a bunch of other species. I am fascinated with Alaska, commercial fishing, and different methods for catching different species of fish. It was hard to geta ll my questions answered, the bite we were on was pretty fast paced. We caught plenty of sheepshead, but released all of them. Eli has a freezer full of fish and has nothing but respect for all fisheries. Mr Boyd got a nice slot red midway through the morning and it was the only one he wanted for supper. I am very much looking forward to getting Capt Eli down in the LA Marsh this spring before he heads back to Alaska. That dude can fish.
Friday, the Mighty Capt Matt had a group in from Indiana, the Landry crew. They were "snow birding" down south and wanted to wet a line. They had a little more wind to deal with, but were able to find plenty of protected water in the Bay. Matt said it took a couple of moves to find a bite, but once he found a nest of sheepshead, he said it was every single cast. The boys only kept a couple for supper, and wanted to break out the fly rods. Matt took them along some protected shorelines and 5 minutes into it, they were able to put their very first MS fly caught red in the boat. Besides the fly rods, all the near shore action has been with live or dead shrimp on the bottom. Going through plenty of tackle, fishing structure, but that is why bring plenty extra.
Saturday, after weeks of rescheduling, I was able to get my man John Calagaz and his brother in law Mikey out to the LA Marsh. I honestly think this is the 3rd or 4th attempt we have made. Finally got a good weather Saturday and went for it. John is a sight fishing junkie and the conditions were almost picture perfect. The Marsh was alive with ducks and geese flying all day long. The nutria rats were out in full force as well. The cold weather has killed all the algae in the ponds, and the water is about as clean we see it all year. It was almost too clear, the fish were very skittish. It was quick draw casting, because even at liberal distance, the fish would bolt. Finding them was not a problem, we saw tons of slot fish in just about every pond we got in. We did not give the fish any mercy, every hook was either tipped with a live cocahoe or with dead shrimp. We got their 10 and released several smaller ones. Not even gonna try to put a number on how many we saw and missed. Always a fun day with John, especially with awesome sight fishing conditions.
****SHORE THING FISHING CHARTERS****
ESTABLISHED IN 2003. The Largest inshore fishing company on the Mississippi Gulf Coast. Specializing in
speckled trout
,
redfish
, flounder, tripletail,
black drum
and more! We fish the Louisiana Marsh, the Mississippi Barrier Islands and many other areas. Our full-time fishing guides are extremely knowledgeable, courteous, and professional. We have many boats available - small and large groups are welcome. Anglers under the age of 13 fish for free! All of our boats and guides are licensed to fish in Mississippi and Louisiana. We supply rods, reels, tackle, snacks, drinks, ice, fuel, bait, and fun. No charge for fish cleaning and bagging. Be sure and ask about our all inclusive overnight fishing packages to the
Cat Island
House. www.shorethingcharters.com or 228-342-2206.
Be sure and check our videos:
http://www.youtube.com/watch?v=p7zPtztzBT0
https://www.youtube.com/watch?v=tiMDCa5OD6U
http://www.youtube.com/watch?v=VdJjkK7ldsk
http://www.youtube.com/watch?v=hr0twtm3Bng
https://www.youtube.com/watch?v=RN7WxqYBly4
https://www.youtube.com/watch?v=NM9QOmFHe2g