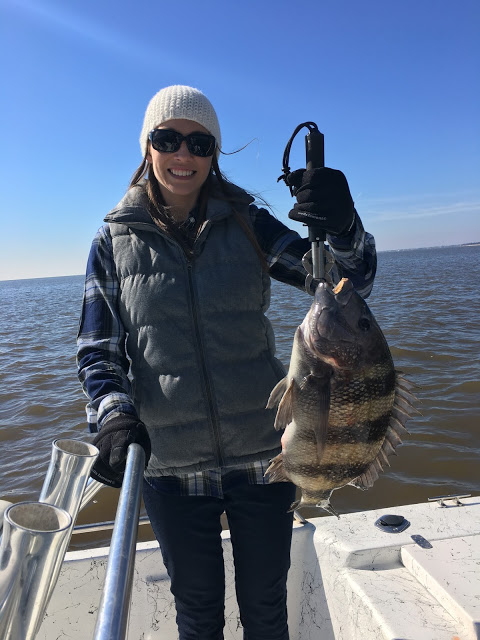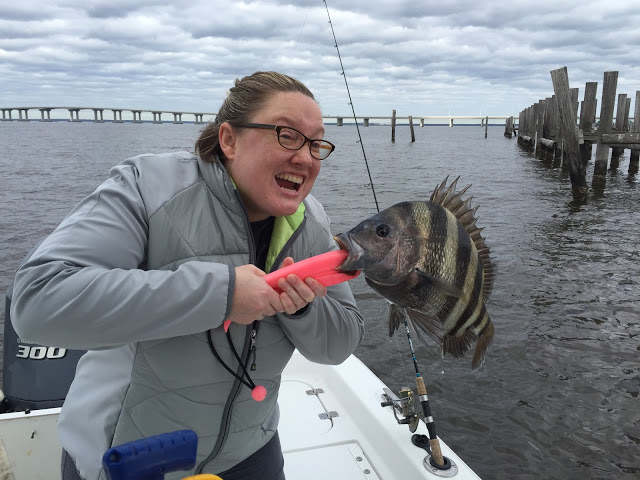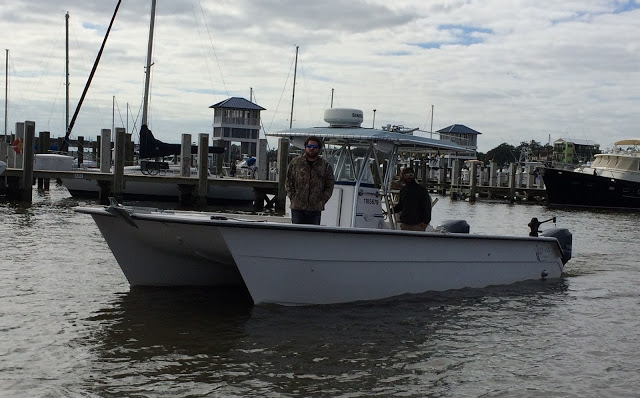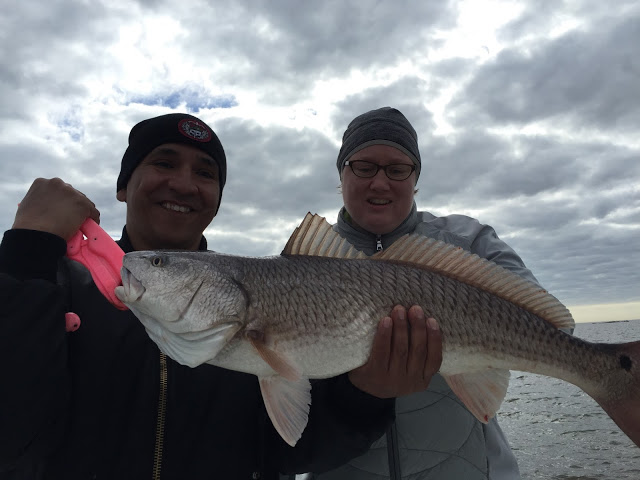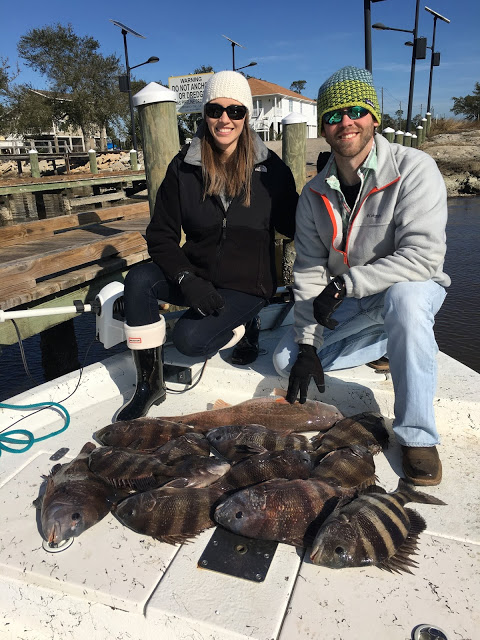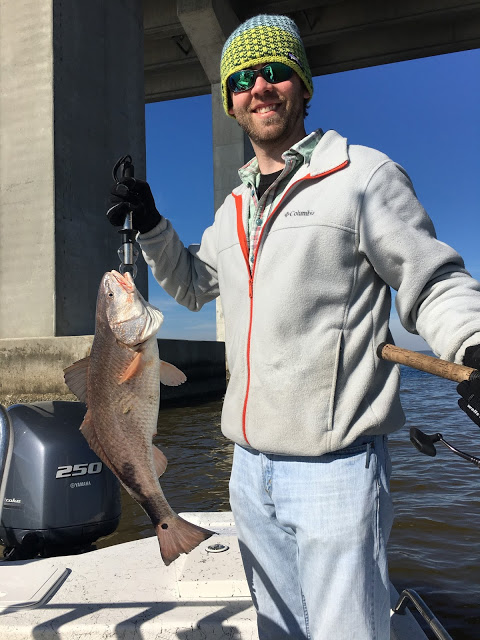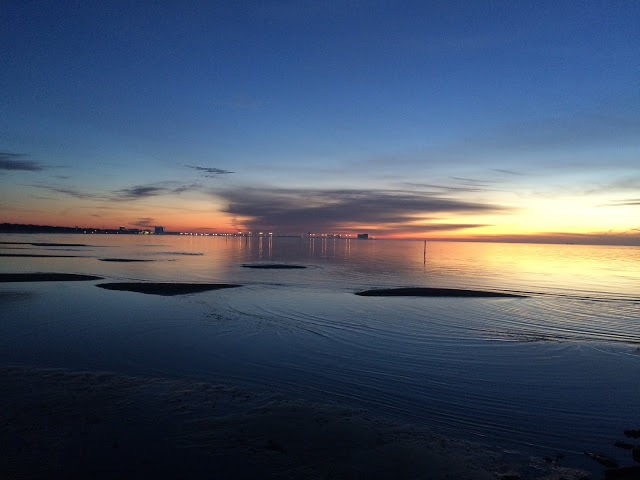 Capt Matt has been out the most the last couple of days. Boy wonder has been making easy work of the sheepshead, black drum and red fish. None of the boats have been down to the LA Marsh, but we plan to be down there when mother nature deals us better hand of cards. Everything the last week or so has been bouncing around the MS Sound and Bay St Louis. The most action has been off of the shrimp on the bottom. We have all been burning through plenty of tackle fishing the rubble and pilings.
Capt Kenny an I were out over the weekend. I was with the Southern crew, and he had a last minute booking from the Carol House Bed & Breakfast in Old Town BSL. Kenny stayed on the reefs and we bounced around every thing we could think of. Slow and steady won the race for Kenny and his crew, pretty sure they out fished us 5 to 1 staying put. With the cold n dirty water, not leaving fish to find fish seems to be the only way to play it. They were able to get plenty for dinner, in the way of sheepshead, puppy drum and red fish.
Had two very cool things happen at the Bay St Louis Harbor. On the way in, we got to see Thomas Genin, owner of the THE BLIND TIGER, in his new 32 Twin Vee. I would imagine he is planning some deep water adventures. Time will tell...
The coolest thing happened on our way out of the harbor. Capt Kenny an I noticed a young fellow, hooked into something big off of the harbor fishing pier. He could barely turn the fish with the light tackle he was using. We could tell the little dude was nervous he was gonna loose his big fish, so we asked if he needed help. He did not hesitate to scream yes! I put down the trolling motor and went in for the assist. Got his monster sheepshead in the net, and handed it up to his dad. They gave me my net back, and before I could pull away, the little dude was yelling for me stop. I looked up at him and he had his hand out. He said, "I wanna shake your hand". Kinda reminded me of someone I knew 20-somehting years ago...
The water seems to be getter colder and muddier, but they are closing the spill way. Things will hopefully be back to normal before long. If anyone did not already see it, we put together a lil video of our favorite winter time activity. Check it out https://www.youtube.com/watch?v=pB0TwyqS_Wo a tribute to the one an only Sheepshead.
****SHORE THING FISHING CHARTERS****
ESTABLISHED IN 2003. The Largest inshore fishing company on the Mississippi Gulf Coast. Specializing in
speckled trout
,
redfish
,
flounder
, tripletail,
black drum
and more! We fish the Louisiana Marsh, the Mississippi Barrier Islands and many other areas. Our full-time fishing guides are extremely knowledgeable, courteous, and professional. We have many boats available - small and large groups are welcome. Anglers under the age of 13 fish for free! All of our boats and guides are licensed to fish in Mississippi and Louisiana. We supply rods, reels, tackle, snacks, drinks, ice, fuel, bait, and fun. No charge for fish cleaning and bagging. Be sure and ask about our all inclusive overnight fishing packages to the Cat Island House. www.shorethingcharters.com or 228-342-2206.
Be sure and check our videos:
http://www.youtube.com/watch?v=p7zPtztzBT0
https://www.youtube.com/watch?v=tiMDCa5OD6U
http://www.youtube.com/watch?v=VdJjkK7ldsk
http://www.youtube.com/watch?v=hr0twtm3Bng
https://www.youtube.com/watch?v=RN7WxqYBly4
https://www.youtube.com/watch?v=NM9QOmFHe2g
https://www.youtube.com/watch?v=pB0TwyqS_Wo