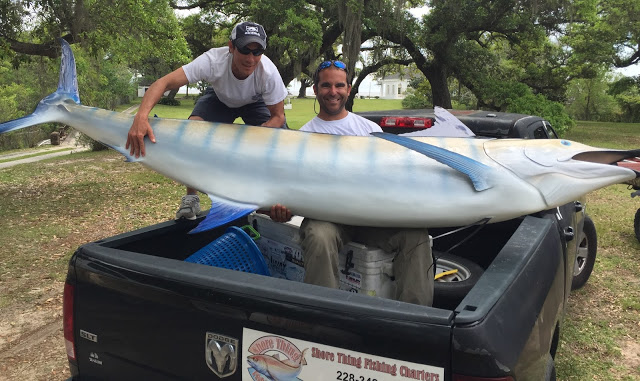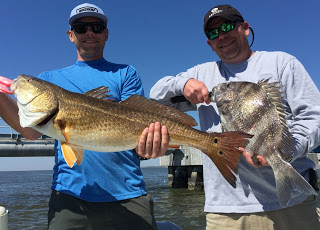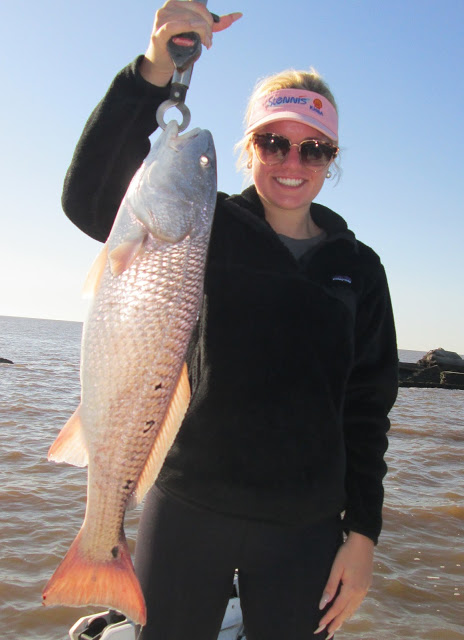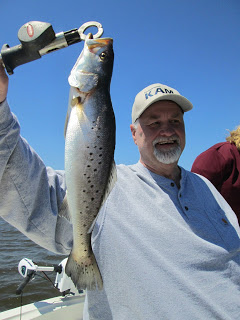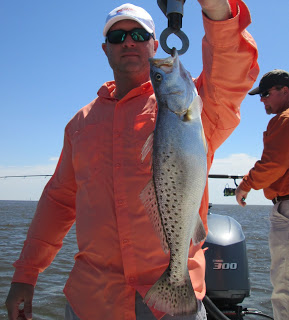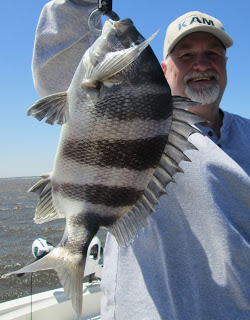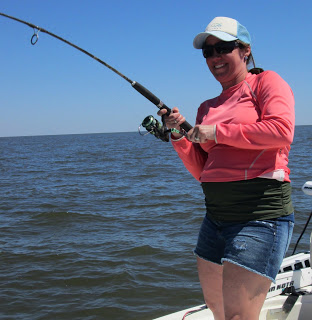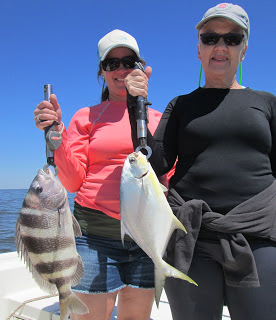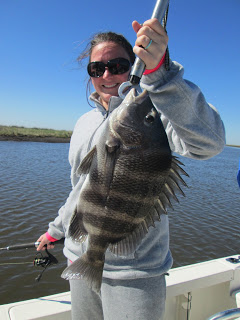 Our boats have been scattered 30 miles in every direction. Our Sport Trail Boat Trailers have been getting some hard miles put on them. Seems like everyday we have been leaving from a different boat launch. Working off the trailers had made all the difference the past few weeks. That's why we have to use the best trailers made (SPORT TRAIL TRAILERS). Been catching fish, but no huge numbers the last few days. We have fished reefs, islands, bridges, and all sides of the LA Marsh. The water gets a smidge better everyday, and the fishing has too.
One of the better trout days we had the last few days, was probably the windy and roughest days. Capt Matt and I were tucked in behind the reefs. I was fishing a crew Dickie Doucet sent us from the Island View Casino. We were chunking live shrimp on the Carolina rigs over shells in 8 feet of water. It was a slow bite. The boys drinking beer did the best. They would make a cast, take a sip, and just let the fish find the shrimp. Drinkers with a fishing problem, I freakin love it! Capt Matt, fishing the Richards crew, was doing just as good with the tight lined soft plastics. We got bit almost every single cast, but had to pick through them to get the keeper sized trout. Had a few sheepshead mixed in.
We got some picture perfect weather on Sunday. Capt Matt and I went long. Had Mrs Wendy, Mr Henry and my old elementary school buddy Jessica (Rupp) and her husband A-A-Ron in town from Jackson Hole Wyoming. Both boats were looking far n wide for the trout, but had to settle for plan B. The sheepshead saved the day for both of us. Since the water was still murky, we threw nothing but live shrimp all day long. We fished em deep on the bottom, and in the shallows (4 feet of water or less) under the Boat Monkey popping corks. Mrs Wendy had the hot hand all day long. She not only had the most sheepshead, but won the variety award for catching trout, flounder, and the first pompano of the year! Mr Henry was nice enough to clear all of the hard head catfish out of her way. What a true southern gentleman!
Monday I was the only one out, fishing with Matt of Academy Sports and his family. Went deep into the marsh, trying to use the low water to find some redfish. Did not see a bunch, and the ones we saw were very skittish. We had a mixed bag of sheeps, puppy drum, small trout and redfish. Covered some water, fishing the west side of the LA Marsh, but water was still murky.
Tuesday, we had boats scattered in a 30 mile area. Capt Matt and Capt Kenny were looking for trout with the Knolton and King crews. No big keeper numbers, but plenty of action. They were visited by the reds and sheepshead in their quests. I was fishing a sort of "goodbye" trip for Shore Thing Platinum Plus member, Mr Jim Watts and his daughter Alexandra. Jim and his family has been fishing with us for about 7 years now. They are from Kentucky, but have a home in Bay St Louis. They are in the process of selling and moving, but wanted to get one last trip in before they head back north. It was a fun but sad day on the water. We talked about what the future may bring for both of our families. His daughters have been fishing with us since elementary school. Now his oldest is planning on which college to head to in the fall. As usual, his oldest daughter Alexandra caught the biggest and most fish. They were really not even keeping fish, they just brought a few back to give to their neighbors one last time. We did a number on the sheepshead, but let most of them fight another day, and put them back in the water. Alexandra wanted to give her redfish to their neighbor though. We spent the next day helping them find a home for some of their stuff. We sold off some of their fishing tackle, and even 12 FOOT BLUE MARLIN. They did not want to drive it back to Kentucky, so we figured it would look good in The Blind Tiger Restaurants "Marlin Bar". Capt Kenny and our friend Capt Kevin Schamburg put it in the back of my truck and drove it down the beach to the Tiger in downtown Bay St Louis, to its new home. Pretty interesting morning, to say the least.
They have been very fun to fish with, and still plan on coming back, maybe when their girls get older. So maybe it was not actually goodbye, just "catch" you later...
Things are still looking good for a bang up Spring. It is still early, and the water temps are still cool. With a couple of days of South or South East winds, the saltier waters should get pumped in here. We go through this every single year waiting for the big waves of trout to push in. When they show up, we will catch them. Until then, we simply have fun and catch what ever is biting the most consistent. At the end of the day, its all fishing. Just get out there and enjoy it!
****SHORE THING FISHING CHARTERS****
ESTABLISHED IN 2003. The Largest inshore fishing company on the Mississippi Gulf Coast. Specializing in
speckled trout
,
redfish
, flounder, tripletail, black drum and more! We fish the Louisiana Marsh, the Mississippi Barrier Islands and many other areas. Our full-time fishing guides are extremely knowledgeable, courteous, and professional. We have many boats available - small and large groups are welcome. Anglers under the age of 13 fish for free! All of our boats and guides are licensed to fish in Mississippi and Louisiana. We supply rods, reels, tackle, snacks, drinks, ice, fuel, bait, and fun. No charge for fish cleaning and bagging. Be sure and ask about our all inclusive overnight fishing packages to the Cat Island House. www.shorethingcharters.com or 228-342-2206.
Be sure and check our videos:
http://www.youtube.com/watch?v=p7zPtztzBT0
https://www.youtube.com/watch?v=tiMDCa5OD6U
http://www.youtube.com/watch?v=VdJjkK7ldsk
http://www.youtube.com/watch?v=hr0twtm3Bng
https://www.youtube.com/watch?v=RN7WxqYBly4
https://www.youtube.com/watch?v=NM9QOmFHe2g
https://www.youtube.com/watch?v=pB0TwyqS_Wo