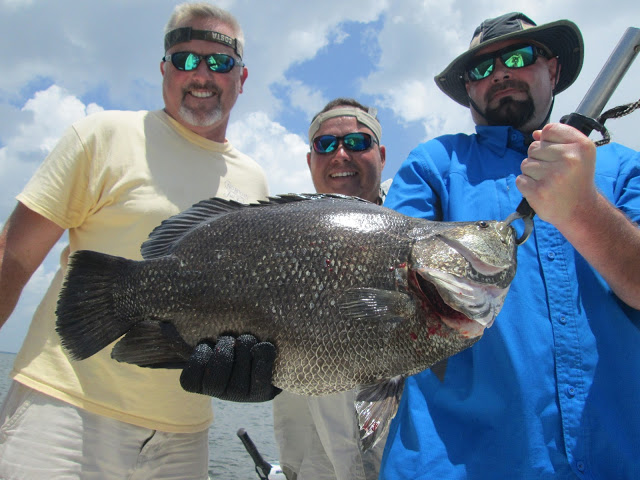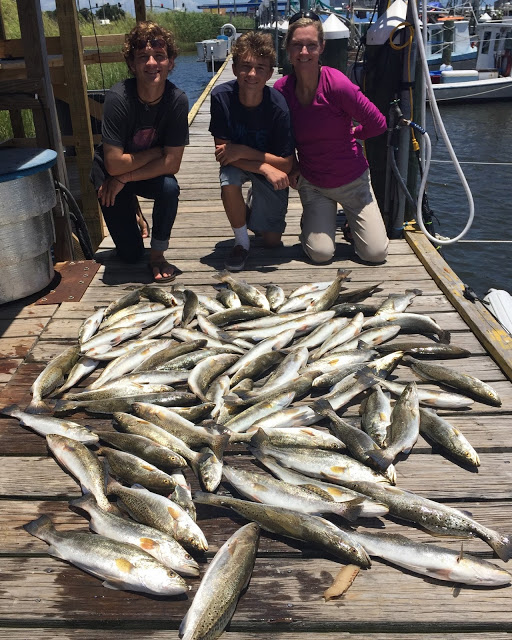 It has been a tricky week, but we got it done! The stiff winds earlier in the week made things interesting. Later in the week we got lucky and got some flat calm seas and fish paid dearly for it. I always hate missing a day on the water, but it was much needed. I was finally able to get my boat to Sid Leblanc and the crew at the Boathouse in Lakeshore, MS. The insane amount of days we have our boats on the water requires maintenance. Taking advantage of a 48 hour window the miracle workers at the Boathouse were able to change all my fluids, fuel filters, high pressure filters, address fuel line issues, and help with a jack plate repair that I completely screwed up. We cant do what we do and fish the amount of days we do without the support of good folks like the Boathouse Crew, Atlantic Marine, Sport Trail Trailers, Boat Stuff(Slidell) and Shamps Trolling Motors. Thank You all for letting us get to work.
We did get to wet a line a two...
The boats went at it with a vengeance, and we had some amazing trips this week. Capt Brian helped us with a trip out of our Pass Christian dock. Brian has been very angry at the trout, and he put down a good ole fashioned skull dragging on them. He put his half of the Harris crew to work on an every cast croaker trout bite. Boy wonder knocked out 75 of them and still made em work. They broke out the big poles and played with the sharks before heading to the skinning shed.
Capt Ray and Capt Jimmy had some fun on the near shore trips. They were fishing big loads of familys with lots of kids. Capt Jimmy even took Carter, Mac, Spencer, Paxton and Drew on an afternoon near shore trip. They did incredible on the flounder reds and school trout. The in close stuff has been pretty darn good. The water has cleaned up nicely and the bait has been thick. The rain minnows, mullet, pogies and shrimp have been stacked up. This has brought in the trout, reds, flounder and triple tails with them. The 4 hour MS near shore trips have been real good lately. Good fishing, short rides and if you leave early, you get to really beat the heat.
Me and Capt Darren jumped down to the LA Marsh to do a little work on the trout. Capt D ran way down south to find his bite. We got caught up with throw back schoolies and spent way to long in pack of bull reds. We started sweating and decided to head in. Pointed the boat north before 9AM but it took us over 6 hours to get in. Seemed like every minute or so we ran into a triple tail. We were on a birthday party for Bobby Nestle from Poplarville. His buddies Justin and Dale were celebrating with us. I cant even give it a fair guestimate of how many we saw, hooked, or tagged. The fish were a little shy with the live baits, most of them turned their noses up at everything we were throwing at them. Like I said, the bait has been everywhere and we saw tons of minnows, crabs even eels on the surface that day. I can only imagine, these fish have seen a ton of hooks the last few weeks, and have all the "free food" they want. Still fun, just seeing them and helping people catch their first triple tail.