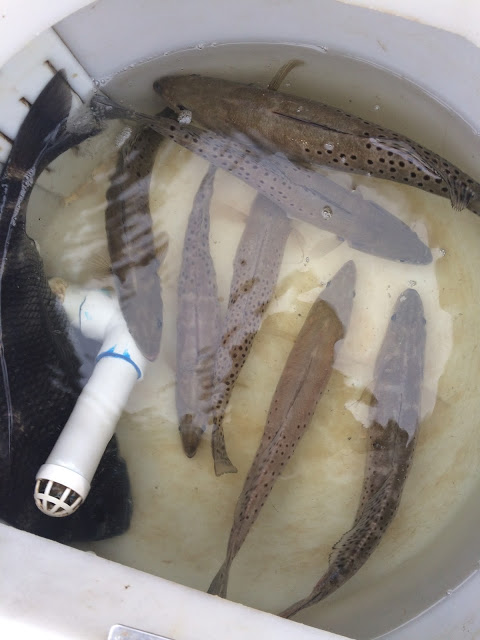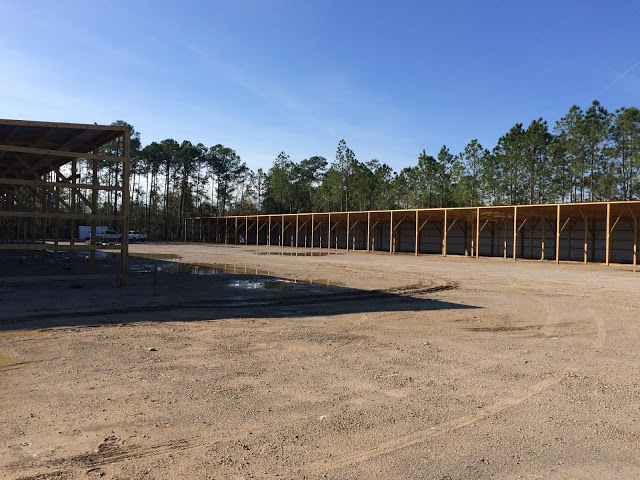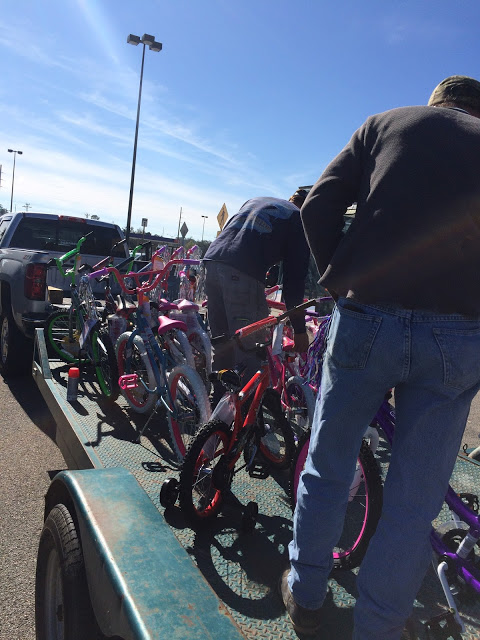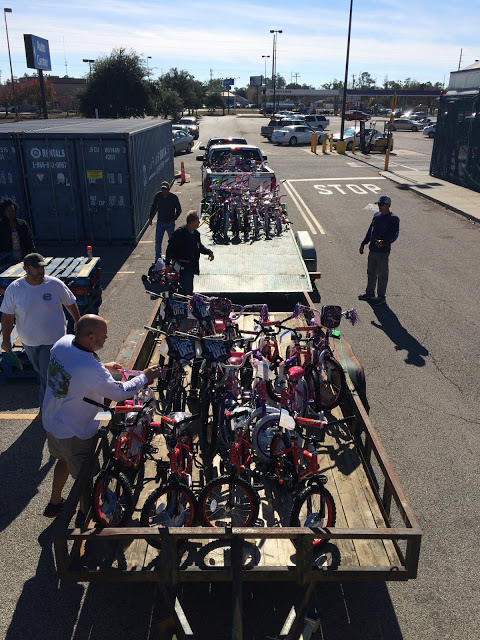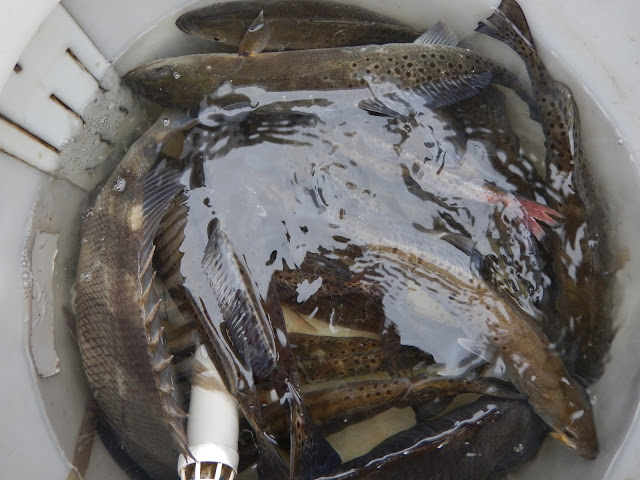 It has been a very fun couple of days, on and off the water. Been meaning to let yall know that THE BOATHOUSE (228-467-5910) in Lakeshore, MS is almost finished with its expansion. This facility is where we store 5 of 7 Shore Thing Boats. Word around the covered stalls is that a large portion of the slips are already reserved. If you want one of the available spots, I wouldn't drag your feet on this one. The entire facility is gated, and has more security cameras than a casino. Water and power are in each stall as well. Fantastic mechanics, friendly people and just a very roomy safe place. Non-Ethanol gas stations are close by, its minutes from Bayou Caddy, Atlantic Marine, Sport Trail, Ice Houses and several other primo launches. We have been there since it opened shortly after Katrina, and wouldn't dream of having our boats anywhere else. Hope to see yall there...
Capt Matt and I have been holding down the fort while Captains Kenny, Alex, Darrien, Ray and Jimmy have been protecting the world from vicious deer, duck and hogs. They have been mowing down some critters, we are very much looking forward to eating plenty of wild game in the coming weeks. Now lets talk fishing...
The last couple of trips have been in close, due to the cold, and fantastic fishing minutes from the dock. Capt Matt had the Lawson crew for a quick near shore trip early this week. The boys did a number on the trout, sheepshead and puppy drum. Matt said once the water got moving, the bite was as fast as you could stand. They were not keeping any fish, just enjoying a fun family day on the water. Capt Matt said the live shrimp did the ticket. They did well on the Carolina rigs and dropper rigs.
Had one morning this past week were I woke up at little after 2 AM. I was not going back to bed, and certainly not waking up momma or baby. I noticed the wind was wasn't blowing so I went down to work on the boat. Had plenty of time, and the winds were nice so I dropped the boat in the water. I wanted to scout some spots, but checked on a reef minutes from the dock. When I got there at sunrise, the fog started setting in. I was safe where I was, so I stayed put, mainly to just wait for the fog to break. I caught a few fish, but didn't bring ice, so I put them in the livewell. I honestly didn't want to clean any fish, and wanted to fish new areas. I had a few live shrimp in the well, but wanted to save them for the scouting, so I did almost damage on tight lined soft plastics. I was throwing either a Matrix salt n pepper or electric chicken color, both on a 3/8 ounce jig head.
Well... the fog set in and the fish kept coming over the side. None of the fish died in the live well, and it looked like the fog was not gonna break. I was not gonna wander around in new areas with little to no visibility. I hunkered down, broke out the live shrimp and put on a good ole fashioned one man skull dragging. The live shrimp 4 feet under the Boat Monkey Cork was every single cast. The live well became one solid mass of moving fish, and before I knew it, I had nabbed a limit of big trout, a couple of sheepshead, puppy drum and red fish. As soon as I see could land, I headed straight in. Very glad I kept some fish, my family was able to cook dinner for the founding family of Shore Thing, The Thompsons( Mike, Lindsay, Mitch and Charlie)! Always a treat to have them over, and the fish were pretty much still flapping in the grease, they were so fresh. I honestly cannot remember the last time I fished by myself. Truth be told, I hate it. I like "catching up" with friends when I'm fishing.
Got a text from the elusive(Hunting Season) Capt Kenny Shiyou at 6AM on Thursday. Capt Kenny drove in 5 hours from his hunting camp in the delta. He was only in town for half a day to play "Santa Claus", before heading back to make an evening hunt, and needed some help. Capt Kenny, Capt Ray, myself along with Sid and Ron from THE BOATHOUSE were assisting in picking up 49 bicycles. The bikes and some other goodies were to be delivered to little boys and girls who deserve to have a great Christmas this year. The bikes were purchased from fees of THE SOUTHERN ANGLERS of MISSISSIPPI (aka SAMS Club). The good folks at SAMs have been doing this years. They work in secret and will never make a big production of their generosity. I know they hate the attention, but they deserve it. After a couple hours of work, 3 truck loads, and 2 trailer loads of bikes, along another truck load of toys and food were scattered all over town to families that were in need of little extra holiday cheer. Bravo SAMS Club, you guys are the best!!! Merry Christmas, Thanks!
****SHORE THING FISHING CHARTERS****
ESTABLISHED IN 2003. The Largest inshore fishing company on the Mississippi Gulf Coast. Specializing in speckled trout, redfish, flounder, tripletail, black drum and more! We fish the Louisiana Marsh, the Mississippi Barrier Islands and many other areas. Our full-time fishing guides are extremely knowledgeable, courteous, and professional. We have many boats available - small and large groups are welcome. Anglers under the age of 13 fish for FREE! All of our boats and guides are licensed to fish in Mississippi and Louisiana. We supply rods, reels, tackle, snacks, drinks, ice, fuel, bait, and fun. No charge for fish cleaning and bagging. Be sure and ask about our all inclusive overnight fishing packages to the Cat Island House. www.shorethingcharters.com or
228-342-2206
. Check out our Youtube videos:
http://www.youtube.com/watch?v=p7zPtztzBT0
https://www.youtube.com/watch?v=tiMDCa5OD6U
http://www.youtube.com/watch?v=VdJjkK7ldsk
http://www.youtube.com/watch?v=hr0twtm3Bng
https://www.youtube.com/watch?v=RN7WxqYBly4
https://www.youtube.com/watch?v=NM9QOmFHe2g