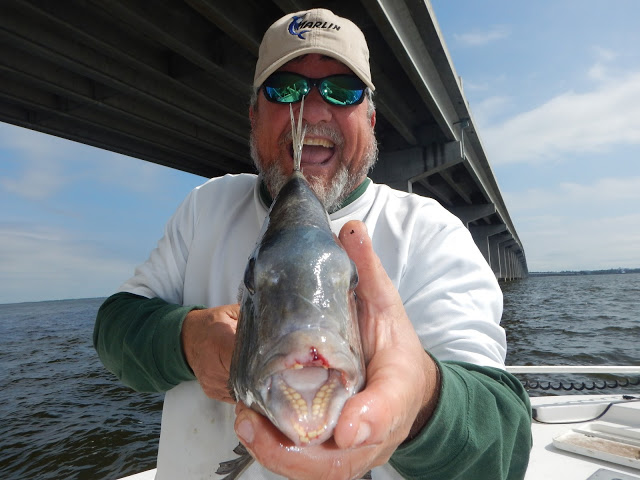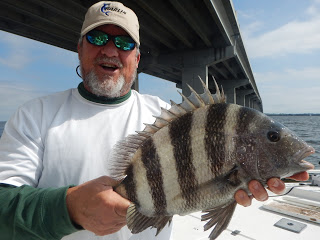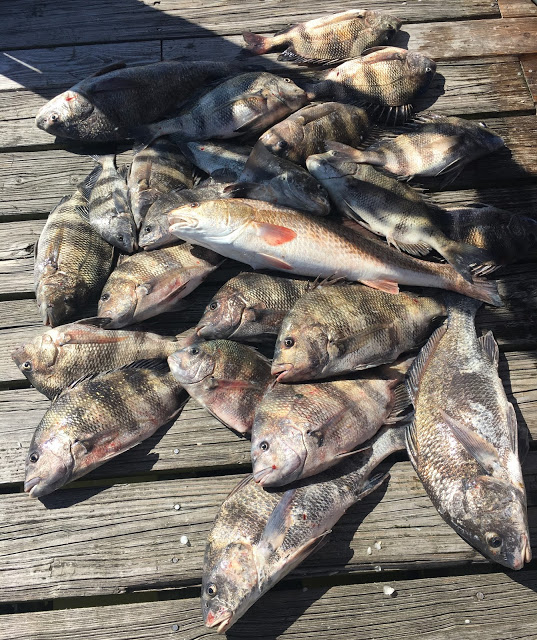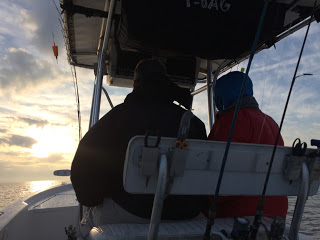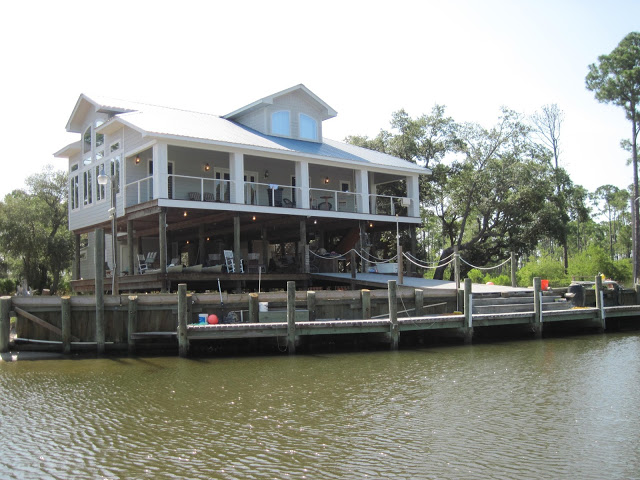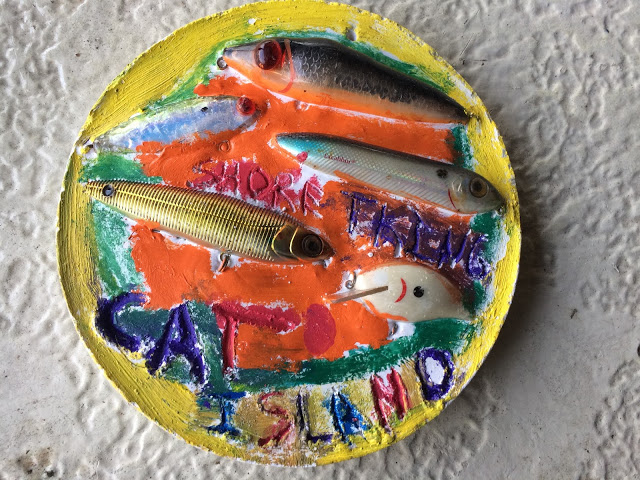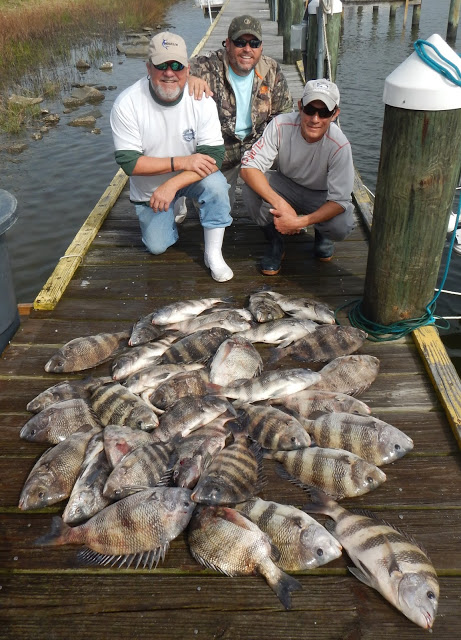 Capt Matt has still been on his 2017 streak, on the near shore trips. He has consistently been coming in with full fish boxes of sheepshead, drum and a couple of reds, specks and whites. We had just about enough of seeing his pictures and hearing his stories. We saw a nice warm day with calm seas coming on the extended forecast, but we had a few chores to take of first.
We needed to run out to the Cat Island House to drop off a few things, so Me and Capt Kenny took advantage of the nice weather on Tuesday(Valentines Day). Could not have been more thrilled to learn that the The Great Capt Kyle Jarreau(retired) would be joining us! Capt Kyle spent many hundreds of days on the water with us in the many years he worked with Shore Thing Fishing Charters. Kyle has always been a key factor in helping us build STFC into what it is today. Our man Kyle was all smiles, while we were loading up our supplies, to bring out to the island. The smile was from a bucket of "secret bait" he had brought along. He had hooked up with his buddy Paul Webster to get a pile of live fiddler crabs! This time of year, those little suckers are like air to an astronaut, for sheepshead, puppy drum and red fish. I thought this was gonna be a quick supply run, but I should have known something was up. I just didn't put 2 and 2 together when Kenny told me to pick up some ice before we met up at the dock.
I made a promise to my daughter that I would drop off our "rainy day" stepping stone project we had made together. It has old fishing lures we found washed up on the beaches of Cat Island. We made our delivery of supplies and gifts to "The Mayor" Mr Walter Gaudin, the only resident of Cat Island. Was great to see our good friend, and see all the projects he has going out there. The visit, was also to start getting things ready for a very very busy season of our overnight all inclusive trips we do at the Cat Island House.
When the work was done, it was time to play, and play we did. In years past, when Kyle was guiding with Shore Thing, we would all make a few fun/scouting trips(just us guides). Since everyone's bookings, land life, and family schedules always kept getting busier, we hardly every get to fish together anymore. It has literally been years since me, Kenny and Kyle have fished together, on the same boat. We took full of our time together. We busted each other chops from start to finish. Not taking a break from the shenanigans, we still went after the sheepshead with extreme vengeance. We fished our way back from the island, and the bite just got better and better as the day went on. Those freakin fiddler crabs worked like a charm! We had them rigged on about a foot and a half dropper loops, with 1/2 ounce bell sinkers, and small live bait hooks. We missed our fair share of bites, but that is kinda par for the course with sheepshead fishing. When we were able to set up correctly with the faster moving tide, those poor sheeps didn't stand a chance. Who ever had a bare hook, was immediately in charge of net, plier, or re-baiting duties. The boat kind of took on its own rhythm, and we filled the box with big ole tasty sheeps.

If you have never eaten sheepshead, you really have no clue what you are missing. If you think sheepshead are hard to clean, LEARN HOW TO CLEAN THEM. It really is a piece of cake, with a serrated knife and the proper technique. We ran out of bait with 30 sheeps, 4 puppy drum and 2 ground mullet. We cleaned our pile o fish in no time, and probably spent more time fighting over who was gonna get the bigger bag of fillets. This is one of our favorite times of year to fish. Had we not have had to run to the island, our boat ride would have taken minutes to the fishing grounds.
After we got everything put away, Kyle and I dropped by Capt Matts fishing store in Pass Christian, BRUSH ISLAND OUTFITTERS. We just wanted to rub in that we were the ones catching while he was doing "land work", but he got the last laugh. This store is gonna be the death of me. Buyer beware, if you guy in that place, and you are a fisherman, you are gonna buy something. Im in there several times a week, and he still has new stuff coming in daily. Since Capt Matt personally ordered all the tackle and clothing in there, it is a fishermans paradise, and a checking accounts worst nightmare. Very cool place, and worth a good once over.
We did get to spend an awesome weather day, with great friends. Not to mention, we all got a pile of fish to take home. If you have never done this type of fishing, or are looking for something to do, especially during the Mardi Gras Break, you gotta give this try. The sheeps should be thick till mid to late March, and then the black drum take over. On the prettier days, we can still roll to the marsh, but its hard to leave this much fun, that is so close to the dock. When the trout, reds and triple tails are more consistent, and the weather is stable, we will spend more of time down south. Until then, its hard to pass up this much fun in the front yard. Give us a holler if yall wanna have a go at it. Thanks
****SHORE THING FISHING CHARTERS****
ESTABLISHED IN 2003. The Largest inshore fishing company on the Mississippi Gulf Coast. Specializing in speckled trout, redfish, flounder, tripletail, black drum and more! We fish the Louisiana Marsh, the Mississippi Barrier Islands and many other areas. Our full-time fishing guides are extremely knowledgeable, courteous, and professional. We have many boats available - small and large groups are welcome. Anglers under the age of 13 fish for FREE! All of our boats and guides are licensed to fish in Mississippi and Louisiana. We supply rods, reels, tackle, snacks, drinks, ice, fuel, bait, and fun. No charge for fish cleaning and bagging. Be sure and ask about our all inclusive overnight fishing packages to the Cat Island House. www.shorethingcharters.com or
228-342-2206
. Check out some of our Youtube videos: