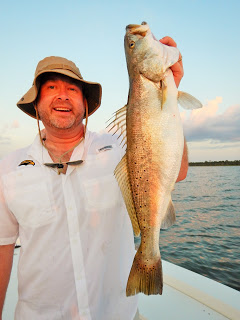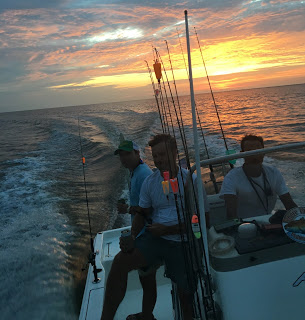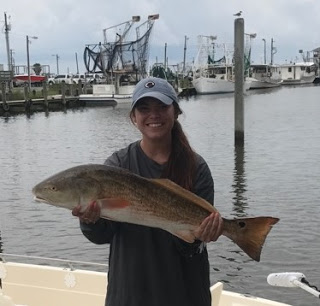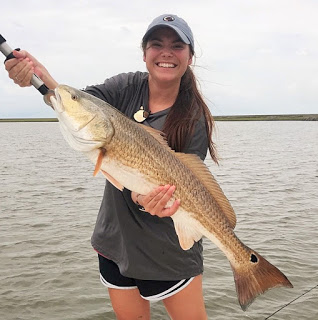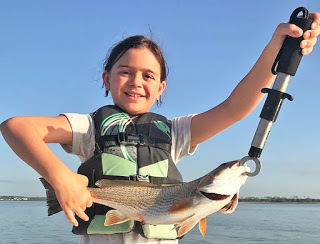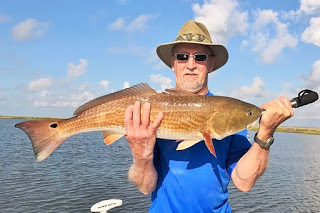 This tropical system has given our guides some much needed time off. While we restock tackle, get oil changes and catch up on some desperately needed sleep, we figured we would get yall a fishing report from the last week or so.
The boats have been rolling non stop. We have had crews out at the Cat Island house almost all of June as well. Between the speckled trout, redfish, triple tails, black drum, sharks and sheepshead June has kept us all very busy. Besides this little tropical storm, the weather has been really nice. The LA Marsh has been where most of the boys have been running to. The shrimp have been pushing through in big waves, and with them, the speckled trout and white trout, have been thick. Our go to rig has been the Boat Monkey popping corks. Even into the wind, the extra weight on these corks, allows you to launch your line a country mile. Plastics have really not been an issue when you are working flocks of diving birds over jumping shrimp and feeding trout. When the bite has been slow however, those Savage Gear 3-D shrimp have been deadly. We still have been bringing live bait(shrimp, croakers, mullet, etc) for those days when the water is murky or the bite has been tough.
With the temperatures getting hotter and hotter, some folks have been opting for our shorter near shore trips in MS Waters. The crews who were on those trips the last week had some incredible catches. Most folks enjoy these trips because of the short runs, and variety of fish we catch. You can still do a number on the trout and reds, but you also get to possibly see huge black drum, tasty sheepshead, and now triple tails!!!
The trips to the Cat Island house have been nothing short of AWESOME. Some of the crews that have been out this month are on their 4th and 5th year in a row!!! Our trip with the Cast-A-Way crew, was one of the better trips we have ever had out to Cat Island. Those trained killers caught one of the most impressive hauls of big trout, almost ALL on topwater. They were mostly throwing Super Spooks, Skitter Walks, and Corkys. Those boys put in some time, and you gotta do that at Cat Island to get the big rewards. Rewarded they were, several of their 150 Plus trout were well over 4 POUNDS!!! The weather was picture perfect and since most of the boys wade fish, it was a recipe for literally the trip of a lifetime.
Our MS State boys were back again this year for Fathers Day weekend. Dr David Jones and Dr Trey Sutton have been having their college buddy weekend for many years with us. As usual, Dr Trey came out in his boat, to do a little "pre-fishing". On his trip out from Gulfport Harbor, he made a detour with our friend John Marquez to nab some huge cobia and snapper. He still had enough time to send John with their mornings catch, and join us for some afternoon trout fishing. That first afternoon of our Island trip, I got to net one of the biggest trout caught on my boat in many years. Troy Johnston landed a 25 and 1/2 inch, FIVE and a Half POUND trout!!! Celebrating was not a problem with these boys. Scott Horton is now with "Mighty Miss" Brewery, and he brought a mini keg of their signature brew for the boys to sample! It is not unusual for crews to bring out a liberal amount of adult beverages, but this was the first time our crews had a Cat Island Keg Party!!!
The new 26 Avenger center console has not much of a break since I got it a month so ago. It has been met with rave reviews. It has handled the chop like a beast, and still can get into about of foot of water. I still have no clue how fast it will go, but am loving the fuel economy at around 30mph. With a full load of fuel and 5 people, it is still getting around 3.3 MPG!!! Tons of fishing and storage room, it has been an absolute treat to fish out of. Paired with a Sport Trail trailer, it is one lethal weapon.
Captains Alex, Ray, Matt, Darren, Kenny, and Jimmy have been putting in some long hours. We have even had to call in favors to Captains Brian, Joey and Jeremy to help with extra work. Between the overnight trips to Cat Island, and our regulars who pre-book, space has been very limited. We simply ask anyone looking to book a trip to please plan ahead, and please be flexible with your dates. If we have a boat available, we will get yall out. Any and all advanced notice, is much appreciated. Hope to see yall out on the water, Thanks.