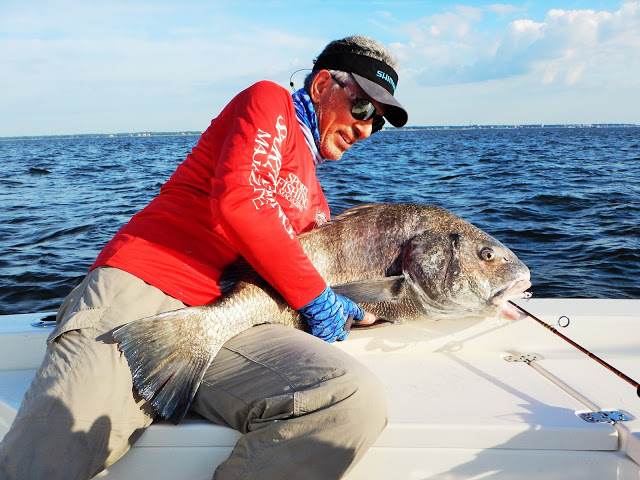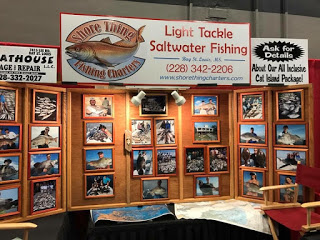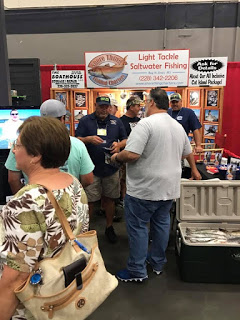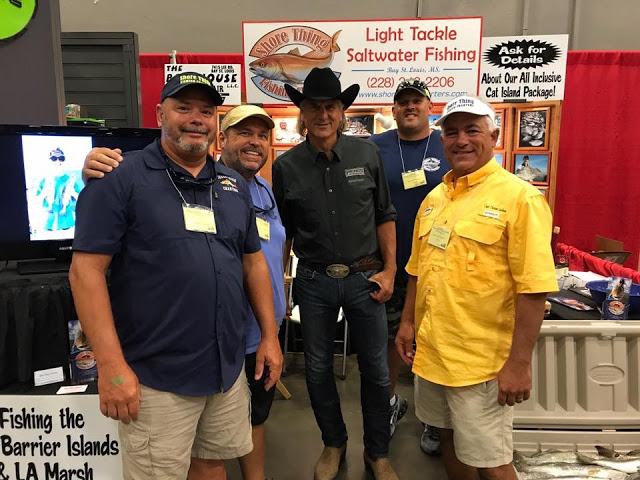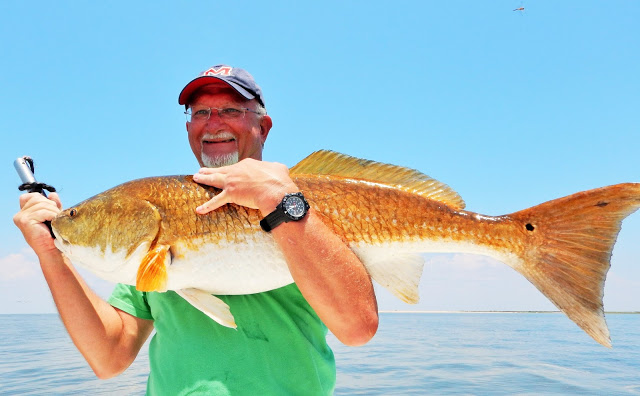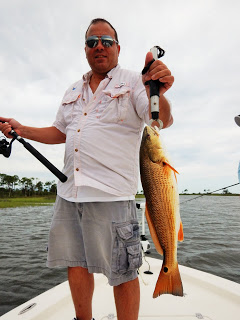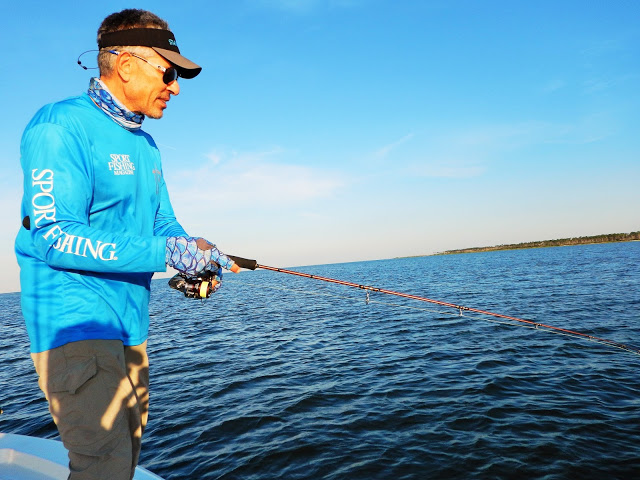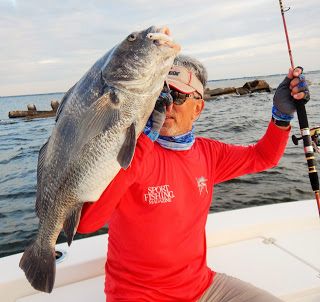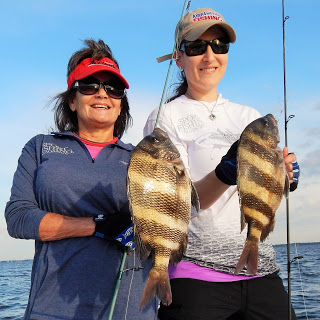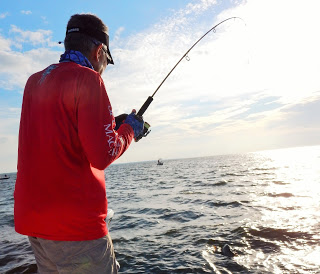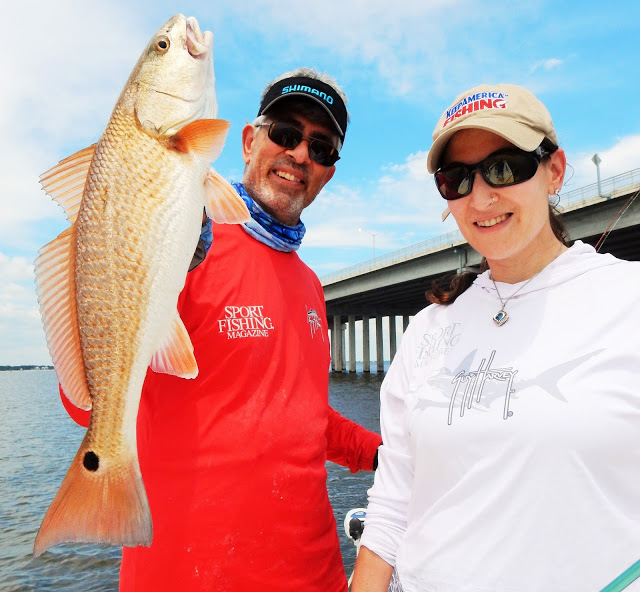 What an amazing week this past one was!!! In addition to some awesome day trips to the LA Marsh, The Bay and Cat Island, we got to hang out with some big guns in the outdoor world. The Great Doug Olander, Editor and Chief for SPORT FISHING MAGZINE joined us for 3 days this past week. This was Doug's 4th time fishing with Shore Thing Charters. Sport Fishing Magazine was looking to do a story on the beautiful Mississippi Gulf Coast. Big huge Thank You to amazing folks at Mississippi Tourism and Development(Mike Jones especially) for making this all happen. With a little planning, a lot of luck and some decent weather, we were able to fish all three days.
We spent our first day tooling around Cat Island. Doug has spent several nights at the Cat Island House years ago, so he kinda knew what to expect out there. We mainly focused on speckled trout, drifting over grass beds out there. I honestly think they had more fun catching big lady fish on light tackle than anything else. Our next two days, we spent very close to home.
We have always been huge fans of our near shore reefs, and we finally got a chance t show them off to Sport Fishing Magazine. Day 2 was our "big day". Doug was able to bring his daughter Rachael, and she is no joke. She has battled yellowfin tuna and sword fish over 300 POUNDS!!! We put her to work on our sea monster black drums. I would easily put this young lady up against any fisherman/fisherwoman on planet earth. She was beating big 40 pound drum, like they owed her money. Mixed in with the big fish were sheepshead, red fish, puppy drum, and even a few juvenile mangrove snappers. The variety of species was just what they were looking for, and having a mix of big and small fish really helped showcase what an amazing fishery our Mississippi waters have to offer.
Day 3 almost didn't happen, due to some nasty weather earlier that morning. We had to wait till after 10 AM, but we were finally able to get out. It was the most important day of our 3 day adventure. Doug was able to get two of his young grandkids to join us. Doug spends an absurd amount of time flying all over the globe, fishing and writing about his journeys. This was a rare instance where his family was able to visit while he was "at work". Doug really wanted to get these little rascals on something big, so we back to do battle with our big drums. The little ones did fantastic with the big sea monsters. Doug always seem to have a camera in his hand, so Aunt Rachael stepped up to help her nephews get "their biggest fish ever" in the boat.
We are very much looking forward to seeing our Mississippi Waters in the pages of Sport Fishing Magazine. We are proud of home and very honored to have it in such a major fishing publication. Thanks again to Doug Olander and Mississippi Tourism(Mike Jones), it was an awesome experience, can not wait to see the finished product.
Over the weekend, the Shore Thing Family was up in Jackson, MS for the Wildlife Extravaganza. Well... most of the family. I had promised my girls I would go to Florida for a little family get a way of our own. No matter, Captains Kenny, Ray, Darren, Jimmy, Alex and Matt high tailed up to the Trade Mart for 3 fun filled days. This show is massive, and the boys were on their feet all day, every day. They were meeting with old customers and making new ones. They said it was the best show they have ever been to. I think since they brought up an ice chest full of speckled trout and red fish, that they literally had a"show stopper". They said the Shore Thing booth was full of people the entire time. To make it even better, all the wives went up and helped talked with folks in the booth. They sent me a picture while I was on the beach, and my jaw about dropped when I saw it. They got to hang out with the legendary Jim Shockey!!! For those of yall that don't know, Mr Jim is one heck of an outdoorsman, and has one of the coolest outdoor shows ever!!! They said he was about the nicest guy you would have ever wanted to meet. I have been watching that guys TV show for decades, and was crushed that I didn't get to meet that dude. All in all, a very exciting couple of days. Now its back to the office...
***SHORE THING FISHING CHARTERS****
ESTABLISHED IN 2003. The Largest inshore fishing company on the Mississippi Gulf Coast. Specializing in speckled trout, redfish, flounder, tripletail, black drum and more! We fish the Louisiana Marsh, the Mississippi Barrier Islands and many other areas. Our full-time fishing guides are extremely knowledgeable, courteous, and professional. We have many boats available - small and large groups are welcome. Anglers under the age of 13 fish for FREE! All of our boats and guides are licensed to fish in Mississippi and Louisiana. We supply rods, reels, tackle, snacks, drinks, ice, fuel, bait, and fun. No charge for fish cleaning and bagging. Be sure and ask about our all inclusive overnight fishing packages to the Cat Island House. www.shorethingcharters.com or
228-342-2206
. Check out our Youtube videos:
http://www.youtube.com/watch?v=p7zPtztzBT0
https://www.youtube.com/watch?v=tiMDCa5OD6U
http://www.youtube.com/watch?v=VdJjkK7ldsk
http://www.youtube.com/watch?v=hr0twtm3Bng
https://www.youtube.com/watch?v=RN7WxqYBly4