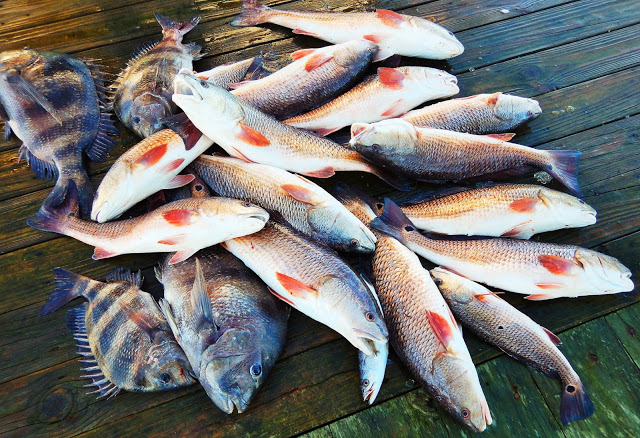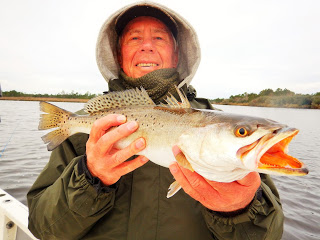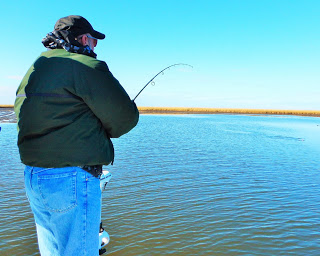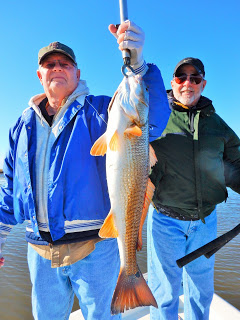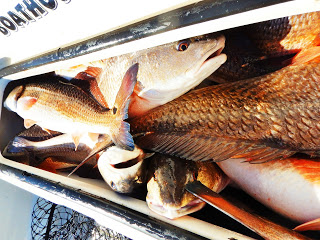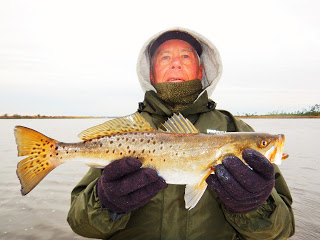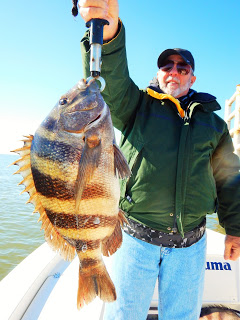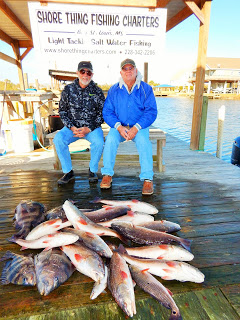 From all of us at Shore Thing Fishing Charters, we would like to wish everyone a very Happy New Year!!! Our guides have all enjoyed a little bit of down time with their families. Now that the little ones are back in school, we can catch up on the reports. Yes it is chilly down here, but we have snuck a trip or two.
Still been leaving a little bit later on the cooler days. The last couple days, when the boats were covered in ice, we played indoors. In between the fronts though, the fishing has been awesome. Actully got to spend a day up in the river, catching and releasing a pile of speckled trout. Mr Ralph was traveling, and didn't wanna keep anything, so we just let em all go. It was freezing that day, and my hands were chilled to the bone. Even in the cold, it was a lot of fun. I couldn't feel my hands though, so I didn't complain too much that I didn't have to clean fish... Usually this time of year, when it is this cold, we are strictly doing the sheepshead and drum thing on the reefs and bridges. However, we have had a couple of days when the conditions were picture perfect, and safe for a run down south to the Louisiana Marsh.
Kind of ironic, that our last trip of 2017 was in the exact same spot of our first trip back in January of 2017. As luck would have it, the conditions and fishing were both excellent! This time, I had my good friend, and founder of the Diamondhead Fishing Club, Mr Gary Becker. We were joined by his buddy, Mr Alan from Tennessee. Alan really wanted to do battle with some redfish, so that is what we focused our attention on.
The water was very cold and very very low. Sometimes the low water can be a good thing, and luckily this was one of those times. We were able to set up in the mouth of one narrow drain, leading into a very shallow pond. Almost all of the water was drained out of the pond, and there was one swimming pool sized piece of deep water left. In that deeper water, is where our red fish were stacked up. Right when we pulled in, you could see a couple of the fish tailing on the shallow edges of the pool. We were launching live cocahoes under the Boat Monkey Corks into the middle of the deeper pool. For about an hour we got all we stand. The fish were inhaling the minnows, smashing the corks, and keept us very busy.
When the smoke cleared, we had our 15 fish limit. We also tagged and released several more big fish. It could not have gone any better. We did peck around the marsh for a little while, looking for the sparkle trout, but did not find much to speak of. We opted to make a little run and put our live shrimp to work on the big sheepshead. I really think they had almost as much fun with the big sheeps, as they did with those reds.
It was still a little chilly for the ride in, and that was a good thing. The fish box lid would not close, so it helped to keep the fish cool. Just a great day on the water with some good fellas. And that how it goes this time of year for us. Just getting on the water when we can, and enjoying our time on land if the weather doesn't allow. Give us a shout if yall wanna wet a line. If the weather doesn't work out, we can hopefully move the trip to a better day. Looking forward to a great 2018, and we hope to see you on the water soon. Thanks
***SHORE THING FISHING CHARTERS***
ESTABLISHED IN 2003. The Largest inshore fishing company on the Mississippi Gulf Coast. Specializing in speckled trout, redfish, flounder, tripletail, black drum and more! We fish the Louisiana Marsh, the Mississippi Barrier Islands and many other areas. Our full-time fishing guides are extremely knowledgeable, courteous, and professional. We have many boats available - small and large groups are welcome. Anglers under the age of 13 fish for FREE! All of our boats and guides are licensed to fish in Mississippi and Louisiana. We supply rods, reels, tackle, snacks, drinks, ice, fuel, bait, and fun. No charge for fish cleaning and bagging. Be sure and ask about our all inclusive overnight fishing packages to the Cat Island House.
www.shorethingcharters.com
or 228-342-2206.
Check out our Youtube videos: